Analysis: a landmark study of of 1,500 Irish employers reveals only one in five firms have a dedicated mental health budget
By Jane Bourke and Niamh Lenihan, UCC
The costs of poor employee mental health and well-being can be substantial both for employers and their employees. Yet the Healthy Workplace Ireland report reveals that Irish employers are more likely to implement mental health and well-being initiatives that do not involve a financial outlay.
Our landmark study provides the first comprehensive profile of mental health and well-being in Irish workplaces post-Covid. 1,501 Irish employers took part in the Workplace Mental Health & Well-being in Ireland survey between September and December 2022. Telephone interviews were conducted with private sector employers with 10 or more employees, across all sectors and regions in Ireland. The survey provides data on absenteeism for physical and mental ill-health reasons, presenteeism, and their impact on business performance, as well as differences in how employers are responding to these challenges. As the Healthy Workplace Ireland report is part of a larger study, we benchmark workplace mental health promotion in Irish firms with a similar group of firms in England.
The study reveals that most employers in Ireland recognise their responsibility in supporting employee mental health, however, only one in five firms have a dedicated mental health budget. This suggests a disparity in employers' recognition of their responsibilities to and investment in workplace mental health and well-being.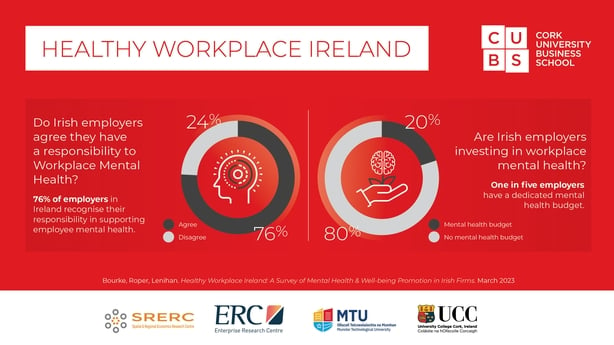 For the first time, our study highlights the mental health and wellbeing supports provided in Irish workplaces. One in three employers has a mental health and well-being lead at senior or board level. Just over one in five firms have a mental health plan, and only one in 10 firms have employee mental health champions. The proportions vary somewhat between sectors, but more significant differences are evident between larger and smaller firms – smaller firms are much less likely to be providing support for employee mental health and well-being than larger firms. When we compare Irish workplaces with those in England, we find that firms in Ireland are less likely to support workplace health promotion than in England.
The OECD refers to the global increase in mental ill-health as a hidden pandemic, and our study shows that one in five Irish firms has experienced mental health-related issues in the past year and that mental health-related absenteeism is on the rise. In our study, employers highlight the adverse impacts of absenteeism on business operations and performance. Presenteeism, working when ill, is also of concern, and we find presenteeism is higher in Irish businesses compared to in England, a pattern which is consistent across sectors and firm size bands. Irish employers report that the most common reason for presenteeism is the need to meet deadlines or client demands.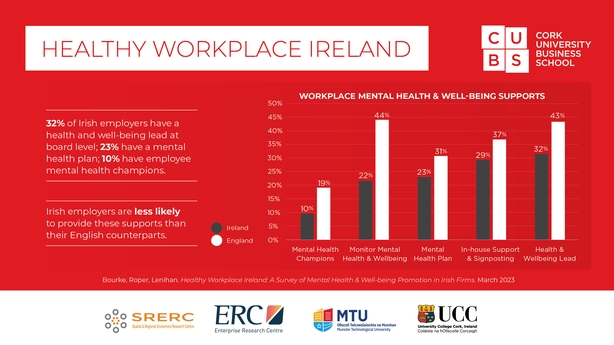 The COVID-19 pandemic transformed many working practices, particularly in relation to remote working. Our study finds that the number of Irish employers with employees working from home has increased three-fold since the COVID-19 pandemic, with almost one in three firms with employees that WFH. Larger firms and those in the business services are more likely to have employees who WFH. The recent Work-Life Balance Bill allows all workers the right to request remote working.
Depending on the nature of the business, some businesses will lend themselves easily to hybrid or blended models with a combination of remote and onsite work practices. While employers can't give their employees a work-life balance, they play an important role in supporting and encouraging employees to distinguish between work and leisure time when working remotely. In this study, employers report positives from remote or hybrid work for employees and employers alike, with respect to employee happiness and productivity.
We need your consent to load this rte-player contentWe use rte-player to manage extra content that can set cookies on your device and collect data about your activity. Please review their details and accept them to load the content.Manage Preferences
From RTÉ Radio 1's Morning Ireland, UCC's Dr Jane Bourke on the impact of the pandemic on mental health of workers in Ireland
This report is a first step to understanding workplace mental health and wellness promotion in Irish workplaces. Although Irish employers generally recognise their responsibilities in this area, investment in and implementation of workplace mental health and well-being supports lag behind. It may be that the business case for investing in mental health and well-being is unclear to Irish businesses. Next steps in this study involve investigating the link between employee mental health and well-being and productivity outcomes. We wish to understand the causal processes by which employers can support better mental health and well-being and at the same time boost productivity.
This research was supported by the Economic and Social Research Council (UK)
Dr Jane Bourke is a Senior Lecturer in Economics at Cork University Business School, UCC. Niamh Lenihan is a lecturer in Economics at MTU and a PhD candidate at the Spatial and Regional Economic Research Centre (SRERC) at the Cork University Business School at UCC.
---
The views expressed here are those of the author and do not represent or reflect the views of RTÉ
---