Analysis: debates around removing public monuments reveal the relationship that exists between history, memory and politics
Symbols and monuments to British rule have historically been removed, vandalised or destroyed in Ireland. To name just one incident, a bomb famously destroyed the upper section of the 120 foot tall Nelson's Pillar on Dublin's O'Connell Street on March 8th 1966.
But it's also a feature of modern-day Ireland. In June 2020, a statue of IRA leader Seán Russell in Dublin's Fairview Park was targeted (not for the first time), when the plinth was painted in rainbow colours. As one of the last symbols of imperialism in Dublin, a statue of Prince Albert, Queen Victoria's husband, remains tucked away on the grounds of Leinster House, while a statue of Victoria herself was removed in 1948.
In the wake of the murder of George Floyd in Minneapolis in 2020, a bronze statue of 17th century slave trader Edward Colston was toppled and thrown into the harbour in Bristol during an anti-racism demonstration. This also opened up debate in Ireland about how to address our own public monuments.
From RTÉ News, Latvia brings down 79-meter Soviet-era monument
Russia's invasion of Ukraine prompted renewed focus on what to do with soviet-era monuments still in place after dissolution of the Soviet Union. In Lithuania, authorities began removal of one of its last Soviet-era monuments remaining after the country regained its independence in 1991. As LRT (Lithuanian National Radio and Television) reported, they dismantled a Red Army monument in Vilnius' Antakalnis Cemetery, despite objections from the United Nations Human Rights Committee.
In late 2022, the Ukrainian port city of Odesa voted to dismantle a statue of 18th century Russian empress Catherine the Great. Before the invasion, both Ukraine and Poland introduced and updated "de-communisation" laws in 2015 and 2017 respectively, for the removal of Soviet and Nazi monuments and the renaming of public places.
At least 120 monuments commemorating the Soviet and Nazi regimes have been dismantled in Latvia, LSM reported, some of which were required to be removed after a law adopted in June 2022. In the capitol of Riga, a separate law was passed to dismantle the Uzvaras Park (Victory Park) monument, which saw it demolished in August of last year. The 259 foot tall obelisk was erected in 1985 to the Red Army's victory over Nazi Germany. In Estonia, authorities removed a tank on display in the city of Narva, close to the Russian border, choosing instead to display it at the Estonian War Museum.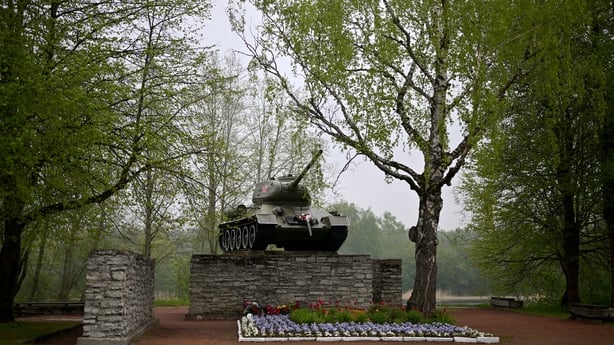 This sets the stage for a conversation on memory politics; should we remove monuments or contextualise them? And how we decide who or what we might commemorate or erect monuments to in the future? Estonian president Alar Karis this week declined to pass a law which called for the removal of a variety of Soviet-era features on buildings and in public spaces, calling the legislation legally unclear and unconstitutional, Estonian public broadcaster ERR reported.
The Russian invasion in Ukraine "re-actualised" the Soviet material heritage in Estonia and made it seem problematic, says Marek Tamm, Professor of Cultural History, Tallinn University. "But in my opinion, most Estonians have not considered these Soviet monuments and graves particularly problematic, considering that most of them have fallen into oblivion and are not in conspicuous locations."
"I believe that the decision to remove the monuments celebrating the Great Patriotic War [WWII] and the Soviet fallen heroes is supported by a great many Estonians. The official reason provided by the government is to exclude any risk that these monuments will be used for pro-Russian or pro-war demonstrations. But in my reading this decision reflects also the interest of right-wing parties to mobilise their constituents before the elections," says Tamm. Parliamentary elections were held on March 5 in Estonia.
We need your consent to load this rte-player contentWe use rte-player to manage extra content that can set cookies on your device and collect data about your activity. Please review their details and accept them to load the content.Manage Preferences
From RTÉ Radio 1's The Business, UCC lecturer Kate Hodgson on the history of slave trading
"I do agree that we have to find a solution regarding how to cope with the Soviet monuments and public symbols, especially after the Russian aggression in Ukraine, but I don't believe that these kind of decisions should be taken in haste and during the election campaign," argues Tamm. "I would expect that specialists of art history, heritage protection and contemporary history are involved in making the decisions of removal and that these monuments are not turned into a security threat, as many politicians have tried to do. The criteria should be based on professional expertise, taking into account the historical and artistic value of the monuments in question, not on political arguments."
The removal campaign seems to be inspired by a desire to get rid of the Soviet legacy in Estonia, which remains a "mission impossible," says Tamm. "I'm rather confident that in two or three generations there will be a different, less emotional attitude toward the Soviet past in Estonia and the future generations will not be particularly happy if there is no trace left of the Soviet monumental landscape." Tamm is personally not very keen on erecting monuments to political events or leaders and doesn't believe there is a need for new ones.
The removal or destruction of monuments is not a uniquely modern phenomenon, says Helen Parish, Professor in History at the University of Reading. "There is much that we can learn from the violence perpetrated against statues and images, the objects that were targeted, and the justifications presented for their destruction. The act of tearing down statues and images is more complex than the vocabulary of 'cancelling history' suggests; the destruction and removal of such objects leaves behind evidence of how societies and cultures imagined and constructed their relationship with the past, with power, and with people," she says.
We need your consent to load this rte-player contentWe use rte-player to manage extra content that can set cookies on your device and collect data about your activity. Please review their details and accept them to load the content.Manage Preferences
From RTÉ Archives, on 8 March 1966 the Nelson Pillar on Dublin's O'Connell Street was destroyed by a bomb
In that way, the vacant space left when monuments are destroyed tells its own story and creates its own history, she explains. "Their removal is not a destruction or an erasure of history, but a creation of a new way of remembering."
In most cases, the act of tearing down a monument is a form of protest against the beliefs, cultural, and politics that it symbolises, says Parish. "If we look at the destruction of images of saints during Reformation, the intent is to remove these 'objects of idolatry' from view so as to remove 'all memory of the same' - as explained in the royal injunctions issued by Edward VI and Elizabeth I in England. It is also intended to humiliate the monuments and statues – if the image of the Virgin Mary is torn down and destroyed, and there is no form of retribution – on the part of God or the saint – then that object loses its power and meaning."
"The wave of iconoclasm that swept through the Netherlands in the 1560s is perhaps the best documented narrative of destruction; the scale of the violence was shocking to those who observed it, but physically transformative of church buildings and religious culture. It also, of course, sharpened the divisions between Catholic and Protestant. More recently, the removal or destruction of Soviet-era monuments Poland, Lithuania and Czechia is a powerful reminder of the complex relationship that exists between history, memory and politics."
"In Italy, the statues of Mussolini and of party officials - those not destroyed immediately after the fall of the regime - have often been moved to museums, but there are many (it seems more than a thousand) plaques and street names that recall or celebrate Fascism that dot the urban landscape, and there are also some monuments erected by Mussolini during Fascism that every now and then someone proposes demolishing," says Rosanna Ruscio, Director of the School of Communication and Valorization of Cultural Heritage, Brera Academy of Fine Arts, Milan.
One example is the obelisk at the Foro Italico in Rome which bears the writing Dux, meaning "leader" in Latin. "The Italian writer and Holocaust survivor Primo Levi explained that we must not forget but instead continue to meditate on what had been. According to him, the memory of Fascism had to continue to exist in order for the same story not to be repeated."
Ruscio doesn't agree with tearing monuments down and instead would prefer to see a dialogue with the past and all it represents and a more creative approach, such as "re-semantising" — contextualising — monuments. Ruscio says: "Any actions we take regarding monuments should have the aim of making us reflect on the historical errors represented by the statue. It would be a way to prompt questions and hence also find answers regarding why the statue was erected in the first place and the reasons why it shouldn't be celebrated today."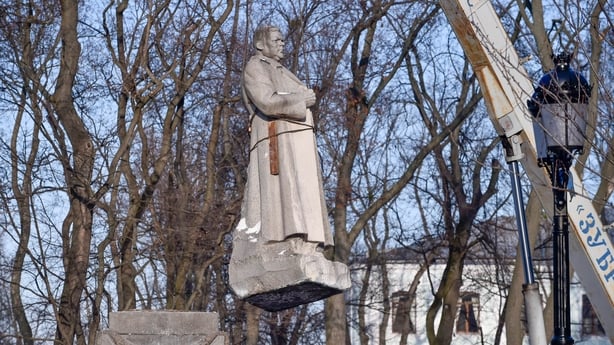 The point is not to try to erase all the controversial and uncomfortable traces considered negative by ideology or temporary fashion, says Olimpia Niglio, architect and Professor of Architectural Restoration at Pavia University, Italy. "The point is to actually know our history and have a high capacity of discernment in order to pursue positive objectives related to the development of humanity. For this reason, the study of history and one's local cultural heritage is fundamental for primary schools," she says.
"Because the future of humanity depends on this correct knowledge of our existence. Any action aimed at changing or erasing the traces of our existence will not allow future generations to have a conscious knowledge of our past historical stratification. Erasing rather than knowing, and destroying rather than preserving, means not being aware enough of our own lives".
Monuments are powerful instruments of propaganda, making the events of the past visible in the present, Parish says. "Public art of this type defines the heroes of history and writes the story of a nation's identity. But these objects being removed reflect (and create) conflicting histories and interpretations of the aftermath of war. Public memory is not uniform or static. The destruction of material objects and the destruction of human memory are not the same. History, memory and politics are, and always have been, closely intertwined and the link between remembering and forgetting is stronger than we might think."
Additional reporting by Michelle Hough and Alina Trabattoni for the European Broadcast Union's A European Perspective initiative.
---
The views expressed here are those of the author and do not represent or reflect the views of RTÉ
---