Analysis: Ireland's domestic goddesses and gentlewomen of old used fruits, flowers, vegetables and even tree-bark to produce drinks
The mid-to-late 17th century saw the introduction of tea, coffee, and chocolate into elite households in modern Europe. Initially considered medicinal in nature, these drinks were being consumed largely for pleasure by the 18th century. In Ireland and England, the rise in popularity of these fashionable beverages was closely mirrored by that of cordials and sweet wines. Restorative and therapeutic properties were attributed to cordials, the forerunners of modern liqueurs.
In Georgian Ireland, the elite enjoyed cordials and 'made', or homemade wines at social gatherings and as accompaniments to desserts. Women from the middling ranks of society and upwards, anxious to display the finer domestic skills associated with feminine gentility, prided themselves on the production of made wines. These were concocted from a range of plants and fruits and imitated the styles of more expensive imported wines like madeira and claret. Manuscript recipe books in the National Library of Ireland reveals that Ireland's domestic goddesses prepared cordials and wines over the course of the 18th century using a wide range of botanical sources.
Mary Delany, a nonpareil amongst observers of elite society in mid-18th-century Ireland, observed that 'the knowledge of housewifery is very necessary to every body [sic], let their station be what it will'. In the case of high status women like Delany, knowledge of household chores was primarily useful to them in their positions as supervisors of domestic staff, not as active performers of menial tasks.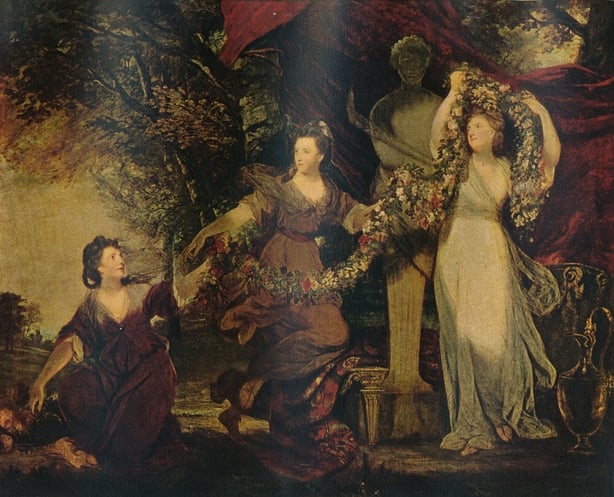 While laundering and general cleaning chores were considered low status household tasks, cooking was not. The knowledge of cookery and cooking skills had real social and practical value in this period. Even if menu-planning and consulting with cooks or chefs was the limit of elite women's engagement in the process of providing regular meals for their households, these activities accorded with the social ideal of women as nurturers.
From the 17th to the late 18th century, accomplished household mistresses were capable of supervising the production of cordials and therapeutic wines in the still room. The novelist, William Makepeace Thackery, noted in 1868 that a hundred years previously, every lady was able to oversee the preparation of 'laborious recipes by which she produced the domestic remedies for her household … and [the distillation of] the sweet waters' that her family enjoyed.
Georgian Ireland's thrifty and inventive gentlewomen and housekeepers used fruits, flowers, vegetables and even tree-bark to produce cordials and made wines. Recipes for wines made from ingredients like 'Raison, Elder, Cowslip, Corant [currant], Goosberry, Aprecock [apricot], Orange, Damson, Chery, Quince, Raspberry, Gillyflower' and, perhaps surprisingly, 'Birch', illustrate the ingenuity of accomplished domestic doyennes in that era.
Gifts of homemade cordials and wines were greatly appreciated by gentry men and wome
Delany typifies the type of woman likely to have consulted such recipes. Financially comfortable yet economical, she relied on her own industriousness to ensure a stock of sweet wines for her home, Delville, in Glasnevin in north Dublin. In a letter dated 12th January 1750-51, Delany boasted to her sister in England that 'I have made a pipe of orange wine, and next week shall make raisin wine by your receipt [recipe]'.
Gifts of homemade cordials and wines were greatly appreciated by gentry men and women. The patriot William Drennan was fortunate in his solicitous sisters, Martha McTier and Ann (Nancy) Drennan. Drennan informed McTier, in a letter in December 1805, that he and his wife considered the currant wine (made by Nancy) that they were then drinking to be excellent.
He was doubtless further delighted when, in a letter dated 22nd September 1806, McTier told him that he could 'draw on [McTier] for ten gallons of c[urrant] wine'. Higher up the social scale, Lady Louisa Connolly, chatelaine of Castletown House, gratefully acknowledged a gift of forty bottles of French liqueurs from her sister, the then Dowager Duchess of Leinster, in a letter dated 23 August 1776.
Judging by the three exclamation marks, its author must have considered the wine produced from this recipe especially pleasing.
There is not a great deal of variation in the basic recipes for made wines and cordials as they appear in period manuscripts and printed recipe books. However, an Irish manuscript recipe book provides an early 19t-century recipe for White Currant Wine with an unexpected twist. In order to enrich the flavour of the wine, the recipe recommends suspending a piece of bacon from the bunghole of the vessel containing the developing wine. This particular recipe is discussed in some detail in 'This receipt is as safe as the bank' by culinary historian Dorothy Cashman.
The same manuscript provides a recipe for parsnip wine that 'approaches nearest to the Malmsey'. This recipe includes a critique stating that it produced a parsnip wine of such superior quality that it compared favourably with 'East India Madeira … !!!'. Judging by the three exclamation marks terminating this notation, its author must have considered the wine produced from this recipe especially pleasing.
Fortunate owners of gardens great and small, in town or country, delighted in seeing the fruits of those gardens turned into pleasant and salubrious drinks. As with gifts of game and exotic fruits, the gifting of cordials and homemade wines reinforced the status of donors in the eyes of grateful recipients.
---
The views expressed here are those of the author and do not represent or reflect the views of RTÉ
---