Analysis: a panoply of desserts delighted Ireland's sweet-toothed and fashion-conscious Georgian diners
As fans of Bridgerton know, members of the ton in Ireland, like their peers in Hanoverian England, vied with one another in displaying their wealth and fine taste. The dining room provided an ideal setting for this because a wide variety and quantity of luxury foods and wines were presented and consumed there.
Some observers admired the open-handed generosity of 'the Irish Gentry' who spent much time 'feasting with one another'. Others regarded the nature of traditional hospitality in Ireland—the style of which, by the Georgian era, had been assimilated by the ruling elite—as excessive. John Bush, a peevish critic, said that 'too much of their boasted hospitality … has a greater right to be denominated ostentation'. Nonetheless, at the elite level, hospitality conformed to prevailing cosmopolitan standards of etiquette, which Ireland's gentry and nobility were as familiar with these as any of their European counterparts.
The letters sent to family and friends in Ireland by the men and women who visited fashionable European destinations often included details about their dining experiences. These accounts provide insight into how elegant meals in Ireland were influenced by continental trends.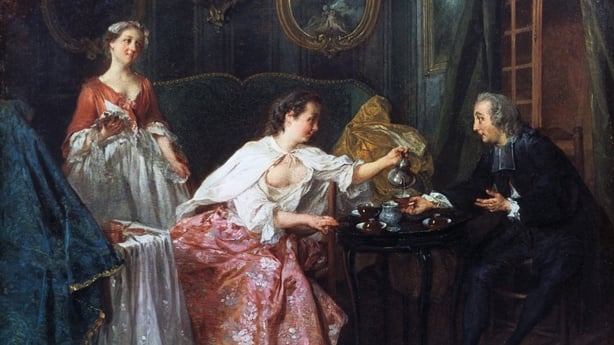 Lady Arbella Denny was a guest at a dinner party hosted by the Prince of Orange in Aix-la-Chapelle in 1751. Writing home, she devoted more space to detailing the luxurious clothes worn by the prince's servants than she did to describing the menu. It is understandable that Denny was distracted from her food by the 12 footmen in blue coats 'laced down the seams in gold lace that had a small bit of scarlet in the middle of the gold, with scarlet cloth waistcoats laced with gold'. She did, however, record the number of dishes served to the 20 guests: the first two courses comprised a total of 46 dishes, but they were eclipsed by a 50-dish dessert course.
Dessert was the 'bling' course at formal Georgian and Regency dinners. Jellies, ices, sweetmeats, syllabubs, cakes, biscuits and both fresh and candied fruits tantalised diners. Pièces montées created by confectioners were all the rage. Emily Fitzgerald sniffed that in Ireland, 'every Bodys Housekeeper is their Confectioner'. Aware of her position at the apex of Ascendancy society, Fitzgerald was sure to employ a French confectioner herself. Not everyone, however, scorned desserts produced by housekeepers. Jonathan Swift was flattered when one titled friend assured him that his housekeeper made 'the best sweet puddings' that he ever ate.
Few could afford the luxury of a private confectioner from France, but local ones were on hand to satisfy the popular demand for elaborate sugar work. Modish ready-made and made-to-order desserts could be supplied by confectioners like Mr. Hickey at 'The Golden Key' near Dublin Castle.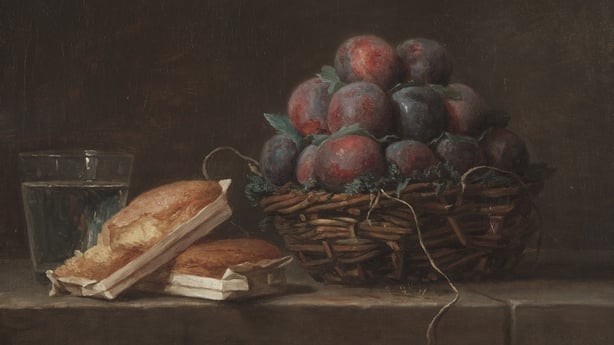 In Maria Edgeworth's The Absentee, the author conferred lasting fame on a particular lady confectioner and her specialty. Mrs. Godey of Dublin (a real person) is identified in the novel as the peerless maker of 'that delicate sweetmeat, the Irish plum … the best thing of its kind'. Godey expressed her gratitude for this praise by sending Edgeworth a large box of her now-famous candied plums.
Candied fruits had the benefit of keeping well, but this attribute could be pushed to the limit, if the somewhat burlesque 'recollections' of an English author, Benson E. Hill, can be believed. As a young officer in early-19th-century Ireland, Hill spent time in Athlone. He became acquainted there with a wealthy miller and his wife who frequently entertained officers from the local garrison.
Hill was a regular guest at the couple's dinners and he'd noticed that a melon, candied by the hostess, held pride of place as 'a constant ornament' on her dessert table. One evening, when he was seated next to a colonel new to the company, Hill was 'seized by a demon of mischief' as he eyed the familiar fruity adornment. Knowing the antiquity of the crystallized fruit, he roguishly cut a slice of it for his hapless neighbour. The desecration of her prized preserved melon provoked outrage from its embalmer, but her husband mollified her by pointing out that it was long past time for her 'pet' to be eaten.
We need your consent to load this YouTube contentWe use YouTube to manage extra content that can set cookies on your device and collect data about your activity. Please review their details and accept them to load the content.Manage Preferences
From Haughton International, food historian Ivan Day on the surprisingly sophisticated and eccentric dining culture of the 18th century
Enthusiasm for flashy desserts elaborately displayed wasn't restricted to society ladies in Dublin. Provincials keen to keep up with cosmopolitan trends were quite adept at turning out desserts and decorations in continental style for their festivities.
Like the Tipperary-based memoirist Dorothea Herbert, they happily turned their own hands to the confectioner's art in order to satisfy their sugar cravings and create eye-catching table-top decorations. Preparing for a private celebration, Herbert constructed 'a Central Arch of Paste-board and Wild Heath with Various other Ornaments' to set off the 'Whips Jellies and Creams' she'd made. Confident that everything she'd prepared for her party was the height of fashion, Herbert preened that 'a more flaming affair never was seen on the Banks of the Seine'.
From the capital to provincial towns, a panoply of desserts delighted Ireland's sweet-toothed and fashion-conscious diners. Whether produced professionally or by enthusiastic amateurs, confectionery was another form of material culture used by the elite in Georgian Ireland to enhance both their status and the elegance of their entertainments.
---
The views expressed here are those of the author and do not represent or reflect the views of RTÉ
---