Analysis: this preoccupation with elegant tableware was designed to draw attention to the gentlemen's good taste and wealth
This article is now available above as a Brainstorm podcast. You can subscribe to the Brainstorm podcast via Apple, Stitcher, Spotify or wherever you get your podcasts.
In mid 18th-century Ireland, Edward Synge, the Bishop of Elphin, spent a lot of time thinking about dishes. He needed dishes for two homes and he knew exactly what he wanted in terms of both design and function. One of these houses was a grand Bishop's Palace at his diocese in Elphin, Co Roscommon, and the other was a townhouse in Dublin.
Synge spent part of each year in Elphin and, from there he sent regular letters to his daughter, Alicia. She and her governess, a Mrs Jourdan, stayed in Dublin where they received constant enquiries, instructions and advice from the bishop. The bishop valued Mrs. Jourdan's opinions and he frequently told Alicia to ask Mrs. Jourdan to act for him in domestic matters.
Between May 1747 and June 1751, Synge sent his daughter a series of instructions for the purchase of various dishes and plates, some made of Irish delftware and some possibly made of imported porcelain or bone china. In spring 1747, Alicia passed on a request from her father for a 'Soop-dish' to Mrs. Jourdan, who gave the order to a local Dublin potter.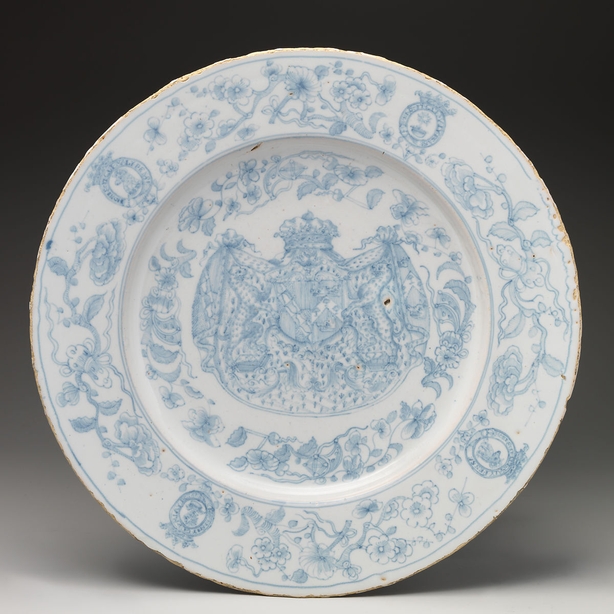 Unfortunately, there was a miscommunication. When the bishop received his new dish in early May, he described it in a letter as "the poorest pimping Soop-dish that I ever saw", listing a number of faults with its design. To meet his requirements, Synge insisted on a 'Soop-dish' with a broad rim and a very deep bowl that could hold more than 'a Pottle' (an archaic measure equivalent to two quarts). This indicates that the dish was meant to serve as a soup tureen. He clearly wanted no further mistakes made with this order, adding 'I must have this as I direct'.
The 'Soop-dish' saga continued until the beginning of July, when Synge told his daughter that he had finally received a dish that was 'perfectly right'. By this time, however, it seems that both Alicia's and Mrs. Jourdan's nerves were on edge.
It's apparent the bishop knew this when we read a letter he wrote to Alicia two years later, in June 1749, in which he ordered more dinnerware. This time, the ladies were asked to choose some 'pretty and strong' dinner plates for him, and he assured Alicia that Mrs. Jourdan need 'have no palpitations' about this order—he promised to like the plates in advance. Evidently, the earlier 'Soop-dish' debacle had taken a toll on Mrs. Jourdan. On receipt of the chinaware, the bishop reported that he liked 'the China-dishes and plates greatly'.
We need your consent to load this YouTube contentWe use YouTube to manage extra content that can set cookies on your device and collect data about your activity. Please review their details and accept them to load the content.Manage Preferences
From CultureMap, food historian Ivan Day on the art of dining during Georgian times
If the ladies in Dublin heaved sighs of relief at this point, they did so prematurely. In June 1751, Synge requested more dishes. He noted in his letter that he already had 'margen'd blue' dishes, and that he'd now prefer 'other Colours'. This instruction must have provoked new anxiety in Dublin as Alicia and Mrs. Jourdan nervously tried to decide exactly which colours would please the fussy bishop.
We can't help sympathising with Synge's daughter and her governess in their efforts to fulfil the desires of this demanding clergyman. To modern diners, his apparent fixation with dinnerware—especially his ideal 'Soop-dish'—may seem extreme.
However, soup was an important feature of the elegant menu at the Georgian table. The tureen from which soup was served would usually have been placed in front of the hostess, who then ladled the soup into individual dishes that were carried to diners by a servant. At formal dinners, two different types of soup were often served—a clear soup and a "potage."
We need your consent to load this YouTube contentWe use YouTube to manage extra content that can set cookies on your device and collect data about your activity. Please review their details and accept them to load the content.Manage Preferences
From HENI Talks, Tristram Hunt, Director of the V&A, on Josiah Wedgewood, "the Steve Jobs of pottery"
Sophisticated diners required elegant dinnerware, and Synge was not alone in desiring dishes that were just to his taste. Richard Lovell Edgeworth was another gentleman in 18th century Ireland who thought carefully about his tableware requirements. In 1788, he ordered 'three dozen Soup plates … & a Middle size Tureen' amongst other items, from his friend, the famous English potter Josiah Wedgwood. Edgeworth was emphatic about his colour choice and told Wedgwood that his soup plates should be 'Green Edged'.
In choosing ceramic dishes and plates, both Synge and Edgeworth spared their servants the ordeal that handling dishes filled with hot soup must have been for those working in the household of John FitzGibbon, 1st Earl of Clare. The Lord Chancellor of Ireland discovered that the soup plates he had 'very foolishly' bought in silver had the 'admirable effect' of burning his footmen's fingers.
The respective choices in soup-related tableware made by Synge, Edgeworth, and Fitzgibbon emphasise the elite's growing desire for luxury goods in Georgian Ireland. Their enthusiasm for high quality, fashionable wares was driven by evolving trends in material culture in modern Europe, and it mirrored that of their peers in England, continental Europe and Colonial America.
---
The views expressed here are those of the author and do not represent or reflect the views of RTÉ
---