Analysis: the new diversity on our screens may signal an end for the old boys' club of former male players talking about the game
When asked what he thought about the coverage on TV back in the 1970s, the European Cup winning manager Brian Clough famously told commentator John Motson that his studio colleagues at the BBC should "shut up and show more football!"
We need your consent to load this YouTube contentWe use YouTube to manage extra content that can set cookies on your device and collect data about your activity. Please review their details and accept them to load the content.Manage Preferences
It was an ironic quote. Clough himself dabbled in the art of punditary on plenty of occasions and, by all means, he was an excellent one. A perfect blend of pure entertainment, no-nonsense clarity and hilarious one-liners, he was a box-office straight talker who called it as he saw it.
Sometimes the post-match analysis of games, the brilliant heated debates and the biting criticism, can be more entertaining than the action on the pitch itself. Euro 2020 has provided further evidence of this, as viewers tune in to see what their favourite pundits have to say after games, as much as the 90 minutes of action itself.
There have been no shortage of outstanding games at this summer's European Championships. But there is absolutely no doubt that compelling and enlightening analysis in the studio afterwards — whether on RTÉ, the BBC or ITV — only adds to our overall enjoyment too.
We need your consent to load this rte-player contentWe use rte-player to manage extra content that can set cookies on your device and collect data about your activity. Please review their details and accept them to load the content.Manage Preferences
From RTÉ's Soccer podcast, RTÉ Online Sport Editor Mikey Stafford talks to Karen Duggan about why Euro 2020 seems like a pivotal moment for women in TV studios and commentary boxes.
But unlike back in the 1970s, there is a growing diversity of voices to be heard these days on our TV screens. The days of three or four grey-haired, middle-aged men in suits talking about football are not completely gone, but this month's Euros has provided firm evidence that a more equal gender balance is, at last, being undertaken.
Analysts like Lisa Fallon (RTÉ), Emma Hayes (ITV) and Alex Scott (BBC) have been three of the most informative, communicative, well-researched, best-prepared and enlightening voices across our screens during the Euros. Each has received glowing praise for their efforts as pundits and also as co-commentators during games.
To an outsider, punditry looks like the easiest job in the world. Sitting on a comfortable chair in a nice television studio talking for hours: how hard can it be? But analysis has come a long way over recent decades and viewers can easily tell a good pundit from a bad one. In the modern age, standards have been raised, and a lazy pundit just doesn't cut it anymore.
Croatia take on Spain in the last 16 of Euro 2020 without the services of Ivan Perisic, who was diagnosed with Covid-19 and the panel agree that he'll be a huge loss for the Croatians #rtesoccer pic.twitter.com/48CCkhv5wy

— RTÉ Soccer (@RTEsoccer) June 28, 2021
That's what has made analysts like Hayes, Fallon and Scott so refreshing. Each has a wealth of expertise to impart having played, coached and managed at the very highest level. Hayes recently led Chelsea Women to their second consecutive league title and also to the club's first-ever UEFA Women's Champions League final. Scott earned 140 England caps and, amongst a wealth of accolades, won the European Cup with Arsenal in 2007. Having previously worked under Jim Gavin with the Dublin footballers and with Northern Ireland at Euro 2016, Fallon is establishing herself as one of the most exciting coaches in Irish football today at Galway United, having previously coached at Chelsea and Cork City.
A tweet showing the remarkable level of detail Hayes puts into her research before games on ITV went viral last week. Viewers have been compelled by the Chelsea boss's deep knowledge, enthusiasm and ability to convey complex tactical scenarios to the everyday football fan. Instead of the usual tropes of players "lacking passion" and "not wanting it enough", Hayes has provided us with an education on the high press, double pivots and how to defend in a low block. All very in-depth tactical knowledge, but she gets her point across without ever sounding over-indulgent or too complex. Hayes makes tactics accessible and treats us, the TV viewer, with respect.
There are many skills necessary to being a good pundit or co-commentator. These include being entertaining and energetic, informing the audience and speaking in a clear and concise manner. But all of them add up to one key piece of expertise: being a good communicator.
Fans place far less weight on how many titles a pundit has won, compared to their ability to properly deconstruct a game and convey that knowledge
For decades, many male pundits simply relied on their reputations and how many medals they won during their playing careers in order to justify themselves and the points they made. But what Euro 2020 and modern TV coverage has made clear is that an impressive playing career does not automatically entitle somebody to being a good pundit. The two are completely different professions that require different skill-sets. Being a world-class footballer or manager does not always translate to being a world-class pundit, and those that can do both jobs well are to be praised.
Viewers demand high expectations of their analysts when it comes to watching football on television today. Fans place far less weight on how many titles a pundit has won, compared to their ability to properly deconstruct a game and convey that knowledge to the punter sitting on their couch at home. The fact of the matter is: a bucket of Premier League winners' medals is no good to me, as a viewer, if you can't tell me why Joachim Löw's ineffective use of a 3-4-3 formation led to Germany's premature exit from the tournament.
Gary Neville and Jamie Carragher have been the gold standard of in-depth insight on Sky Sports for years now, but it is refreshing to see a new wave of more diverse pundits being given their opportunity to shine on the big stage. For too long, women were completely ignored and it is only in recent years that female faces have become more visible on our screens each week.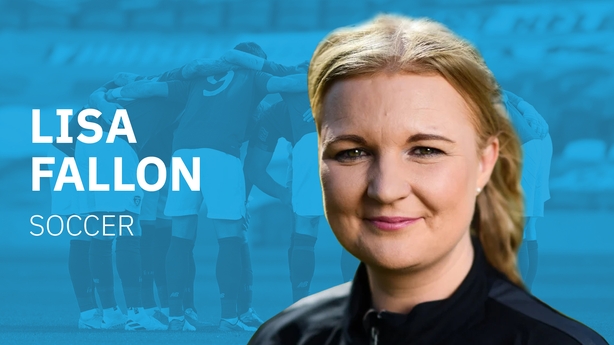 Karen Carney, Eni Aluko and Nadia Nadim have been welcome new voices during Euro 2020 coverage in the UK, while closer to home, Women's National League stars like Áine O'Gorman, Stephanie Roche and Karen Duggan have also performed well. Duggan, in particular, has been one of RTÉ's most commended pundits during Euro 2020 games. The former Ireland international, who was named FAI Women's International Player of the Year in 2016, is a superb communicator, delivering balanced points and insightful knowledge in a clear and accessible manner.
Unlike 50 years ago, female voices are much more common on our screens after so many decades of being entirely overlooked for no other reason than blatant sexism and misogyny. Female sports presenters like Jacqui Hurley, Gabby Logan and Eilidh Barbour just some of the household names fronting national broadcaster's coverage of Euro 2020 games this month in Ireland and the UK.
Pundits like Hayes, Fallon and Scott are idols for young girls watching this month's Euro 2020 coverage; for their achievements as players and managers and their brilliant skills as pundits and commentators. These and the many other women seen excelling in the studio during the Euros are visible role models, paving the way for the next generation of women aspiring to work in sports media.
---
The views expressed here are those of the author and do not represent or reflect the views of RTÉ
---