Yes, things are opening up for England with regard to them reaching the Euro 2020 final at Wembley on 11 July.
Ukraine and either Denmark or the Czech Republic stand in the way of Gareth Southgate's side being involved in the showpiece decider.
In their four games to date, England certainly haven't played with a swagger, but they have yet to concede a goal. They have been functional, a point RTÉ analyst Karen Duggan elaborated on when speaking on RTÉ's Euro 2020 Podcast.
"It certainly not the matches that are making England interesting," said the former Ireland international.
"The Germany game was one of those games where you were praying for an early goal. England are highly functional and are plodding their way through. They have been nothing to write home about so far.
"They are on the easier side of the draw, haven't had to open up. Raheem Sterling, who many people thought wasn't going to warrant selection because of all the attacking talent that they have and not having his best season for Man City, has become their talisman in the absence of any type of form from Harry Kane.
"He got the goal yesterday but I thought he should have been taken off after 50 or 60 minutes."
Also commenting on the England story at these Euros was Ray Houghton. Assessing their functionality so far, he told RTÉ's Morning Ireland: "Sometimes you have to ride your luck, get a bit of good fortune that comes your way, be prepared to take it and then act on it - that's what England have done so far".
Houghton added that the win over Germany in the round of 16 "was their best performance" so far and singled out one player that made a difference.
"Defensively, they looked nice and solid. There was nothing in the game and they got the goals at the right time. They needed Jack Grealish to come off the bench, prior to that they weren't creating a great deal. He gave them that extra bit of guile in the final third. He played the ball on which led to the cross for the first goal for Sterling and then he crossed it to Harry Kane for the second. He had a major impact."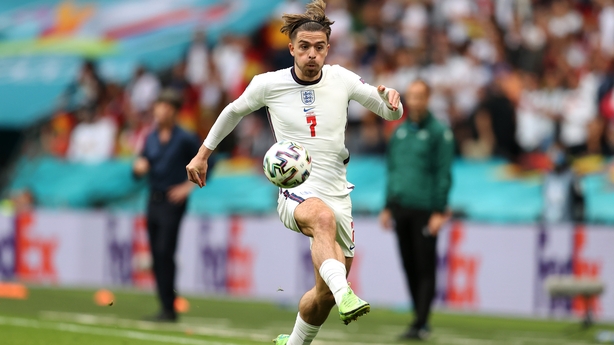 Duggan also spoke highly of the Aston Villa player, who soon could be on his way to Manchester City.
"I love watching him play as much as I hate saying that as an Irish person. There is something special about him, something that is lost from a lot of modern midfielders who don't want to dribble and take people on - it's all about pass and move. He brings an unpredictability, something away from the functionality.
"After 70 minutes against Germany he was the one that brought that spark. He's another potentially £100million man sitting on the bench and what a story that is."
On Saturday evening, England take on Ukraine in the quarter-final, with Houghton expecting Southgate's side to step it up as it's now all about reaching the final.
"I think they will get better. They have got some really good attacking players that have not been used too often. It all depends on what Gareth intends to do in the remaining games, what system he wants to play and what players he wants to put in.
"That's where the criticism comes from. A lot more attacking players could play. Against Germany he virtually had a back seven.
"If England keep that focus, determination and belief then they should get through to the final."
Listen to the RTÉ Soccer podcast on Apple Podcasts, SoundCloud, Spotify or wherever you get your podcasts.