Opinion: this take on Bloody Sunday is told through the eyes of a French rugby fan in Dublin for a match at Croke Park in 2007
Historical events and personalities are often portrayed in non-fiction graphic novels in an approach that targets those who consume history in media other than traditional literary texts. Bloody Sunday 1920, when 14 civilians lost their lives after Crown Forces opened fire during a Gaelic football match in Croke Park, is the latest event in Irish history to get the graphic novel treatment. The extraordinary part is that it is by French graphic novelists in the French language, bringing the story to a completely new audience of readers and serving as an introduction to French readers of a significant moment in Ireland's revolutionary period.
When introduced in the 1970s, graphic novels provided an opportunity to embrace the possibilities that came with the new form of visual storytelling – not as comics, but as novels. Graphic novels have become a huge part of the world of literature in recent years and the medium lends itself to many genres: fiction, non-fiction, biography and memoir. In 2018, the long-list for the Man Booker prize included a graphic novel for the first time in the form of Sabrina, by Chicago-based cartoonist, Nick Drnaso.
In Irish history, graphic novel adaptation has become a regular phenomenon and the Decade of Centenaries has sparked an appetite for new ways of narrating important moments in Ireland's past. The stories of the 1913 Lockout, 1916 Rising and Bobby Sands have been illustrated by Gerry Hunt, Damien Goodfellow focused on Brian Boru and Will Sliney looked at the legend of Cú Chulainn. These graphic novels benefit from their connection to significant anniversaries with writers and illustrators capitalizing on centenaries as much as any writer or historian.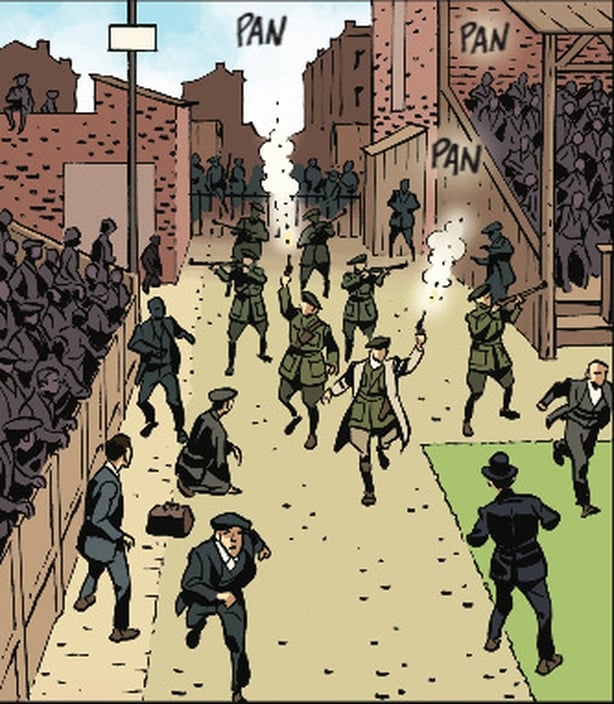 November marks 100 years since 90 seconds of gunfire broke out during a football challenge match between Dublin and Tipperary at Croke Park. The GAA Museum has a sensitively curated, diverse events programme to remember and honour the day that became a decisive turning-point in Irish history. The Bloody Sunday centenary has not only captured the attention of those in history and GAA circles, but of French writer Sylvain Gâche and illustrator Richard Guérineau.
Croke Park 21 Novembre 1920: Dimanche Sanglant à Dublin tells the story of Bloody Sunday through the lens of Antoine, a French man in Dublin during the 2007 Six Nations rugby tournament. Drinking in Phil Ryan's The Hogan Stand pub on the North Circular Road, a popular haunt for meet ups on Croke Park match days, Antoine is wearing a France soccer jersey with Henry emblazoned on the back. A deliberate attempt to poke fun at Ireland's misfortune (literally) at the hands of Thierry Henry? Mon Dieu!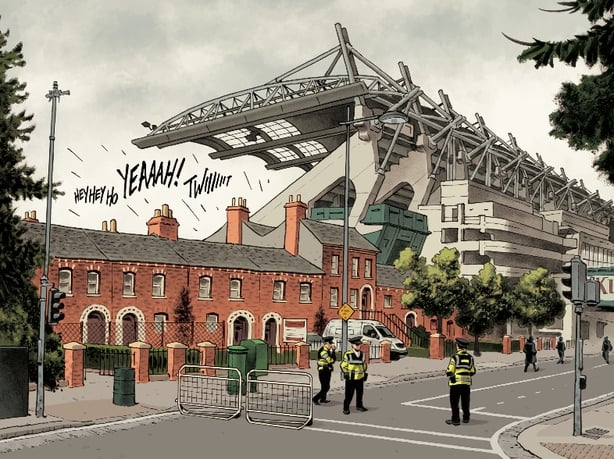 Antoine meets two local men and joins them for a Guinness as they tell of the significance of rugby matches being played in Croke Park, Rule 42 and Bloody Sunday. The references to the 2007 Six Nations fixture in Croke Park opens up new possibilities of – quite literally – seeing Bloody Sunday from a new angle. For many French sports fans, this fixture was their first introduction to Croke Park, the home of Gaelic games. For many, this publication may be their first introduction to the events of Bloody Sunday in 1920. It appears to use the foremost historical account of Bloody Sunday – Michael Foley's book The Bloodied Field: Croke Park, Sunday 21 November 1920 – as a template and follows it closely in order to ensure historical accuracy.
The novel floats between the turmoil of the War of Independence in Dublin in 1920 and the excitement of sporting history being made in Croke Park in 2007. The killings on the morning of Bloody Sunday are bookended by depictions of the dramatic encounter between the Irish and English rugby teams amidst the tension over the British national anthem being played at the exact site of an atrocity caused by Crown Forces. In true graphic novel style, the killings are depicted using non-vocal sound images such as "PAN PAN" to mimic the impact of gunshots.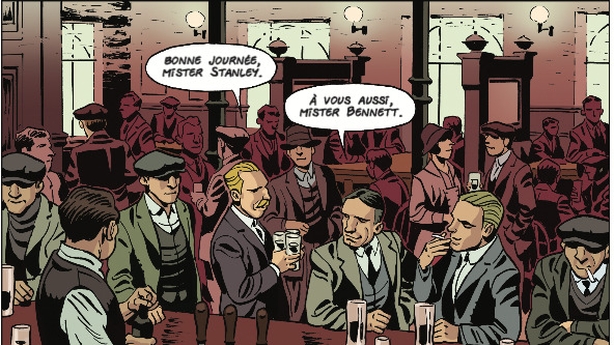 It is difficult to build a visual bridge between a graphic adaption and a historical moment one hundred years ago that has very limited visual references. As with many historical adaptations, artistic licence reigns freely, not least the dramatic front cover featuring an intimidating British soldier towering over a blood-soaked football while several others holding weapons terrorize bystanders in the background. However this form of storytelling is generally not photo-realistic, so the depictions are at least simplified from the originals.
With regards to existent visual references such as the structure of the stadium, its dressing rooms and streetscapes of Dublin city, Croke Park 21 Novembre 1920: Dimanche Sanglant à Dublin  pays remarkable attention to detail. This is overshadowed by the final image in the book which over-simplifies the narrative of Bloody Sunday in order to streamline the tragedy of 1920 with a rugby tournament, albeit a momentous one in 2007. The image depicts the victims of Bloody Sunday standing in the present-day Croke Park with the lyrics of Ireland's Call headlining across the page as Tipperary footballer Michael Hogan hoists a rugby ball above their heads. A callous image given the complicated and tragic events of November 21st 1920, but such is the nature of this genre of visual language.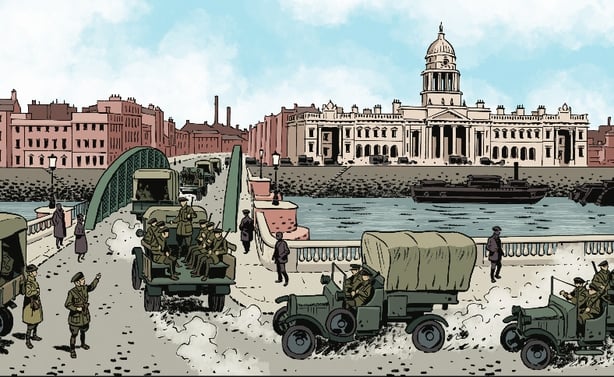 Like any moment in history, it is difficult to narrate the story through a set of sequential image panels. Nevertheless, using a graphic novel as a new media of storytelling attracts brand new audiences and in this case, a more global readership.
Croke Park 21 Novembre 1920: Dimanche Sanglant à Dublin is available now on Éditions Delcourt
---
The views expressed here are those of the author and do not represent or reflect the views of RTÉ
---