Analysis: it's a mix of skill, endurance, speed, strength and power - plus chicken pasta, fruit salad, caffeine and beetroot supplements
Men's Gaelic football and hurling are both 15-a-side field games played on a pitch 40% longer and nearly 30% wider than a soccer field. According to the annual Teneo Sport and Sponsorship Index, Gaelic games are the most popular sports in Ireland, a testament to the generations of parishes, volunteers and players that have forged such an ironclad community.
The training
As Gaelic games are field-based sports involving skill, endurance, repeat sprint ability, speed, strength, and power, the training itself cannot focus on just one approach. Various components of fitness must be trained to become a successful GAA athlete.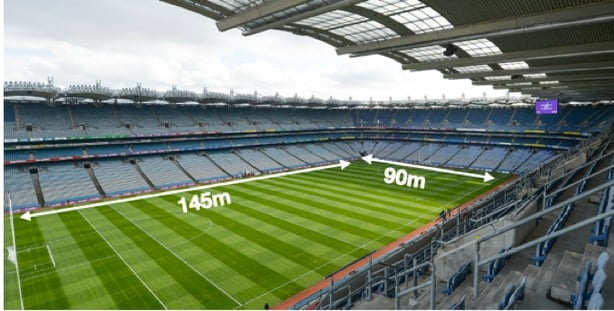 Players regularly engage in strength training exercises for multiple reasons. Being strong seems to have a protective effect against getting injured, something no player or banisteoir wants. A team that can keep its best 15 on the pitch increases its chances of success. Players must build resilience to enable them to tackle and receive tackles and building strength facilitates this response. Correct strength training will facilitate the athletes to be able to jump higher and sprint faster, both key components of being a successful athlete.
However, this must also be balanced with enabling players with the ability to cover seven, eight, nine 10 or 11 kilometres per game. And not jogging, but 11km of running interspersed with accelerations, decelerations, change of direction and sprinting.
Athletes will generally train as a team two days per week to enhance endurance capacity and work on the technical and tactical skills of the game. To achieve this, teams use "small sided games". The idea behind the concept, which has been validated by research, is that game-based drills in small numbers allows you to work on skill components while also making the athletes work hard. If you want the athletes to work harder, you can increase the dimensions of the game or reduce the number of players participating. This requires the athletes to cover more ground while still engaging in skill-based games.
We need your consent to load this rte-player contentWe use rte-player to manage extra content that can set cookies on your device and collect data about your activity. Please review their details and accept them to load the content.Manage Preferences
From RTÉ Sport's GAA podcast, legendary hurling coaches Martin Fogarty and Eamon O'Shea talk to Mikey Stafford about their hurling philosophies
The game
When the weekend comes, the players will typically have completed two strength-based sessions and two pitch-based sessions, completing up to 15km in preparation for the game, which will be fast, hard hitting and intense.
The specific physical, tactical, and technical demands placed on players differ based broadly on the five distinct positional demands. These demands are now routinely tracked using global positioning system (GPS) technology, similar to what you will find on your sat nav or mobile phone. This gives the coaches and players information about how much distance players travel during the 70 minute period, how fast they run, how often they accelerate, decelerate and how much time they spend in high intensity running – an important metric of performance.
In general, footballers tend to cover slightly more distance during games compared to hurlers, travelling on average eight to nine km per game during the league. This increases to 11 to 12km per game as we get into the All Ireland championship phase, with speeds peaking at over 30 km/h (the speed limit of residential areas).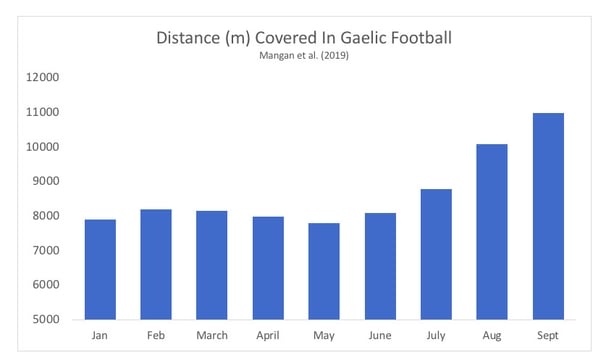 In contrast, hurlers tend to travel seven to eight km per game during the league and up to 10km per game during the Championship. However, when you take into consideration the pre-game warmup and post-game cool-down, these athletes are covering 13 to 14km per game in addition to being involved in a series of collisions. For comparison, this is nearly the equivalent of walking the coast of Dublin from Clontarf to Dun Laoghaire. Even the referees are covering between 7.5 and 8.5 km per game!
As you can imagine, it is the midfielders who cover the most ground in both disciplines, as these players are typically involved in both offensive and defensive plays. They're followed by both the half back and forward lines, and finally the full back & forward lines.
These championship figures would not be far off professional soccer players who cover 11 to 13km per game, yet Gaelic games players are not professional athletes. However, as the demands of the game have increased to such a high level in recent years, their preparation has to be as well-planned as possible.
We need your consent to load this rte-player contentWe use rte-player to manage extra content that can set cookies on your device and collect data about your activity. Please review their details and accept them to load the content.Manage Preferences
From RTÉ 2fm's Game On, coaches Sue Ronan, Liam Hennessy and Niall Corcoran discuss staying fit when sport is called off
Nutrition
Training volume reduces as game day approaches, with the 36 hours beforehand consisting of some potentiation training, low volume training, intense training to prime the muscles for powerful movements.
Sports nutrition plays a vital role in the preparation for match day. Athletes are required to carbohydrate load the day before the game in order to ensure their muscles are full of fuel. The 24 to 36 hours before the game is when most of their "fueling" is done. You can think of it as the athletes filling up their fuel tank, much like petrol in the car.
Game day nutrition is more focused on maintaining those fuel stores while ensuring they stay hydrated. Breakfast is used to top up fuel stores in the liver which the brain has been relying on as a fuel throughout the night, akin to the engine running overnight. The pre-match meal is a consistent staple consumed three to four hours prior to throw-in, a common example being chicken and pasta in a tomato-based sauce with fruit salad.
Sports nutrition plays a vital role in the preparation for match day
Prior to the match itself, athletes may prime themselves with caffeine to stimulate them, or beetroot supplements which widen the blood vessels to enable greater oxygen delivery to the muscle. This ensures the athlete is fully prepared for the challenge ahead.
The warm-up complete, a carbohydrate based gel or drink (or maybe some sweets), and caffeine gum in mouth as the national anthem plays and we are ready for throw in. All that's left to do is play the game.
---
The views expressed here are those of the author and do not represent or reflect the views of RTÉ
---