Opinion: the changes caused by the coronavirus are of a different stripe to anything Ireland's publicans have seen before.
This article is now available above as a Brainstorm podcast. You can subscribe to the Brainstorm podcast via Apple, Stitcher, Spotify or wherever you get your podcasts.
Canadian singer-songwriter Joni Mitchell's 1970's hit "Big Yellow Taxi" had the immortal lines: "don't it always seem to go/That you don't know what you got/'Til its gone". With our favourite watering holes absent from our lives since mid-March - and perhaps some not reopening after a five-month hiatus until mid-August - these lyrics may resonate with many in how much we have taken our pubs for granted. When regular pub-goers do take their first tentative steps towards a socially distanced rendezvous with their local pub, it's a reunion that may be quietly savoured by some, but one that's postponed by others, punters and publicans alike.
The practice of social drinking in Ireland's public houses is a cultural activity that has a history and pervasiveness deeply entrenched in the Irish psyche. Their transformative journey from latter day síbíns, ale houses, taverns and inns to the pub we know today bears testament to publicans' enduring resilience and ability to adapt.
In recent times, reasons for their decline include drink driving laws, the smoking ban and the increased availability of cheaper alcohol in supermarkets. In a BDO Consultants report for the Vintners Federation of Ireland in 2019, over one third of country pubs reported an increase in turnover, but many other pubs outside the capital city seemed "not confident" or "worried" for the future of their business.
We need your consent to load this rte-player contentWe use rte-player to manage extra content that can set cookies on your device and collect data about your activity. Please review their details and accept them to load the content.Manage Preferences
From RTÉ Radio 1's Marian Finucane Show in September 2019, an interview with Matt Ryan, co-founder and co-owner of the Press Up Entertainment Group
However, full employment in the latter part of the last decade led to increased consumer confidence, especially in the going out economy. Some large pub chains such as Press Up Entertainment Group, Mercantile Group and Louis Fitzgerald Group in the main cities successfully implemented specific market segmentation strategies appealing to key socio-economic groups.
Meanwhile, many innovative family pub enterprises across Ireland's towns and villages also demonstrated a canny capacity to innovate and reconfigure their offerings based on consumer lifestyle changes. A similar determination to re-invent, adapt and persevere will characterise those that will prevail in the next phase of their long history.
But key existential questions must be crossing the minds of Irish publicans at this time. Will it be worth my while to re-open my premises? if I do, will customers return and in sufficient numbers to ensure commercial viability? Other questions for those that re-open will pertain to their complexion as a hospitality offering in terms of what the customer experience will be in the short, medium and long-term in a post-Covid 19 Irish bar.
To address these questions, it's important to recognise that pubs cannot be regarded as one homogeneous assemblage. A tentative typology of different pub-types shows the diversity of offerings in the Irish pub trade from large urban pub, city-centre tourist venue and suburban or neighbourhood pub to many, many more.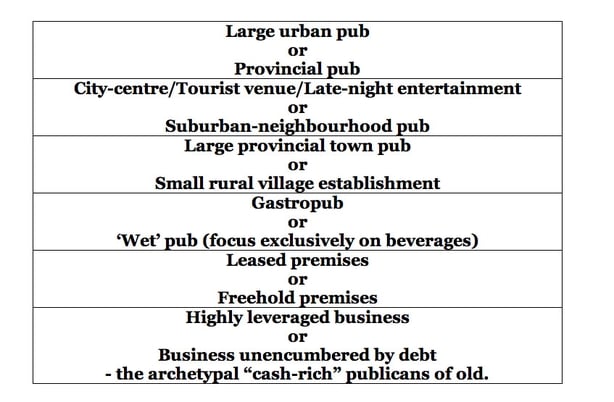 A significant factor for others is the number of years they have been in business. These are the long established, inter-generational pubs, with immense pride in their family pub's history and attachment to its locale. These are publicans whose investment goes beyond just the simply financial but is also psychological and emotional. These are visceral qualities unique to many Irish publicans that sees them identify as more than mere service providers.
A York University study commissioned by the Vintners Federation in 2015 highlighted the significance of pubs to Irish communities and the lives of its people as places where community cohesion and social capital can be fostered – a home away from home. Indeed, American sociologist, Ray Oldenburg used the concept of the 'third place' to highlight the fact that bars and taverns act as a liminal zone between work and home, a community space that provides a cultural remission for all frequenters.
The diverse range of pubs and publicans point to an eclectic mix so a universal 'one-size fits all' solution may not be at hand in determining which pubs will re-open, thrive or barely survive. This diversity of ownership naturally brings forth contrasting feelings of apprehension, pessimism and fear among some, and relative hope, quiet confidence and optimism among others - all feelings that are sincerely held and valid in the curious circumstances they find themselves in.
We need your consent to load this rte-player contentWe use rte-player to manage extra content that can set cookies on your device and collect data about your activity. Please review their details and accept them to load the content.Manage Preferences
From RTÉ Radio 1's News At One, Donall O'Keeffe of the Licensed Vintners Association on their proposals to Government to allow pubs re-open at the end of June
However, the changes brought about by the coronavirus are certainly of a different magnitude to anything Ireland's publicans have witnessed before. This applies at a macro socio-economic level, as well as at the micro-management level in terms of changes for their premises.
The obvious economic challenge is the imminent recession and fall in consumer confidence coupled with significant changes in consumer behaviour around different attitudes to the perceived risks in going to a pub. The fear-factor that some may have versus the enthusiasm of others to escape cabin-fever after months of lockdown will also play a part.
But the survival of certain pubs is contingent on the business model of high customer footfall at weekends and peak season, a model highly questionable in the short-term Social Distancing era. Can they survive the choppy economic waters that lie ahead? Some may not. Some marginal pubs that were already struggling will be reluctant to invest money in the current climate and some lifestyle publicans may see now as the natural time to depart the trade altogether.
We need your consent to load this rte-player contentWe use rte-player to manage extra content that can set cookies on your device and collect data about your activity. Please review their details and accept them to load the content.Manage Preferences
From RTÉ Archives, Frank Hall reports for RTÉ News in 1962 on the closure of McDaids pub on D'Olier Street in Dublin after 200 years in business
In 1997, social historian Kevin C. Kearns interviewed Paddy O'Brien, the legendary bar manager who described his very early days in McDaids, Harry St, now one of Dublin's foremost literary pubs. "McDaids was nothing at all, It was just an ordinary place with little snugs and partitions and sawdust and spittoons and you'd have elderly men in little groups spitting and all this sort of filth, and TB was rampant but you had to wash out those spittoons" The measures crafted in the 1940s to curb the spread of TB, a similarly treacherous and infectious droplet disease, included ending the use of the spittoons in pubs.
As we fast forward to 2020, keeping our distance will be one of the key measures crafted for our generation's infectious disease. Unless and until there is a vaccine, social distancing will be the order of the day in pubs and elsewhere. How the new spatial configuration and necessary public health compliance measures within pubs will impact the unique Irish pub experience is the big imponderable. The little snugs and partitions of McDaids may again return as perspex dividers with social distancing signage on the floors instead of latter-day sawdust. With our pubs practically designed for intimacy and social interaction, the phrase "Social Distancing" almost seems anathema to the warm and familiar céad míle fáilte in this foremost of Irish hospitality offerings.
The pub representative bodies in talks with government suggested a range of measures for the initial opening period. While these measures will hopefully provide reassurance, enforcement for all will obviously be a challenge, particularly in environments where alcohol is the key offering and inhibitions among consumers may be relaxed.
We need your consent to load this rte-player contentWe use rte-player to manage extra content that can set cookies on your device and collect data about your activity. Please review their details and accept them to load the content.Manage Preferences
From RTÉ Radio 1's Today With Sean O'Rourke, a discussion on the future of Irish pubs with Shirley McIntyre, (McIntyre's Bar, Shannon Harbour, Co. Offaly); Michael O'Donovan (The Castle Inn, Cork) and Noel Anderson, (Lemon & Duke and The Bridge 1859 in Dublin and Vice Chair of the Licenced Vintners Association)
"Staying well apart" will also see a dramatic change, possibly for the short term in the sociable Irish pub experience we're all accustomed to, something too precious to lose. In the longer-term, when a vaccine is found, publicans may again re-invent themselves to take cognisance of the seismic changes to their established business model.
Hopefully many can return to what they have always done best in spaces designed to promote positive social interaction, reciprocity and sharing while sitting on our barstools. How and when these changes will pan out will govern the long-term viability for many establishments.
Whatever iteration evolves, there's a consensus among publicans -both urban and rural - that help and further guidance may be required. Urban premises may require write offs of local authority rates as well as some latitude from commercial landlords and Insurance companies. Most publicans, like so many other sectors of the economy argue that they will need support in terms of government grants or assistance from the banking sector, as well as supports around excise and taxation.
It has been suggested that the pub trade is now a blank canvas, with complete re-invention necessary for some. Many will open again, but not as the pubs we currently know. They may be premises with extra facilities like co-working spaces, digital hubs, pub theatres, book clubs, or premises with takeaway food and coffee offerings. The "Pub is the Hub" initiative for UK rural pubs offers prescription collection services, arts and crafts sessions, meals on wheels, pop-up shop events, post office collection points and other novelty initiatives to attract custom.
Like commercial enterprises in so many sectors, the future is uncertain. Recovery will be slow. Experimentation and patience will be the new by-words. But if history tells anything it's that they won't sit around and cry about it. They have a future worth fighting for – for those willing and able to play the long game!
---
The views expressed here are those of the author and do not represent or reflect the views of RTÉ
---