Analysis: although TB was a much different public health issue, there are similarities between what happened then and the current coronavirus outbreak
On St Patrick's Day, the Irish government published a draft of the Health (Preservation and Protection and other Emergency Measures in the Public Interest) Act 2020 and the bill was passed by the Dáil two days later. Apart from providing clarity around social welfare provisions amid the current coronavirus pandemic, it proposed to amend and reinforce section 38 of the Health Act 1947. This empowers medical officers of health to enforce self-isolation and to detain those acting in defiance. Section 38 was originally crafted to curb the spread of infectious diseases at a time when another insidious droplet disease, pulmonary tuberculosis, was rampant.
It is worth reflecting on the socio-economic and cultural reasons that gave rise to that particular law in 1947. At a time when other European countries had seen a mortality decline after the Second World War, Ireland was still in the grip of a tuberculosis epidemic. Statistics from the 1880s through to the 1950s showed that TB/consumption/phthisis was a primary cause of death and those living in over-crowded urban areas were more vulnerable to the disease.
The data also revealed an even more worrying trend: it primarily affected young and able-bodied adults. Scientific knowledge about its spread was limited until Robert Koch's ground-breaking lecture on the tubercule bacillus in Berlin in 1882. Identification of the pathogen yielded the tuberculin test in 1907 and the development of the Bacillus Calmette-Guérin (BCG) vaccine by the 1920s.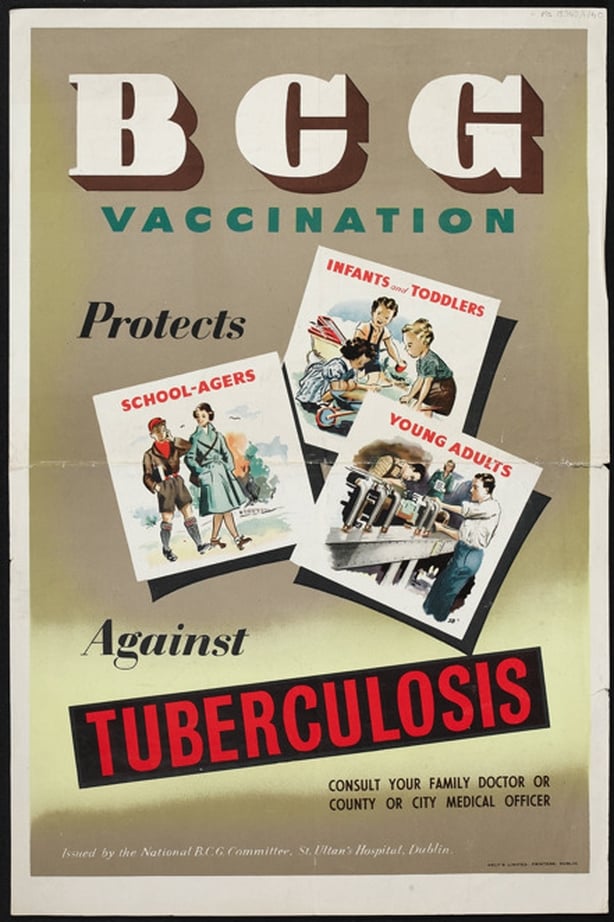 But despite epidemiological advances and international collaboration, successful treatment evaded medical science so preventive measures became hugely important. Railway companies erected signs on platforms and in carriages warning about the dangers of spitting. Public health awareness campaigns were established by the Women's National Health Association (established 1907) and the Irish Red Cross. Leaflets and posters advocating good respiratory hygiene with respect to coughing, sneezing and spitting were circulated.
Private and later public sanatoriums were established from the 1890s to isolate and treat sufferers. For decades, air in all its forms - fresh, warm, Alpine, and indeed certain measurements of cubic feet surrounding patients - were all espoused as beneficial. X-rays and sputum tests were used to positively diagnose cases in larger medical centres from the early 20th century and the BCG was introduced in the 1930s. Experimental treatments were undertaken using gold derivatives in medicine and surgical interventions included lung collapse, rib removal and nerve crushing. While some of these measures provided temporary relief, recovered victims could, and many did, suffer relapses.
From 1922 to 1947, healthcare provision was under the auspices of the Department of Local Government and Public Health and it was not given enough priority in that wide-ranging portfolio. Sanatoriums like Heatherside in Buttevant, Co Cork (where poet Seán Ó Ríordáin received treatment) and Newcastle in Wicklow (where Dr Noël Browne, who became Minister for Health in 1948, worked), were administered by local committees who decided who got help and for how long. Stays were not indefinite, they lasted until patients were well, not cured. There was no cure.
We need your consent to load this rte-player contentWe use rte-player to manage extra content that can set cookies on your device and collect data about your activity. Please review their details and accept them to load the content.Manage Preferences
From RTÉ Archives, a 1970 profile of Dr Noel Browne, the man who did most to eradicate tuberculosis in Ireland and whose Mother and Child Scheme brought down the first inter party government in 1951.
Families could apply for loans to build temporary dwellings or sheds to isolate TB sufferers at home under the Housing (Loan Charges Contributions) Regulations, 1932 statutory instrument. Reflecting the extent of the problem, plans to build more sanatoriums were given effect under the Tuberculosis (Establishment of Sanatoria) Act, 1945.
Social isolation, stigma and distance from the wider populace were the lot of TB victims until the discovery of the efficacy of penicillin in 1944. Drug therapy was initially expensive and only became part of the Irish national treatment plan in 1952.
Irish public health experts had been advocating for the inclusion of TB as a notifiable disease since the late 19th century, but were met with considerable resistance. Even when focused Tuberculosis Prevention (Ireland) Acts were introduced in 1908 and 1913, little changed. The die of public sentiment was cast and, in an era of so many uncertainties, it was uncooperative.
Could Ireland introduce compulsory vaccination laws? By @ConorUCCLaw @LawUCC @UCC - video by @_LauraGaynor https://t.co/mFmtqmQS8v pic.twitter.com/t6WgTmvmPD

— RTÉ Brainstorm (@RTEBrainstorm) March 23, 2020
Poverty and disease are inextricably linked. With little of a social welfare safety net, many people with active TB understandably hid symptoms and knowingly remained at large and at work in order to sustain their incomes for as long as they could. The behavioural shifts necessary to tackle community transmission could not occur with piecemeal and largely unenforced legislative efforts or in the absence of a range of financial supports.
The 1947 act is a very important piece of legislation because it created a dedicated Department of Health and section 38 granted the Minister for Health sweeping powers to address urgent public health matters. Although TB was a relatively slower moving public health issue, there are similarities that cannot be ignored between then and now and there is much to learn from the Irish experience. Behavioural shifts take time, and the wide-ranging changes to the 1947 act that we are currently witnessing are necessary. As South Korea has effectively shown, the most powerful instrument in a crisis like this is the full cooperation of an informed public.
---
The views expressed here are those of the author and do not represent or reflect the views of RTÉ
---