Analysis: a new book about the Limerick-born priest highlights his unsung role in the Northern Ireland peace process
By Gladys Ganiel, Queen's University
My new biography, Unity Pilgrim: The Life of Fr Gerry Reynolds CSsR, tells the story of Fr Gerry Reynolds, a Redemptorist priest who served more than three decades in Belfast's Clonard Monastery. His role in peacemaking is not as well-known as that of his Redemptorist colleague, Fr Alec Reid, who was the pivotal broker in the secret Hume-Adams talks, which are considered to be the first steps in bringing the IRA into the peace process.
Reynolds assisted Reid behind the scenes and also developed a public ecumenical (Christian unity) ministry. This was important at a time when the Rev Ian Paisley was using a ferocious blend of religion and politics to foster division.
"The only organisation that can do anything is the Church"
Sinn Féin's Gerry Adams convinced Reid to act as a secret broker by telling him that "the only organisation that can do anything is the Church – the Church is the only organisation that has the status, the credibility, the lines of communication." Adams had grasped that Reid's position as a Redemptorist gave him a trustworthiness that opened doors to people with power. Reid and Reynolds also had built up credibility through their patient ministries among republican prisoners.
From RTÉ's Would You Believe: The Secret Peacemaker, the story of Fr Alec Reid and his work as a facilitator between Gerry Adams, John Hume and the Irish government
In the 1980s, politicians as well as church leaders condemned "talking with terrorists" so dialogue with paramilitaries was an enormous risk. Reynolds supported Reid, reading drafts of documents he wrote for the talks and occasionally accompanying him to secret meetings. Reynolds' diaries described how the priests were sustained during this time by prayer, like on this journey to a meeting with Adams and Hume in 1993: "Al led the morning prayer on the way and read the lessons for the office."
The priests also organised dialogues between Sinn Féin and Protestant clergy. They knew unionist politicians would not agree to talks, but they convinced their clergy friends that they could help Sinn Féin understand unionist perspectives. Reynolds said "it helped to create a human understanding between people who were ideologically in very different places."
Walking through the peace wall
Clonard Monastery is located on an "interface" between the Catholic Falls district and the Protestant Shankill Road. From the top floor of Clonard, Reynolds could gaze across an imposing peace wall that divided Catholics from Protestants. He saw it as his mission to literally walk through that wall and seek out the Protestants he believed were his Christian sisters and brothers.
It was his dream that there would be groups of Unity Pilgrims not only in every parish in Ireland, but across the whole world
Reynolds became a member of the ecumenical Cornerstone Community, which maintained a house alongside the peace wall. With its leader, Methodist Rev Sam Burch, he visited more than 50 grieving families in their bereavements, on both sides of the wall. With Presbyterian Rev Ken Newell, he developed the Clonard-Fitzroy Fellowship, which won the international Pax Christi Award in 1999 for its contributions to reconciliation.
Reynolds also created the Unity Pilgrims, an initiative in which Catholics associated with Clonard worship with Protestant congregations on Sunday mornings. His last major project was In Joyful Hope, in which Christians of all traditions attend each other's Eucharistic celebrations. While observing Canon Law's prohibition on shared Eucharist, it expresses Reynolds' desire that one day this barrier to Christian unity will be surmounted.
Reynolds also sought to embed ecumenism in the wider Irish Catholic Church, beginning when he worked in journalism in Dublin in the 1970s. Inspired by the reforms of Vatican II, he used his position as editor of the influential Intercom priests' journal to advocate ecumenism, an enhanced role for laity and greater recognition of women's gifts to the Church. In his later years, it was his dream that there would be groups of Unity Pilgrims not only in every parish in Ireland, but across the whole world.
From RTÉ Archives, a RTÉ News report by Michael Fisher on Rev Ian Paisley's gospel bus
"Pray for the Big Man"
Reynolds' public ecumenical activism drew the attention of Paisley, the founder of both the Free Presbyterian Church and the Democratic Unionist Party. Paisley and his followers organised major protests for two events Reynolds planned with his Protestant friends: a 1986 discussion at Fitzroy Presbyterian Church between the Moderator of the Presbyterian Church and a Catholic bishop and a 1987 Catholic-Methodist conference. At Fitzroy, a protestor rushed to the front of the church shouting "Anti-Christ!" The Catholic-Methodist conference was preceded by a vicious media campaign against the organisers.
In his diaries, Reynolds agonised about Paisley's opposition and prayed for him. Reynolds even began instructing people who came to him for confession to "pray for the Big Man", though many responded incredulously "are you serious?" Writing about Paisley's death in his diary in 2014, Reynolds concluded that "God's grace" had been at work in Paisley and remembered him as "the truly born again man … full of wisdom and warmth."
From RTÉ One's Six One News, a report on the funeral of Fr Gerry Reynolds in Belfast in 2015
How faith made a difference
In the book, I make a case for the historical significance of Reynolds' ministry, arguing that his position as a priest gave him the legitimacy to facilitate secret talks as well as to publicly advocate peacemaking and ecumenism. He sustained this challenging work by cultivating a rich inner life rooted in the rhythms and rituals of Catholicism, and a disciplined practice of prayer with Christians of all traditions, in community with his Redemptorist brothers, and in private adoration.
Faith is what made Reynolds who he was; without his confidence in the absolute goodness of God and his faith-filled friendships, he would not have made such a difference for peace.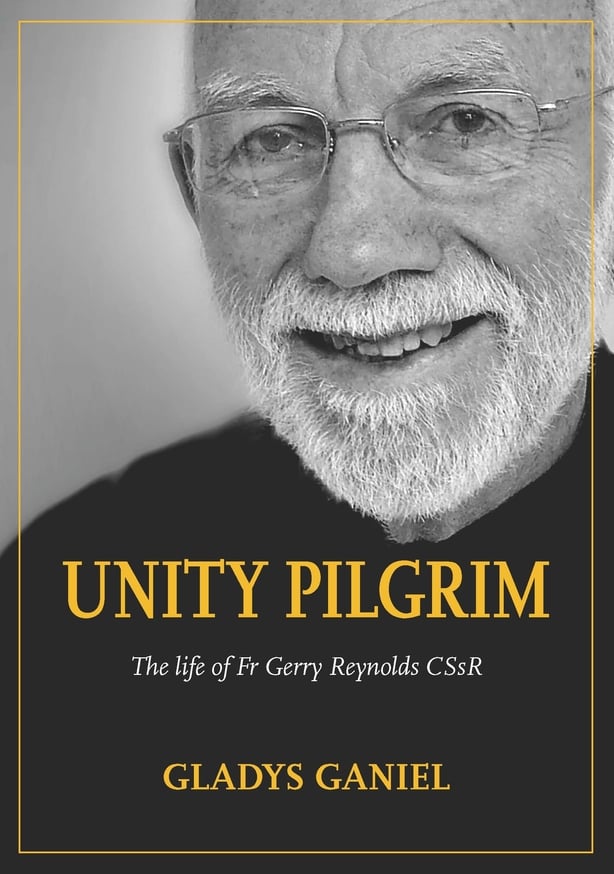 Unity Pilgrim: The Life of Fr Gerry Reynolds CSsR by Gladys Ganiel is out now
Dr Gladys Ganiel is a Research Fellow in the Senator George J Mitchell Institute for Global Peace, Security and Justice at Queen's University Belfast
---
The views expressed here are those of the author and do not represent or reflect the views of RTÉ
---