Opinion: will the current global movement of young people against global warming succeed where other campaigns have failed?
The communication of climate change has been one of the great scientific failures of our time. Never have we known so much about a global problem, done so little to address it and engaged so few on solving it. But is this all about to change? Greta Thunberg, a 16-year-old Swedish teenager and Nobel Prize nominee, has inspired an unprecedented global movement of young people against global warming and students across the world, including Ireland, will strike for climate action this week.
Thunberg is different because she has succeeded where many before her, such as Al Gore and Leonardo DiCaprio, have failed. She has grabbed the attention of her generation and focussed it clearly on action. She is smart, unassuming and, most importantly, walks the walk on climate action rather than paying lip service. By not wasting time arguing with sceptics, she has engaging with those who are willing to listen and already has won pledges from the European Union to spend billions of euros on climate action.
From RTÉ Six One News, a report on climate activist Greta Thunberg's school strike campaign
But while highlighting the problems with climate change is easy, implementing the solutions in today's political environment is a challenge that Thunberg and her movement will have to overcome to have any meaningful impact. The inconvenient truth about climate action is that it involves costs that return benefits years into the future. This is at odds with a political cycle that is focused on delivering results for the next election rather than for the next generation.
While there is a price for adapting to climate change, attention is generally focussed on the cost of avoiding it. Recent EU analysis found that the annual financial investment required to achieve the Paris Climate Change agreement is approximately €500 per citizen per year for the next 30 years.
Compounding the challenge is the fact that we live in world where fossil fuels are cheap, plentiful and do not pay for the damage done to your health or environment. At a governmental level, climate action must also compete for limited political bandwidth with other important issues such as homelessness, health care and education
From RTÉ Radio 1's News At One, Aisling Kenny speaks to some of the national school pupils striking outside Leinster House about their concerns for the future of the planet
Dealing with climate change is hard and pretending it isn't makes it harder, as it requires political courage to implement often unwelcome measures such as carbon taxes and subsides for new technologies. The "yellow vest" protests in France have shown these measures can be unpopular and you are probably more likely to lose an election on a climate change issue rather than win one. Whether Thunberg's movement can provide a safety net for this political bravery through the mass mobilisation of new young voters supporting such action is yet to be seen.
Key to her success will be transforming the social movement into political action. She must try to reach beyond the narrow focus on carbon emissions to issues that are relevant to a much wider public. This is where environmental movements have failed in the past. The jaded rhetoric of encouraging people to act for grandchildren, polar bears and ice caps resonate with only a few and have mostly failed.
Never have we known so much about a global problem, done so little to address it and engaged so few on solving it
We are more likely to be spurred into action on issues that are tangible, relevant and local. The need to address the 400,000 households in energy poverty in Ireland, air pollution and energy security in this time of heightened geopolitical instability resonates with us all. Action on these issues has the side effect of also addressing the broader challenge of climate change. These are matters that voters may respond to but, more importantly, be willing to pay for.
From RTÉ Radio 1's This Week, Carole Coleman reports on how Irish schoolchildren are working on lifestyle changes needed to reverse climate change
But Ireland has a long road to travel in terms of climate action. Today, we are bottom of Europe environmental league tables on clean energy production and greenhouse gas emissions reductions. As Irish citizens, we have one of the largest greenhouse gas footprints per person in Europe and our development of clean energy is painstakingly slow. Just over 10% of Ireland's energy today is from clean renewable sources and this is increasing at about 1% per year. This is a far cry from where we need to be if we are serious about climate action.
However, environmental awareness is building in Ireland. The green flag programs in schools and universities around the county have created a generation more informed about and aware of environmental issues. Social media has helped push climate action information to the wider public and the citizens' assembly on climate action has shown that there is a public willingness to address Ireland's laggard position.
From UCC's Plain Speaking podcast, former President of Ireland Mary Robinson discusses climate change
This Friday, the eyes of Leinster House will be keenly watching the streets of Ireland. The Government has pledged to take action on climate issues, but rolled back on the increase of carbon tax in the last budget. While a carbon tax is no silver bullet, it was a litmus test for political action on climate change. A test that the government failed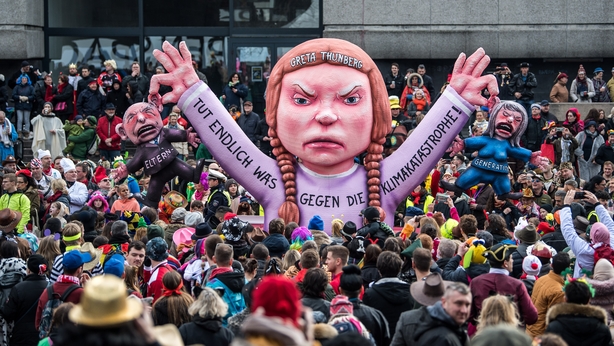 Politics and policy making is as much a battle for the hearts and minds than the hard numbers. Thunberg has been incredibly successful here and she has social momentum on her side. Her story and vision has captured the imagination of her generation who may discover that you may have to change how you vote if you want to change the world.
---
The views expressed here are those of the author and do not represent or reflect the views of RTÉ
---