French 'yellow vest' protesters marched through Paris and other cities today to highlight their struggle to make ends meet, a day after President Emmanuel Macron's government hardened its stance against them.
Two months after they started blocking roads, occupying highway toll-booths and staging sometimes-violent street demonstrations in Paris, the yellow vests sought to inject new momentum into a movement that weakened over the holidays.
Shaken by the unrest, Mr Macron's government began the new year on the offensive, branding the remaining protesters as agitators seeking to overthrow the government. On Wednesday night, police arrested one of the movement's prominent figures.
Police fired tear gas in the capital after protesters threw projectiles at police near the River Seine as up to 4,000 joined the fray in the city by the afternoon, according to police.
Some protesters set bins ablaze and material damage included several burned out motorcycles strewn across streets.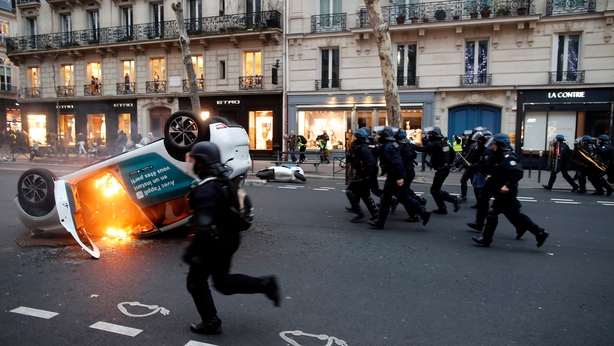 Driving the unrest is anger among workers and the lower-middle class over the squeeze on household incomes and a belief that Mr Macron is deaf to citizens' needs as he enacts reforms seen as favouring the wealthy.
Several other cities across France also saw small marches - including up to 2,000 in Rouen northwest of Paris, where at least two arrests were made and one protester was hurt by a projectile after demonstrators set fire to a barricade.
The scale and intensity of the protests has shrunk in recent weeks, however, and authorities put today's nationwide turnout at around 12,000, compared with 282,000 for the initial rally on 17 November.
The protests - 18 months into Mr Macron's tenure, and his drive to reshape the economy - have already forced concessions from the 41-year-old president.
Last month, Mr Macron promised tax cuts for pensioners, wage rises for the poorest workers and the scrapping of planned fuel tax increases to quell the unrest at a cost to the treasury of €10bn.
The measures marked the first big u-turn for a president elected 18 months earlier on a platform to break with traditional French politics and liberalise the heavily regulated eurozone economy.
In a New Year's Eve address, Mr Macron vowed to press on with his reform agenda, saying: "We can't work less, earn more, cut taxes and increase spending."
Faced with record low popularity ratings, Mr Macron is expected to pen a letter soon to the nation setting out his plans for the coming months. These include a nationwide debate with citizens on ecological, fiscal and institutional questions, the results of which he says will feed into the policy-making process.