Analysis: one in 20 Dublin residents was a lodger in 1911, a time when lodging was an important part of the Irish housing landscape
Finding a place to stay is a perennial problem. In recent years, the Irish government has extended tax relief under its Rent a Room scheme, whereby households can rent out a spare room in their house tax free, if the rental income does not exceed €14,000 per annum.
Such arrangements can be mutually beneficial, offering additional income to the homeowner while providing affordable accommodation to the lodger, but take-up rates have been low, with just 7,350 availing of the relief in 2016. In the past, however, lodging was commonplace and was an important component of the housing landscape, particularly in urban areas.
The concept of sharing one's home with a stranger for payment is not new; Shakespeare refers to lodgers in both Henry V and The Taming of the Shrew. A lodger is described by the Oxford English Dictionary as "one who resides as an inmate in another person's house, paying a certain sum periodically for the accommodation". In the 1960s, young men like my father coming to Dublin would either live with relations or, alternatively, stay with a landlady in "digs" (a term which became fashionable as far back as the 1890s). Similarly, bank officials who were moved between provincial towns would have availed of local digs, while railway workers, national school teachers and apprentices were similarly accommodated in earlier generations.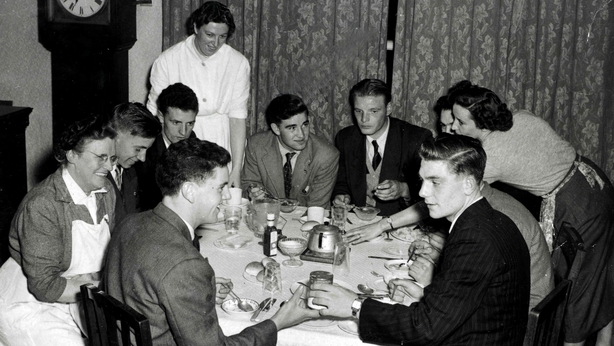 For those on the move, temporary lodgings were a necessity, and lodging houses frequented by performers and showmen as well as clerks and commercial travellers often provided an alternative to more costly hotel accommodation. Although nowadays lodging is typically associated with students or young people, this was not always the case in the past. People of all ages and social classes were lodgers, some of them remaining with the same family for considerable periods of time.
The census made a distinction between "boarders", who ate with the family and paid for both subsistence and lodging, and "lodgers", who "dined out". In practice, the distinction was less clear. Newspaper advertisements of the period often gave the option either to pay for "board" or to "dine out", while census returns show both "boarders" and "lodgers" staying at the same address.
At a national level, the 1901 and 1911 census tell us that lodgers and boarders accounted for 2.6% of the population, although this varied significantly, with fewer lodgers in rural western counties and the highest proportion in Dublin and Belfast. In rural areas, lodgers were often farm labourers. Ellen Collins, living in the then rural village of Raheny in North Dublin, had three boarders in 1911: 70-year-old shepherd Patrick Rourke, and agricultural labourers William Ryan and Michael Font, both aged 35. Across the country, 2,815 teachers were lodging in 1911. One example is 22-year-old Ethel Irvine, a Methodist national school teacher, lodging with the Skerritts, a Methodist farming family, in the townland of Ballinvally, Killeigh, Co. Offaly.
We need your consent to load this rte-player contentWe use rte-player to manage extra content that can set cookies on your device and collect data about your activity. Please review their details and accept them to load the content.Manage Preferences
From RTÉ Archives, a Seven Days' report from 1976 on the Model Lodging House in Dublin, "the only lodging house run by Dublin Corporation"
Typically, lodgers in provincial towns were living over the premises in which they worked as drapers, grocers, confectioners, milliners, nail makers or blacksmiths (these examples all taken from the census returns for Tullamore). Occasionally, a more unusual background presents itself, as in the case of Indian-born oculist, Mastakeem Hakeem, who was boarding with the Heavey family in Charles Street, Tullamore, in 1901. Five boarders in a house in Market Street, Castlebar, Co. Mayo were surveyors for the Congested Districts Board.
In 1911, one in 20 Dublin residents was a lodger or boarder, the highest proportion on the island. More than two-thirds of these were male, while the vast majority were either single or widowed. Although a large proportion of lodgers were in their 20s or 30s, the ages ranged from infants to extreme old age and also ranged across the social spectrum.
Even the poorest families living in one or two-roomed tenements in the heart of the slums had lodgers. Better-off areas also had their share of lodgers, but here the euphemistic expression "paying guests" was preferred. Lodgers tended to find accommodation with others of similar backgrounds. Probably many individuals found accommodation by word of mouth and through informal networks, but the language used in newspaper advertisements also shows how like-minded individuals could find each other. The nature of the amenities on offer - "electric light", "piano", "bath", "select accommodation" - signalled a different world from merely "clean" and even "separate beds" (as this last was not always guaranteed).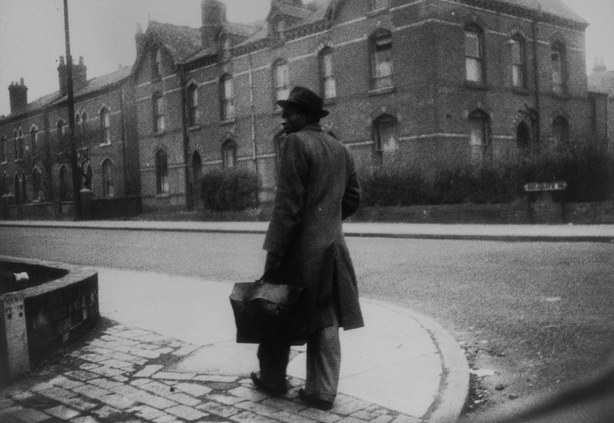 While lodgers were predominantly male, their hosts were largely female. For women of reduced circumstances, without specialised training and in the absence of a male breadwinner, offering lodgings could often provide an income without detracting from their respectability. Sometimes the status of those offering accommodation was mentioned in advertisements: "clergyman's widow", "gentlemen's family", "doctor's daughter" or simply "good social position". Finding a good fit between lodger and landlord or landlady was essential, given that they would be living in close quarters. This could be resolved, to a degree at least, by ensuring that lodgers were "familiar strangers", people of similar background and interests.
Inevitably, lodgers were a source of much fascination and frequently appear in the pages of newspaper advice columns, short stories, jokes and court reports. In The Boardinghouse in Dubliners, James Joyce describes the scene after breakfast in a lodging house, where the sugar was carefully locked away while the bread crusts were retrieved for reuse. One of Alfred Hitchcock's earliest silent movies, The Lodger (1927), features a landlady who suspects that her new lodger is a serial killer. Given such negative portrayals, it is little wonder that misgivings about becoming a lodger remain, even to the present day.
---
The views expressed here are those of the author and do not represent or reflect the views of RTÉ
---