Anaysis: the capital's first housing architect played a key role in the battle with unfit housing conditions in the 1930s and 1940s
This article is now available above as a Brainstorm podcast. You can subscribe to the Brainstorm podcast through Apple Podcasts, Stitcher, Spotify or wherever you get your podcasts .
Until very recently, Herbert Simms was remembered only by a relatively small group of architects and academics and a dwindling cohort who had known him in his lifetime. In the past few years, however, his work has gradually become more recognised, at a time when it has been perceived as being under threat. So who was Simms, what did he do and why should his work be remembered?
Simms was appointed Dublin city's first housing architect in 1932, a post which he held until his tragic death in 1948. During that period, he oversaw the design and construction of somewhere in the region of 17,000 dwellings, comprising a mixture of houses and flats, which formed an important part of the city's ongoing battle with unfit housing conditions. His small team had huge responsibilities: they were providing about £3 million worth of housing per annum by the end of the 1940s.
We need your consent to load this Vimeo contentWe use Vimeo to manage extra content that can set cookies on your device and collect data about your activity. Please review their details and accept them to load the content.Manage Preferences
Herbert Simms City by Paddy Cahill looks at some of the buildings designed by the architect in Dublin
The role of housing architect was hugely important to the city. As early as 1919, the then assistant City Architect, H.T. O'Rourke, had argued for such a position. Dublin was notorious for its slum conditions, with high death rates linked to its overcrowded one-room tenements. Although Dublin Corporation had begun building housing in the 1880s, a housing inquiry in 1913 found that it had just built under 1,400 dwellings during the previous 30 years, at a time when 30,000 people urgently required rehousing. The rate of construction could not keep up with the city's growing population.
Lack of affordable rental accommodation for Dublin's large population of unskilled labourers was a major issue. From the mid-1920s, building efforts focused on better-class suburban dwellings for tenant purchase, as at Marino.
However, by the end of the decade, it was recognised that a policy shift was needed. A return to rental housing and a renewed emphasis on slum clearance was supported by two housing acts in 1931 and 1932. It was in the context of this renewed push towards slum clearance housing that Simms took up the newly-created role of housing architect.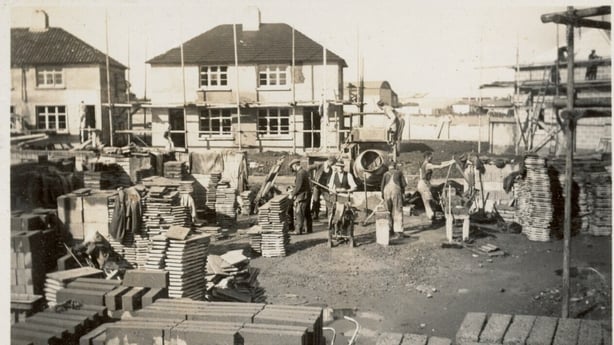 Born in 1898, Simms was a working-class Londoner from a large family. He reached adulthood in wartime and served in the Royal Field Artillery, an experience which haunted him throughout his life. As an ex-serviceman, he could avail of a scholarship to study architecture at the University of Liverpool, where he was the sole working-class student on his course. However, tuition fees were only covered for three years. He obtained a certificate but had to give up the diploma course due to financial hardship. Instead he found work at the architectural firm of Aubrey O'Rourke in Dublin.
In January 1925, Simms was appointed to the city architect's office for an initial six-month period, but was made permanent in 1928. During the 1920s, he would have become familiar with the city's housing programme, then largely consisting of suburban schemes such as Drumcondra and Cabra's Fassaugh Lane. As early as 1926, Simms was sent on a fact-finding mission to see the latest flat building techniques in London, Manchester and Liverpool. His later flat designs would become his greatest architectural legacy.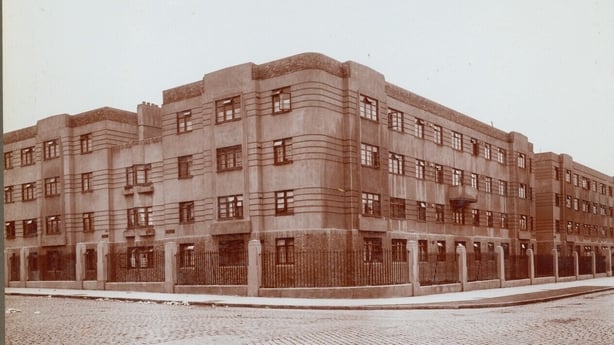 In May 1932, Simms spoke to the annual meeting of the Municipal and County Engineers (Irish Free State Division). His talk, which received front page coverage in the Evening Herald, explained the task which lay ahead. About 4,500 dwellings had been completed by Dublin Corporation in the previous 10 years. However, Simms was acutely aware that only 11% of these were within the means of the 'lower paid grades'. Furthermore, an estimated 20,000 houses were still needed.
He was very supportive of the idea that Dublin should have a proper city plan (an approach which was endorsed, at the same meeting, by housing activist Rev. D.H. Hall). He was also conscious of the need to provide services, such as schools, at the same time that new housing schemes were built. Unfortunately, the Corporation's limited funds and reliance on other bodies meant that this was often not the case.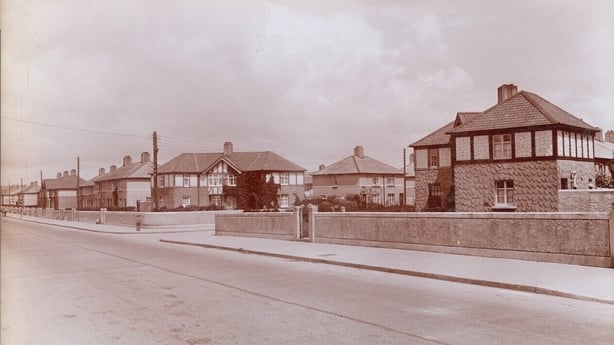 Simms was a firm believer in the value of regenerating the centre, rather than simply moving the population to the suburbs en masse. Meanwhile, satellite towns with their own industry should be used to avoid endless sprawl. Unlike many contemporaries, he favoured the construction of flats in central areas which would enable locals to be rehoused close to where they worked.
Given his working-class background, the needs of Dublin Corporation's future tenants were never just theoretical to Simms. When others advocated cutting all extras to bring costs to rock bottom, he argued that this was a 'false economy', pointing out that such 'trimmings' as baths and hot water circulation systems were necessities. He warned that 'building down' to the means of prospective tenants would simply create 'slums in new clothing'.
In evidence to the 1939 housing inquiry, Simms argued the need for a long-term financial policy in order to achieve continual progress in housing, rather than treating municipal housing as short-term work. He believed that housing of the working classes should become accepted as a permanent service in the same way as water supply or other municipal services.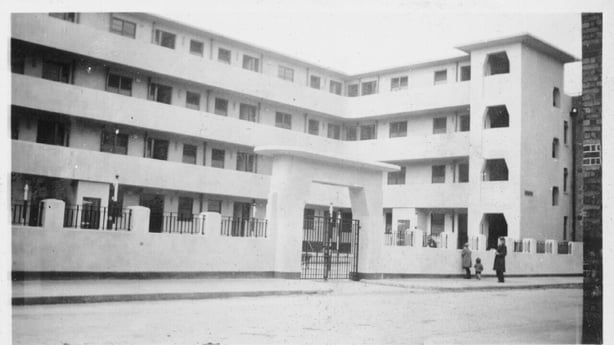 As Ellen Rowley has pointed out, Simms was not just a 'social activist architect', but also the 'lead author' of important Modernist buildings in the city. He is probably best remembered for his architecturally attractive city centre flat complexes. Now lauded for their aesthetic qualities, the Chancery Place flats were celebrated at the time of their completion in 1935 for a very different reason. They had been erected (by contractor G&T Crampton for the Corporation) in just eight months, and at a rental per room of just 1s 9d. It was the cheapness, rather than the design quality, which was considered to be of most significance at the time.
Most of Simms' flat schemes, like Marrowbone Lane, Markieviecz House, Pearse House and Poplar Row, are on the city's record of protected structures. In 2018, outrage followed a suggestion that some might be 'de-listed' to facilitate their demolition in favour of new build at higher density. It was rightly recognised that this important architectural heritage is an integral part of Dublin's streetscapes and worthy of preservation.
However, Simms himself would have been quick to acknowledge the need to provide residents with updated facilities. Retrofitting to modern standards, although expensive, can provide for these needs while appropriately respecting our architectural heritage. It is also, as is increasingly recognised, more environmentally-sound than new build. By contrast, the numerically more significant suburban cottage estates overseen by Simms are less celebrated and lack any form of protection. Now in private ownership, their character is rapidly being eroded in the name of modernisation, with little apparent thought being given to their heritage value.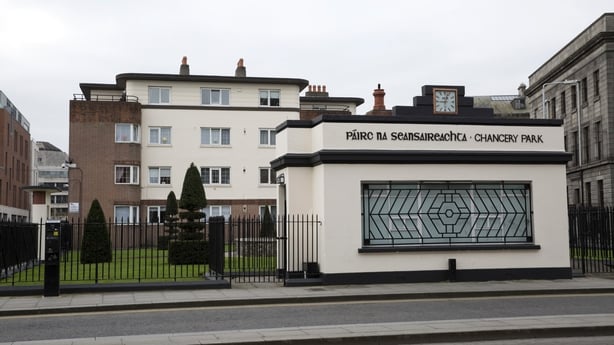 From our current position, where local authority housing completions are rare, it might be tempting to look back at the housing drive of the early 20th century as a golden era. However, the work was constantly hampered by shortages of finance, materials, labour and goodwill. Simms and his team faced an uphill struggle. No matter how many units were built, the need was constantly growing.
Eventually the strain of overwork became too much and Simms died by suicide in 1948. The 49-year-old's tragic death should not overshadow his remarkable legacy. Many thousands of families over multiple generations have benefitted from the tremendous efforts of the Housing Architect and his team. As the city surveyor, Ernest Taylor, declared, "It is not given to many of us to achieve so much in the space of a short lifetime for the benefit of our fellow men"
---
The views expressed here are those of the author and do not represent or reflect the views of RTÉ
---