Opinion: street stickers have much to say about the relationship between public space and communication culture
Over the last 20 years, the most rapid changes to social life have been with communication and expression. We've navigated countless new devices, languages and media. From the sober work email to the performance aspects of social media, commercial technology structures the majority of our daily communication and pursuit of public expression.
Communication theorist, Marshall McLuhan proclaimed that "the medium is the message", a deliberately paradoxical statement to draw attention to how the electronic communication technology of his time were shaping human behaviour. McLuhan believed that the technology used to transfer messages throughout history shaped human behaviour more so than the content of those messages. See, for instance, the prominence of visual communication today versus aural-based early humans.
We need your consent to load this YouTube contentWe use YouTube to manage extra content that can set cookies on your device and collect data about your activity. Please review their details and accept them to load the content.Manage Preferences
Marshall McLuhan's lecture on the medium is the message
It is strange how we adopt profit-driven communication technology without adequate consideration of the tacit compliances or the potential for control inbuilt. Communication is big business: the global revenue from communication services is predicted to reach €1.2 trillion by 2019. We tend to forget about the profit orientation of communication technology. We are conditioned to be concerned with whom said what rather than examining the profit-driven technology transferring our messages. We must consider how mediums of communication more subtly influence social life.
Twitter is an uncanny abstraction of neoliberalism with restrictions, measurability, traceability, sensationalism, misrepresentation, misinterpretation, low threshold, normative pressures, social conformity, scapegoating, imaginary audiences and volatility. The competitive psychology central to the identity games of Snapchat, Instagram and Facebook also have significant compliances inbuilt, which contribute to the ongoing gamification of communication culture. Digital communication homogenizes and reinforces market perspectives rather than inspire diverse ideologies and perspectives. Developing a better understanding of how different mediums of communication influence society differently is critical.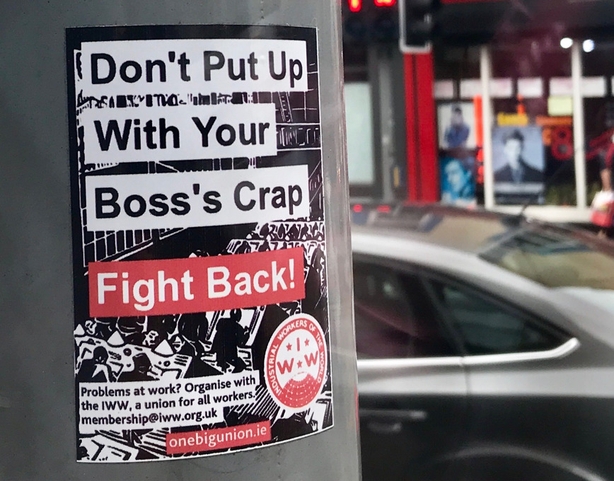 What I find interesting are the public mediums resisting the digital dark side. Adopting McLuhan's perspective, I've researched street sticker communication, a popular activity of the global street art movement, in Berlin, Marseille, Milan, Amsterdam and Copenhagen. Although more visible in mainland Europe, there are some interesting aspects of sticker communication observed in Ireland. It is important to explore the meanings of this peculiar medium and what street stickers tell us about the relationship between public space, expression and communication culture.
Public spaces are the "grey areas" and repetitive and mundane objects we encounter in daily life such as street poles, traffic lights, electricity boxes, bridge rail and bins. These spaces are also ideological grey areas and can be seen as being private or government-controlled or else a canvas for the public to engage in colourful public expression. From the later ideological perspective, stickering is not so different from the celebrated initiatives of Dublin Canvas, Mad About Cork and Reimagine Cork, each making the grey of daily life that bit more meaningful.
We need your consent to load this YouTube contentWe use YouTube to manage extra content that can set cookies on your device and collect data about your activity. Please review their details and accept them to load the content.Manage Preferences
Mad About Cork video
These great initiatives are unsurprising. History is full of people expressing themselves publicly with stories, songs, poems, statues, flags and decorations. Stickering is an extension of these activities, which also draws attention to social, political and economic conditions. While stickering shares an ethos with widely supported art-based initiates, it is often perceived as vandalism rather than serious expression. Irrespective of content or aesthetic value, some stickers are treated as vandalism and removed, leaving behind ugly grey-white stains, far worse than the original mundane facades.
There is much ideology to be interpreted from these grey-white stains, chiefly that only certain forms of public expression are acceptable. Stickers in Cork which have been highlighting the pressing palm oil issue, popularised recently by Iceland's banned advert, have been removed along with other issues of public concern. The problem with eradicating this form of public expression is that it limits the potential for critical thinking and the mergence of diverse perspectives. More worryingly, it also subtly enforces control. Must public expression be kept for digital media, where it can be monitored, commoditised and regulated?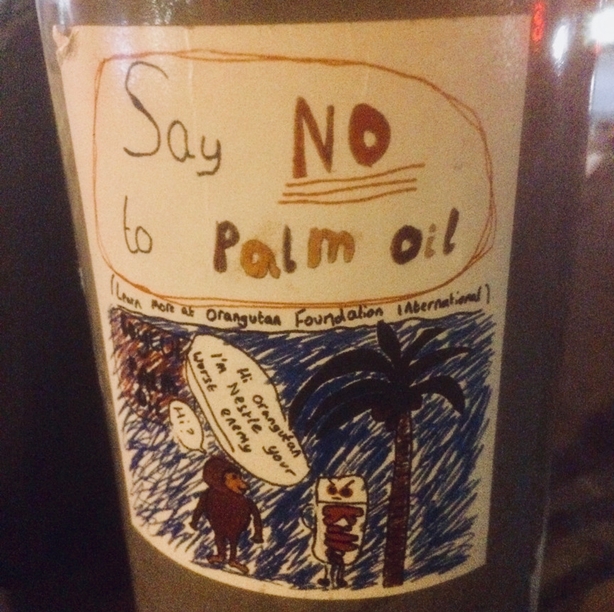 In contrast to the ease of contributing to digital media, stickering requires a significant process including selecting, designing, drawing, writing or crafting a message for public viewing. The stickers then need to printed or purchased before physically choosing where to stick them. Some locations appear premeditated and others ad hoc: stickers are found at transitions – crossings, stations, bridges – generally spaces where brief pause occurs. In contrast to the neoliberal digital, the majority of stickers are anonymous and egoless with no likes, shares, nor validation.
The grey areas of public space have the potential to highlight a range of prominent social issues, inspire critical thinking and diverse perspectives. Stickering is artistic in its adaptability to many social concerns. The medium is progressive due to its ethos of change and general wellness. Stickers challenge the logic of profit driven-communication technology, resist current communication trends and are largely immeasurable and unregulated.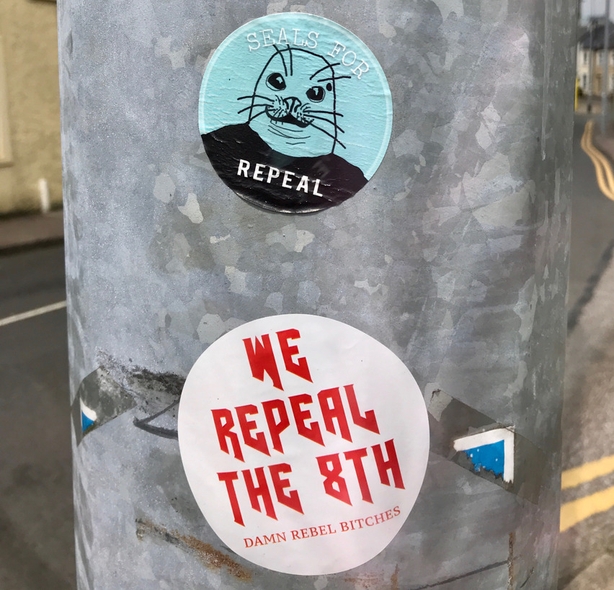 If we continue putting too much faith in profit-driven organisations to monitor public expression, opportunities for critical thinking will be limited. Digital media are linked to reinforcing preformed perspectives. People must be encouraged to express themselves publicly aside from profit-driven digital technology. Physical spaces must be set aside for public expression to address social issues and to avoid further dependence on the controllable digital.
As digital media only gives the illusion of being public, stickering highlights that the notion of public must be reclaimed to the physical. All mediums that facilitate public expression must be preserved, even the peculiar medium of stickers. Public expressions must be kept from the digital dark side in order to prevent the ongoing gamification of communication and society.
---
The views expressed here are those of the author and do not represent or reflect the views of RTÉ
---