Opinion: Ireland is ranked second highest for MDMA consumption among 15 to 34 year olds in Europe so is it time that digital platforms are assessed to support harm reduction?
Despite being dominated by the playful interactions of social media, Web 2.0 platforms provide opportunities for people to share and access practical information. People describe, review and assess a variety of experiences, as can be seen on TripAdvisor and Yelp. Comparing reviews and ratings encourages risk evaluation and, for the most part, results in more appropriate decisions.
In the commercial market, we typically encounter moderate financial, social, time and health risks. But in the illicit drug market, consumers face more extreme health risks and possible death. Because illegal markets lack relevant information, risk evaluation tends to be abandoned and consumers take considerable gambles.
The European Monitoring Centre for Drugs and Drugs Addiction (EMCDDA) 2017 European Drug Report ranks Ireland second highest for MDMA consumption in the 15-34 years age category (4.4 percent - the EU average is 1.8 percent). Ireland's MDMA consumption has increased each year since 2011 and ecstasy related injuries and deaths are frequently reported in the media.
Whether one chooses to condemn or condone recreational drug consumption on moral, medical, or social grounds, risk aversion and harm reduction should be a collective goal. Web 2.0 platforms, which encourage risk evaluation, eradicate dangerous myths and educate but, most importantly, they attempt to save lives and could support Ireland's harm reduction strategy. However, the EMCDDA 2015 Internet and Drug Markets Report does not take the potential of digital platforms to support a harm reduction strategy into consideration.
Drugs 2.0
Ecstasy is the street term for MDMA (3,4 methylenedioxymethamphetamine) based pills. However, ecstasy pills can contain more than just MDMA. Ecstasy pills can include other dangerous substances such as piperazine, DMX, methamphetamine and ketamine. Exact ingredients are unknown to vulnerable end consumers. The ecstasy market has evolved to include many identifiable brands, logos, and characters, the majority of which altered from the commercial market. Ecstasy brands in circulation include "Orange RedBull", "Pink Jean Paul Gaultier", "Red Rolex", "Orange Pacman", "Yellow Coca-Cola" and "Pink Tesla". In effort to reduce harm and avert risk, consumers chemically test ecstasy pills and share the results on various websites.
Online communities are dedicated to maintaining a global ecstasy pill database. They do not advocate ecstasy consumption and advocate harm reduction and risk-aversion. They are not social networking sites, but rather anonymous platforms with appointed moderators maintaining the quality of reports. When new pills enter the market, the pills are tested and the reports shared. Two types of report, scientific reports and personal experience reports, are shared online. Pill reports give details of the date, location, colour, shape and the logo of ecstasy pill. Often photographs are provided for further clarification.
Pill reports
Reporters use home-testing kits to identify dangerous substances. Scientific reports feature a description of the experiment conducted, the suspected chemical contents, and most importantly, a warning section. Ecstasy pills with more dangerous contents are given warnings and highlighted on the database to signify danger.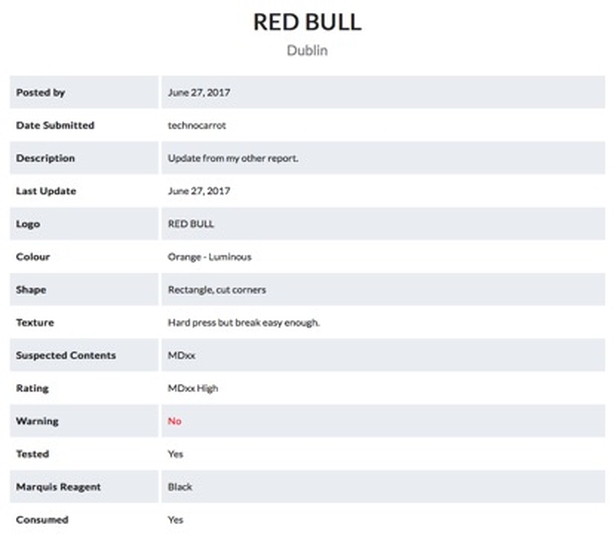 Experienced based reports are also shared to further enhance risk evaluation and inform decision-making. Personal experience reports communicate the physical and psychological side effects to be considered.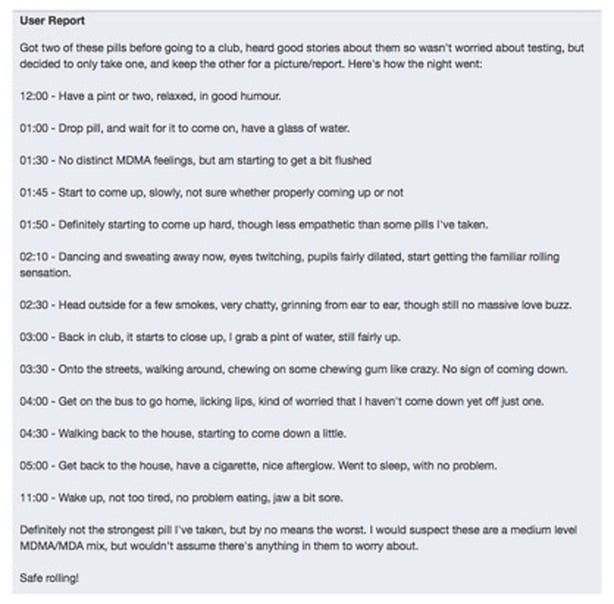 Despite many reports being relatively complication-free, some reports are not so light. Stories about dangerous experiences and harmful consequences are shared empathically.

Reporting the negative experiences reduces the chances of others who've read the report consuming the same pill, and having the same experience. Dangerous brands that should be avoided are communicated widely.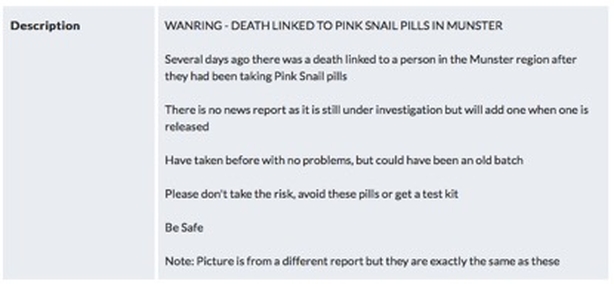 Decision-making in the ecstasy market has serious consequences and ecstasy brand awareness has the power to save lives. Those who use these sites are less vulnerable, due to the ability to identify brands, evaluate risk and inform decision-making. This form of collaborative wisdom is essential to offset the lack of official market information.
Harm reduction strategy
Irrefutably, the potential to reduce deaths as a result of sharing information online is a remarkable advance for society. When it comes to harm reduction, as a society we must ask who will benefit from health information? What is the best way to communicate the information?
From a societal perspective, it could be effective to share official ecstasy information on these websites rather than just through the mainstream media. If dangerous ecstasy pills are seized or identified. it should be communicated here, as deadly pills can stay in circulation for a long time. The media shouldn't use stock images of pills when reporting ecstasy related news. Only accurate images (brand, logo, colour) should be reported, as inaccurate images could direct consumers away from 'safer' pills to more dangerous substitutes.
The potentially life saving information on these websites, which is publicly accessible, should be highlighted to those in the relevant age category. A controlled and subtle promotion of such websites targeting 15-34 year olds could greatly strengthen Ireland's current harm reduction strategy. Home testing-kits should also be made available and their use encouraged. The development of an app could further support risk evaluation and information sharing and foster a culture of risk evaluation.
Ireland's harm reduction strategy fails to acknowledge the potential of these platforms to avert risks. Digital platforms should be assessed as an additional resource to support harm reduction. Drug harm reduction strategies must evolve in accordance with the digital tools available.
---
The views expressed here are those of the author and do not represent or reflect the views of RTÉ. If you have been affected by issues raised in this article, support information is available online at http://www.rte.ie/support
---