Opinion: archives of where we have called home provide stories and memories of what has transpired across generations
Home is something different to everyone. It is an amalgam of many elements: place, people, language, memory and culture. Home can simply mean the people you share a place with. It can also be the food you share and conversations you have. It is the familiar and certain. Home is also wherever you feel it. It can be momentary and migratory. The idea of home is often something you bring with you until you find and reach your destination. Journeying homeward is an odyssey of self-discovery and connection.
Home is also a transient idea. Speaking on "Migrants and Memory" in Belfast in 2012, President Michael D. Higgins commented that "transience, after all, is the defining feature of the migratory experience all over the world". Our universal odyssey brings us all searching to locate where home may be or how we can come to find it.
We must continually re-interpret our home and re-encounter it, becoming acquainted with the changes we don't always see happening around us in real-time
This year's series of First Thought talks at the Galway International Arts Festival around the theme of home has a particular resonance to society today. The idea of home is growing more complex to define. If one is looking to find information on where they have come from in order to gain a sense of who they are, an archive can provide direction, answers and often comfort. Archives are repositories of documented experiences of our home – where we have lived and where we have come from. Stories abound and memories are reanimated through photographs, maps, letters, writings and accounts of what has transpired across generations of where and what we call home.
At the Hardiman Library of NUI Galway, records and manuscripts of the lived experience of Galway and of the west of Ireland are preserved, dating from the 15th century up to present day. The landscape of place and the idea of home is the common backdrop to these common memories which extend across centuries.
The sustainability of our environment is dependent on all of us. Climate change is threatening the natural and physical world around us. The archive of environmentalist and broadcaster Éamon de Buitléar includes hundreds of film reels documenting Ireland's natural heritage and environment through the latter half of the twentieth century, a digital soundscape of our waterways, woodlands, skies and the eco-systems which co-exist but are never without threat.
We need your consent to load this rte-player contentWe use rte-player to manage extra content that can set cookies on your device and collect data about your activity. Please review their details and accept them to load the content.Manage Preferences
From RTÉ Archives, Teresa Mannion for RTÉ News reports on Éamon De Buitléar presenting his archive to NUI Galway
Our artists, writers, actors, musicians and playwrights present our home to ourselves and to the world. The archives of Siobhán McKenna, Thomas Kilroy, Druid Theatre Company, Macnas, Patricia Burke-Brogan and of the Galway International Arts Festival present the culture of our locality to a global audience. The photographs of George Pickow, taken in the 1950s as his wife Jean Ritchie collected folk-songs around Ireland, document a country in transition – moving into a globalising and increasing consumerist world of modern convenience. Rural life, tradition, music, leisure, sport and customs, are captured in the backdrop to the growth of Dublin city and airport.
The opening lines of John McGahern's remarkable Memoir speak of the soil of his home-place being poor; symbolising an instability of home to retain or hold its own secure place. McGahern's manuscript drafts illustrate the writer grappling with memory and childhood, foraging through experiences of family and the world that shaped his writing.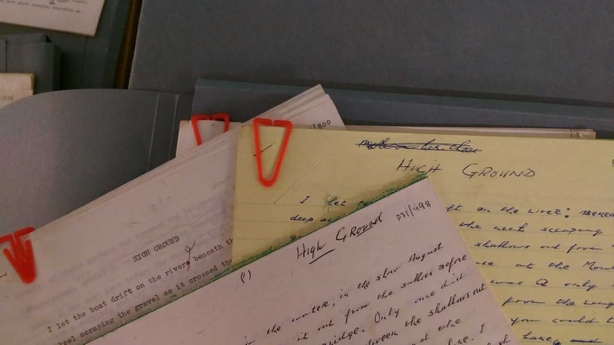 Perhaps more than most, the archive of cartographer Tim Robinson, shows us the significance of the expanse of our common heritage. Robinson's maps of Connemara, the Aran Islands and the Burren are gateways into our landscape. The contours of habitation and patterns of life are intricately traced and mapped, a spatial and temporal time-lapse of our world taking shape.
The archive gives an aerial vantage point through centuries of development – the delicate infrastructure of what we came to call home is captured with Robinson's maps, writings, drawings and vast amounts of local history and folklore. In his book, "Listening to the Wind", Robinson's describes the 'sounds of the past' recorded in our landscapes, echoes of history of the land that lead toward the Atlantic seaboard: "the ocean, inescapable symbol of the ever-changing, almost eternal, other-than-human setting of human affairs."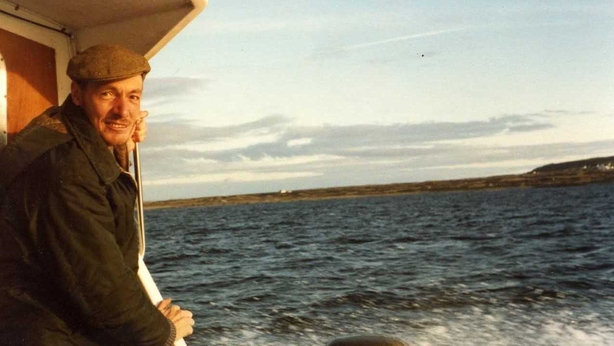 Home can also extend beyond the grasp of those who need it most. Home-places become classed as territories; territories are occupied and what should be sites of comfort and refuge become spaces of conflict and division. Currently across the world, as well as in Ireland, there are crises of homelessness and statelessness, an existence of parallel absence. Barriers and walls sit uneasily between communities, hindering reconciliation. Homes are also institutional – centres of containment and trauma from which order and rules are governed without empathy or concern, failing the inhabitants and enabled by a society living in silence.
We must continually re-interpret our home and re-encounter it, becoming acquainted with the changes we don't always see happening around us in real-time. Throughout the First Thought talks series, we will be sharing excerpts from the archive collections of the Hardiman Library, images which reflect the changing definition of home in today's world in which we have inherited and which also can offer directions for reflection on where it will lead in the future. These are places, times, landmarks, events and people, which have shaped our home for better or for worse. By connecting with what home meant in the past we can appreciate it anew in the present and work to change our future home for the better.
---
The views expressed here are those of the author and do not represent or reflect the views of RTÉ
---