Opinion: is George Bernard Shaw still relevant to our times?
The instantly recognisable brand of George Bernard Shaw, a figure consciously self-cultivated and reinvented across the globe and through generations, is one of the central questions addressed by Fintan O'Toole in his recent study of Shaw's life and legacy, Judging Shaw (Royal Irish Academy). It is timely for a new contemporary reassessment of just who GBS was and just why he mattered so much to the international social, political and artistic discourse of his time.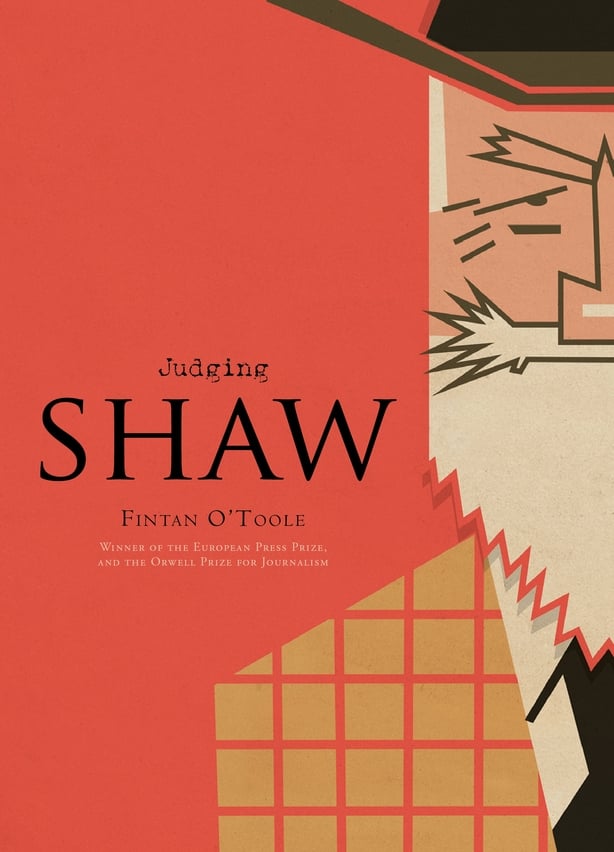 But is he still relevant to our time? Is Shaw our contemporary? The answer to this can never be briefly surmised and that is what makes Shaw not just still relevant but perhaps never as important as he is today. His vast body of plays and lengthier prefaces (sometimes longer than the plays themselves) as well as his near endless tracts of writing and public commentary around his commitment to socialism, the eradication of poverty and the search for a society of fairness dominated many of his achievements; from John Bull's Other Island to Saint Joan and from the Fabian Society to fulfilling the role of one of the world's foremost public intellectuals.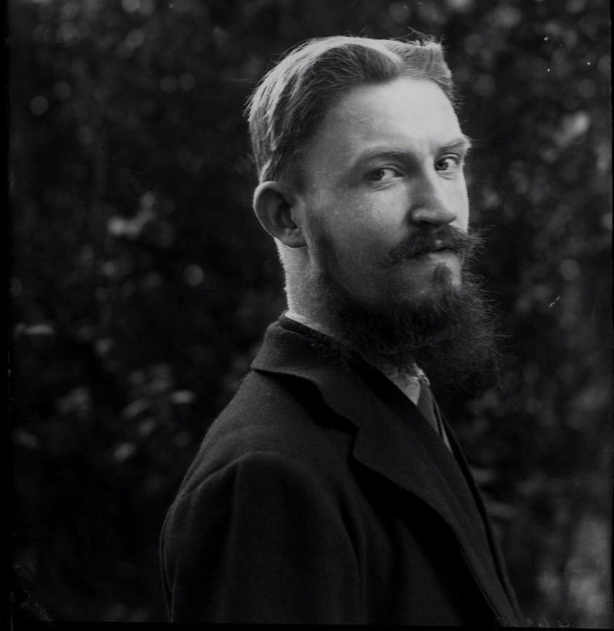 The afterlife of Shaw and our understanding of his legacies are being broadened by access to new archival material. Digital access to photographs, scripts, letters, manuscripts and ephemera at repositories around the globe such as the London School of Economics, the Harry Ransom Centre, The New York Public Library, The British Library and the Hardiman Library at NUI Galway means that, like Shaw's global identity, the archive of Shaw is also a global entity.
After Shaw died in November 1950, Irish audiences were seldom without the opportunity of seeing his plays. However, as a sign of changing tastes and theatrical movements, British playwright John Osborne dismissed GBS in 1977 as an "inept writer of Victorian melodramas". Yet new generations of Irish and British audiences attained new appreciations for Shaw's theatre in this period through a spate of major revival productions. The ability of GBS' work to adapt and speak to the globalising and modernising world of the 1960s and succeeding decades allowed new companies and theatres to reinvigorate Shavian theatre in terms of practice and production.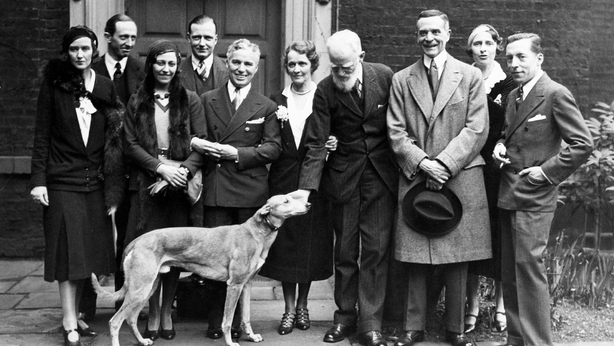 At home, the initials and enduring brand of "GBS" was prominently pictured on the programme cover of a Festival of Anglo-Irish Theatre by Druid Theatre Company in Galway in 1977, in the form of a reproduction of the autograph tree at Coole Park, the home of Lady Augusta Gregory. Druid's Garry Hynes also directed Shaw plays Village Wooing and The Fascinating Foundling in 1978 and 1979.
Cork-born director Mary O'Malley staged Shaw's satire on "the Irish Question", John Bull's Other Island, In Belfast in August 1971, the same week the British "Operation Demetrius" enforced "internment without trial" against Republican suspects. This brought Anglo-Irish relations to a perilous low, while audiences and critics signalled their emphatic approval of the play. Belfast critics commented, seemingly without irony in the backdrop to conflict, that the play has "blown the cobwebs off Shaw" and delighted in the Shaw revival having finally reached Belfast.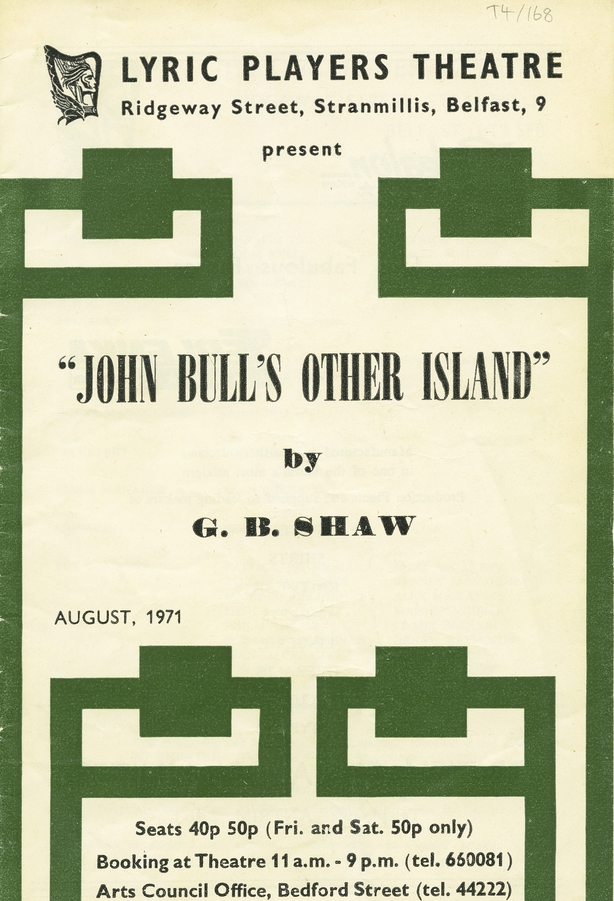 Siobhan McKenna, the celebrated actor who was dubbed by Brian Friel as being 'the idea of Ireland', adapted and starred in Saint Joan. Capitalising on the still relatively recent canonisation of Joan of Arc in May 1920, Shaw brought the newly sainted Joan to the London stage through Sybil Thorndike in 1924. McKenna translated the script into Irish for a production at Galway's Taibhdhearc na Gaillimhe in 1951 and later starred as Joan to critical acclaim on Broadway in 1956. The tragedy of Shaw's depiction of the trial of the saint-in-making, which traverses themes of myth, legend, conflict, language and identity, is that the play was deemed so necessary to the world in the wake of World War II.
The idea of how to commemorate GBS, one of the world's most well-known and celebrated literary and intellectual figures, after his death in 1950 remained to be seen. Shaw's image and likeness was recorded, documented and appropriated throughout and after his lifetime. A pioneering photographer who was fascinated by the technology and methods of the medium, Shaw took great care to experiment with capturing his own image for posterity. Varying light, space, location and angle, these images of Shaw have become an archive of the ageing image and body of GBS, a figure as recognisable as his own initials.
Shaw had complex opinions about his effigy and legacy. He discarded his birthday by deed poll and avoided celebrating his birth, telling a reporter in Scotland on the occasion of his 60th birthday that he was "not young enough to be really proud of my age and not old enough to have become really popular in England". Shaw rebuffed the idea for a commemorative plaque to be mounted on the house of his birth in Dublin's Synge Street. He said he would strictly only consent to the biographical details he himself submitted and that the plaque "must bear no inscription of opinion as to my merits and demerits and must state only the unquestionable fact that I once lived in this house."
Considering his own mortality, Shaw later joked that his ghost would be "enormously amused" if his statue, cast in bronze by the sculptor Paolo Troubetzkoy, would be placed on College Green in Dublin, next to the statues of Oliver Goldsmith or Henry Grattan, figures who were both Trinity College alumni and symbolic of the formal classical education Shaw himself did not receive. Shaw's wife, Charlotte, took great efforts to ensure that Dublin would "possess a good portrait" of her husband, leaving a portrait by John Collier to the National Gallery during his lifetime.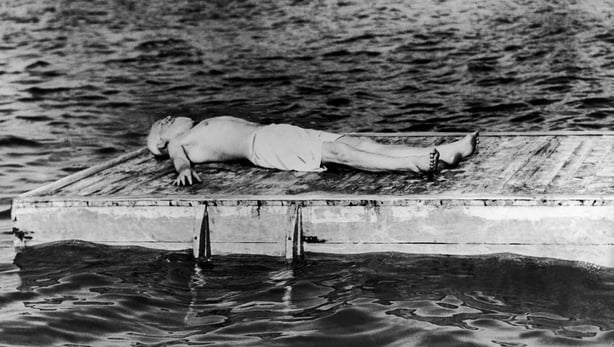 In a filmed interview at his home in Ayot St. Lawrence, Hertfordshire, the 90-year old Shaw delighted at the cameras and those present. "Well, it's very pleasant to have seen you all here. And to think that you are my audience, and all that. Because I'm a born actor, myself. I like an audience. I'm like a child in that respect. Well, goodbye. Goodbye. Goodbye. Goodbye all of you." Shaw regaled in having an audience. He never lost his child-like fascination with the world and people and the pursuit of ideas. It is true today that we are all still Shaw's audience.
A new exhibition Judging Shaw, produced by the Royal Irish Academy and NUI Galway will open at The Heyman Centre at Columbia University in New York next week with an event debating the question, Shaw, Our Contemporary? Participants will include Catriona Crowe, Ruth Hegarty, Barry Houlihan, Lucy McDiarmid, Adrian Paterson and Keri Walsh. Fintan O'Toole will deliver the keynote lecture entitled "GBS Versus Ireland: Bernard Shaw and Irish Nationalism."
---
The views expressed here are those of the author and do not represent or reflect the views of RTÉ
---