Analysis: there are both external and internal factors which ensure a restaurant stays open for business
Argumentum ad Populum is the notion that if a lot of people believe something, it must be true.There is a common fallacy that four out of five restaurants close in their first year. Only recently I heard this myth repeated by a well-known hotelier on the Irish airwaves.
These claims are completely erroneous. Reliable statistics on small business failure are scarce and are often produced or inferred from databases designed for other purposes. As a result, and in the absence of any contrary evidence, dubious statistics suggesting very high failure rates for small enterprises are frequently quoted and have been allowed to form part of the folklore on this subject.
It is over a quarter of a century since Christopher C. Muller and Robert H. Woods published preliminary research on The Real Failure Rates of Restaurants. Despite their findings and the seminal work of H.G. Parsa and others in recent years, the myth of up to 90 percent failure rates still persists. This is due to numerous newspaper articles, television programmes, blogs and websites using data that is either incomplete, anecdotal or superficial.
Bord Bia figures show that the Irish food and drink sector was worth approximately €7.8 billion to the Irish economy in 2017
A PhD project currently been undertaken by JJ Healy in the School of Culinary Arts and Food Technology in DIT is investigating the real failure rates for Irish restaurants and the critical success factors for independent Irish restaurants. His analysis of the CSO figures highlights that failure rates for restaurants in Ireland are significantly lower than what previous international studies have shown, particularly in the first and third year of operation.
The restaurant sector in Ireland continues to grow, with over half of the restaurants in Ireland located in the combined Dublin and Leinster regions. Fáilte Ireland has developed a food tourism strategy to make Ireland a gastronomic destination. A recent report in The Irish Times by Mary Farrell using CSO statistics highlights that there has been a 25.5 percent increase in the number of chefs working in Ireland from 2011 and 2016, yet there is still a chronic shortage of chefs in the industry.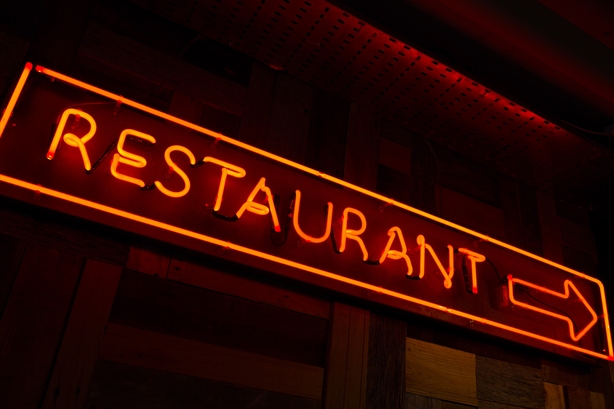 Recent research projects have profiled Irish head chefs and also explored factors for success in Irish kitchens noting that the majority of head chefs are satisfied with both their jobs and their wages. Bord Bia figures show that the Irish food and drink sector was worth approximately €7.8 billion to the Irish economy in 2017 and their projected compound growth rate of 4.9 percent continues on track to reach €9 billion by 2020. The Bord Bia report breaks down of the Irish foodservice market, which has over 33,000 individual outlets, as follows:
Limited Service (Quick Serve; Fast Casual; Food to Go) 35%

Pubs 17%

Hotels 17%

Full Service 12%

Institutional 9%

Cafe 7%

Other Commercial 4%
These figures demonstrate the importance of the sector to the Irish economy and the need for factual data on the failure rates for businesses, as well as for information on critical success factors to assist current restaurateurs to remain in business.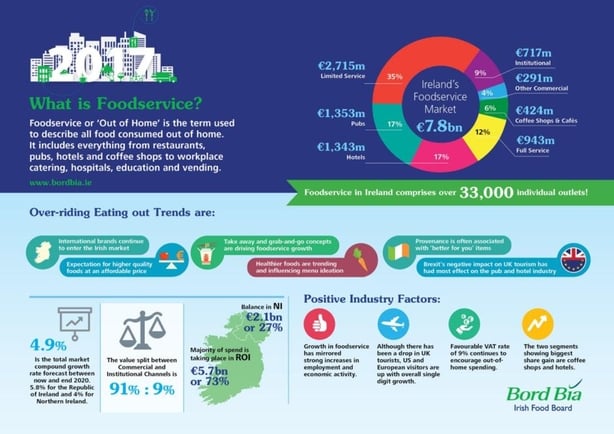 Source: Bord Bia: Irish Foodservice Channel Insights 2017
But what are the critical success factors which ensure a restaurant remains open, viable and profitable? These factors can be external (such as the economy, wars, extreme weather or road closures), or internal (such as poor management practice or food quality).
According to research by Angelo Camillo and colleagues in 2008, operators seeking to succeed needed to develop the following areas: (1) strategic vision, (2) business acumen, (3) competitive drive and (4) effective management of both front-of-house and back-of-house operations. They also listed emotional factors as important success elements in a restaurateur's toolbox, dividing these into two categories:
· Creative – Curiosity, Love, Fondness, Confidence, Ego, Success
· Destructive – Worrying, Restlessness, Depression, Desperation, Lack of Values, Failure
When hiring staff, Meyer looks for 49 percent technical ability and excellence and 51 percent emotional hospitality.
In his 2008 book Setting the Table: The Transforming Power of Hospitality in Business, American restaurateur Danny Meyer is adamant that this attention to emotional hospitality quality in his staff is one of the key factors that made him successful. His "Virtuous Cycle of Enlightened Hospitality'" philosophy underpins the success of his businesses and consists of five pillars: Employees, Guests, Community, Suppliers and Investors.
The emotional element surfaces when Meyer speaks about the attributes he seeks when hiring staff, what he calls the "51 percenters". Meyer looks for 49 percent technical ability and excellence and 51 percent emotional hospitality. They must have five core skills as part of their emotional hospitality:
Optimistic warmth – genuine, kind, thoughtful
Intelligence – curiosity to learn for the sake of learning
Work ethic – to do something as well as it can be done
Empathy – how you care for others, how your actions make others feel
Self-awareness and Integrity – what makes you tick, inclination to be accountable for doing the right thing with honesty and superb judgement.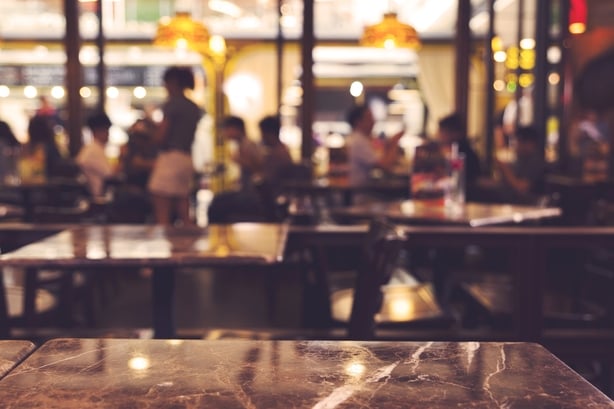 With hospitality professionals congregating for Food and Bev Live 2018 in Citywest and the Hospitality EXPO in the RDS in the coming days, there are many of the above mentioned critical success factors that they would do well to observe. Gaining competitive advantage would involve operators hiring staff with emotional hospitality, investing in education, staying up to date with trends, adapting technologies for record-keeping and tracking customers, keeping a good work and family life balance and effectively managing both front-of-house and back-of-house operations.
---
The views expressed here are those of the author and do not represent or reflect the views of RTÉ
---