Opinion: the Stormzy mural which resided on a Dublin wall for much of 2017 and its removal by Dublin City Council highlights a long-running debate over art in public spaces
For March to December 2017, a two-storey mural adorned Haymarket, just off Smithfield, in Dublin 7. The mural reproduced a still from British grime rapper Stormzy's 2015 hit single "Shut Up". The work of the Irish art collective Subset, it drew mainly positive feedback and was rightly seen by many as something that brought colour to the city. Beyond the local, it is worth considering the image of the mural and its controversial removal something equally played out on social media.
Art in public space is never mere ornamentation and its purchase on the social is literal. Public art is by its very form political - even more so when, as in this case, it is installed without the relevant permission. Subset had permission from the owner of the property, but not Dublin City Council. This politics became clear upon the mural's removal and the subsequent disquiet that followed. There was much criticism from online commenters and Subset themselves of the council for repainting the wall in "drab" and "bureaucratic" grey. Ironic and critical labels, similar to those found in galleries, soon adorned the now grey wall. A further response of the artists was the installation nearby of a mural of Donald Trump capped with a new slogan "Make Dublin Grey Again."
The site-specificity of the work is but one approach to its interpretation. What, we could ask, connects Stormzy to Smithfield? The local conflict between Subset and Dublin City Council fought out on the walls of Haymarket reveals something more general about art in public space. Public art asks us to question what is represented and to whom? This question of representation is simultaneously political and aesthetic.
The mural is a good illustration of how public art and especially street art is now tailored to be shared online in a social media playground
Though less controversial and overtly political than the recent Maser Repeal mural which was removed following complaints concerning its content, the selection of Stormzy, after all, is not a neutral choice given his vocal support of Jeremy Corbyn.
The public for the work is no longer only or even foremost the direct community of any defined place such as Smithfield. Rather, the work exists for consumption for the transnational public sphere that connects us online. It now exists to fill our Instagram and Facebook feeds just as it does to prettify the city. Where graffiti tags used to be sprayed across the city to bombard the public with a recurring image, murals are now painted to go viral via hashtags. Such transnational appeal is evident in Subset's response that the apparent counter-vandalism of the council hurts Dublin's international image.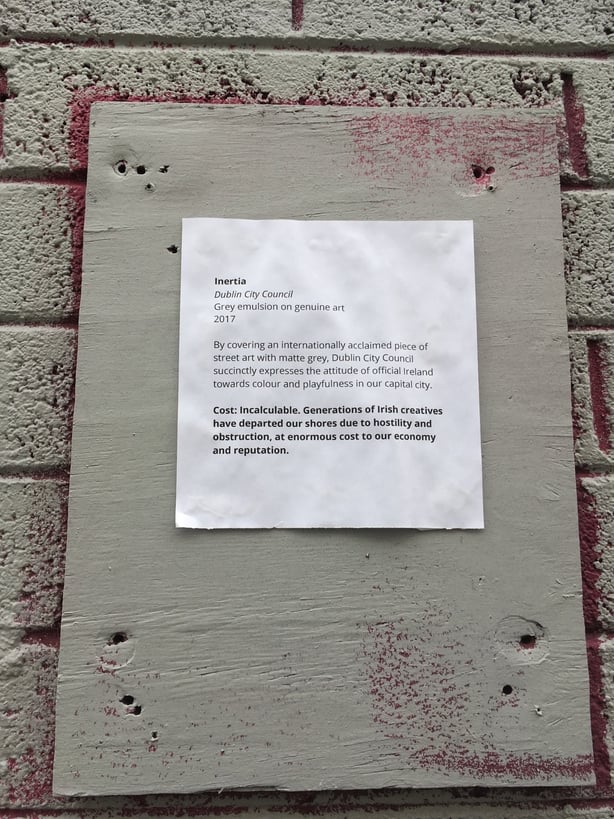 This mural is a good illustration of how public art and especially street art is now increasingly tailored to be shared online in a social media playground. From content designed to look good on screen to algorithmic measurement: as a limited company, this is something that Subset clearly recognise and measure as evidenced in their end of year portfolio.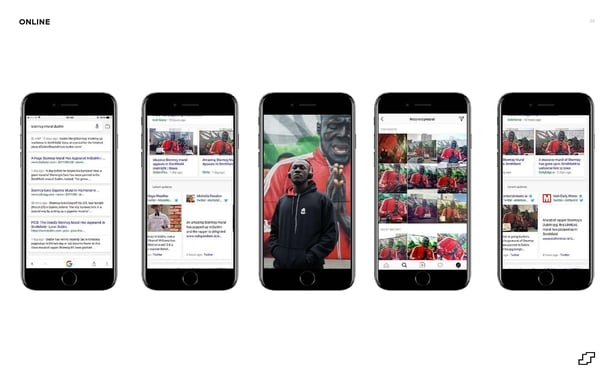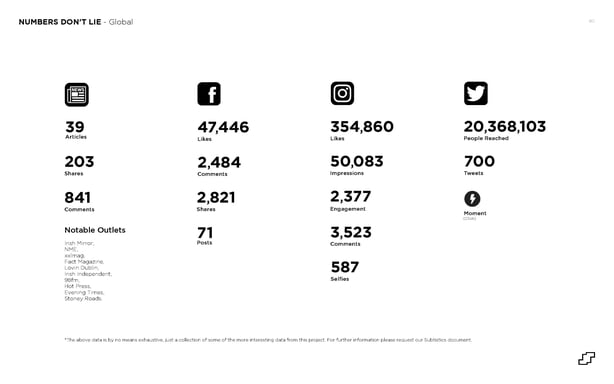 Public space can be approached by artists in a variety of ways. Authorised projects such as painted service boxes and talking statues are interesting recent examples in Dublin. Just as illegal interventions in public space by artists can be valuable, authorised installations can also be unwelcome. Lest we forget, recent years have seen existing public artworks and monuments in Ireland repurposed for overt commercial advertising.
It is understandable, therefore, that the aesthetic contestation of public space may not seek approval. Subset's Stormzy mural clearly sought to challenge the existing laws of presentation and representation. To expect the council to not formulate policies and enforce regulation of the visual commination in public space however, is naïve. In this context, a nine month run must be considered a good innings.
The enduring appeal of street art is not simply what it represents or challenges, but its temporary nature.
On RTÉ Radio One's Arena in December, as the mural was being removed, the CEO of Subset cited the slow planning process, albeit one the collective had not engaged with, proposing new licencing agreements as a way to facilitate future work. Perhaps without meaning to, Subset produced a piece that was ultimately about the planning laws, property ownership and policies governing the use and abuse of public space. When it comes to such mural work this is an ongoing discussion that has only just begun.
From RTÉ Radio One's Arena, Subset discuss the controversy over the Stormzy mural
There is a view in aesthetics that quality is that which has stood the test of time: the English poet John Keats famously wrote "a thing of beauty is a joy for ever". However, the enduring appeal of street art is not simply what it represents or challenges but its temporary nature. Joe Caslin is an Irish artist who has embraced this fact of wear and tear and ultimately disappearance in his work usually due to the Irish weather.
We can mourn the works departure, but a counter aesthetic position is to recognise that sometimes "an rud is annamh is iontach" (what is rare is wonderful). Or, if you prefer, the digital images remain. But if you visit Haymarket on Google Street View today be sure to note that the image of the Stormzy mural from May 2017 is subject to a different defacement. Here Stormzy's face is blurred not by council paint, but by a Google algorithm.
---
The views expressed here are those of the author and do not represent or reflect the views of RTÉ
---