The German cabaret singer Agnes Bernelle died in Dublin on 15 February 1999. She had moved to Ireland from London in the 1960s, following her marriage to Desmond Leslie. Bernelle was born in Berlin in 1923, but left Germany with her Jewish father in 1936.They settled in London, where she followed in her father's footsteps by embarking on a theatrical career of her own.
CoisCéim Dance Theatre in association with Project Arts Centre will present AGNES directed and choreographed by David Bolger
from 13 - 22 March 2014 at the Project Arts Centre, Dublin.
In this extract from 'Welcome to the Fun Palace', Agnes Bernelle describes how she became involved with the works of German playwright Bertolt Brecht and composer Kurt Weill in her early 40s. Even though she was familiar with political and satirical cabaret from her childhood in Germany, she had not had the opportunity to pursue satire in London until it was popularised by the revue 'Beyond Fringe' in the 1960s. When comedian Peter Cook auditioned for a woman to perform at his club 'The Establishment', she made it the final three of 900. But because of her age, she felt they wouldn't pick her, so when approached by a journalist, she said she was there to do a one-woman show, based on the works of Brecht and Weill.
'Welcome to the Fun Palace' was a radio programme celebrating Agnes Bernelle's 75th birthday, with music from her birthday performance at the National Concert Hall and Bernelle in conversation with John Quinn. It was broadcast on 25 December 1998, shortly before her death. The programme was broadcast again as a 'Lyric Feature' on Lyric FM on 20 May 2011.
The image above shows Agnes Bernelle in a scene from RTÉ Television's production of 'Brecht on Brecht', during filming in September 1974. The photographer was Tom Holton. © RTÉ Archives 2178/052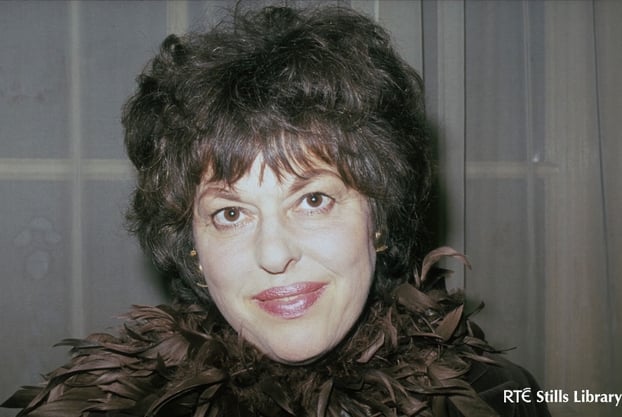 Agnes Bernelle in 1975.© RTÉ Archive 0595/018