At the World Congress of the International Federation of Television Archives, RTÉ Archives scooped the 'most innovative use of archive' award for a campaign that recovered and restored an episode of 'The School Around the Corner' thought to have been lost after it was first broadcast 50 years ago.
'The School Around the Corner' was first broadcast on Radio Éireann in 1954, and became a TV programme in 1961. Although RTÉ Archives held a small number of episodes of the radio programme from the 1950s and photographs from the television version of 'The School Around the Corner', no episode of the television series from the 1960s was thought to have been kept.
RTÉ Archives curator Liam Wylie found and restored an episode of "The School around the Corner" and instigated a media campaign to find the participants of the original programme which was then transmitted again last December, fifty years to the day after it was first broadcast.
The FIAT/IFTA jury cited the project as being "an inspirational example of how a previously lost programme can create a new innovative project by using different kinds of media. The FIAT/IFTA jury appreciates how Liam Wylie managed to involve the public in this remarkable project."
The nominations for the innovation award also known as the "popular vote" included:
From the three shortlisted projects RTÉ Archives was selected as the overall winner by the general public through online public voting. Thanks to everyone who voted for RTÉ Archives!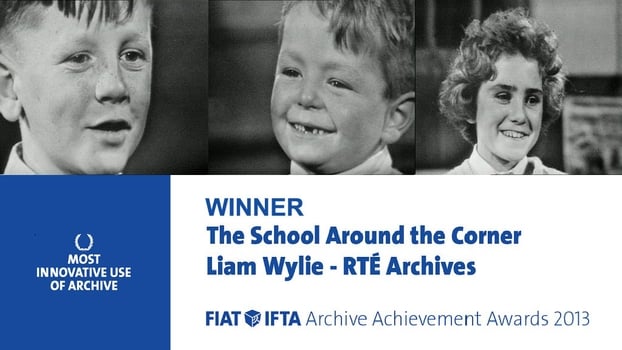 "We're delighted that the work of the RTÉ Archives has been recognised by such an esteemed organisation such as FIAT/IFTA", commented Múirne Laffan, Managing Director RTÉ Digital. "One of our strategic objectives is to open up the Archives to the public. This achievement highlights the work RTÉ Archives are doing in diligently preserving and curating Ireland's audiovisual archives for generations to come, and this recognition is a further proof point of the world-class standards they have applied. Access to our Archives by the public is paramount, and we're constantly releasing new exhibitions, as well as forging partnerships to allow greater access to our collections through digital means".
Watch the award ceremony and see Bríd Dooley accept the award on behalf of RTÉ Archives.
Watch 'The School Around the Corner' on RTÉ Player,