The very first Dublin marathon took place in 1980, with 2,000 athletes taking part.
First to the finishing post was Dick Hooper with a time of 2 hours, 16 minutes and 14 seconds, followed by Neil Cusack from Limerick and John O'Flynn from Cork.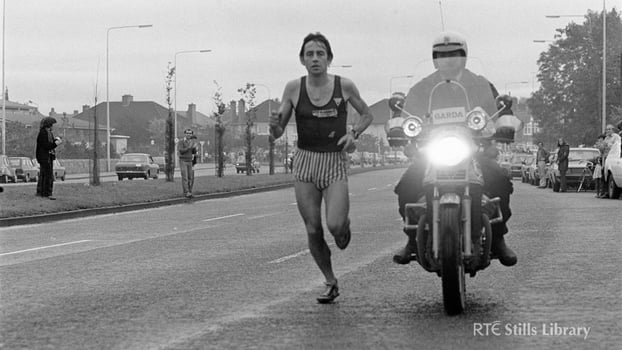 Dick Hooper winning the Dublin City Marathon (1980) © RTÉ Archives 2078/002
In this report winner Dick Hooper describes his win as
the best win of my life.
Hooper went on to win the Dublin marathon again in 1985 and 1988. He also represented Ireland in the Olympic marathon in Moscow 1980, Los Angeles 1984 and Seoul 1988.
Of the 2,000 participants, only 70 were women. The first woman across the line was Carey May of the Dublin City Harriers with a time of 2 hours, 42 minutes and 11 seconds. May went on to win the Osaka Women's Marathon in 1983 and 1985.
The 1980 Dublin Marathon was sponsored by RTÉ Radio 2 and took place on 27 October, 1980. This RTÉ News report by Joe O'Brien was broadcast on the same day.