Leslie de Barra of Cumann na mBan
Republican activist Leslie Bean de Barra died on 9 April 1984. She was a prominent member of the women's organisation Cumann na mBan, which was founded to assist in the fight for Irish independence and recently celebrated its centenary. De Barra was in the GPO during the Easter 1916 Rising. She tells what happened in this extract from the radio documentary 'Women of the Revolution', first broadcast on 12 April 1971 and presented by Donncha Ó Dúlaing.
De Barra later became director of Cumann na mBan. She was also known for her work with the Irish Red Cross.
The accompanying image is a scene from RTÉ drama 'Insurrection' and shows members of Cumann na mBan nursing wounded Volunteers inside the GPO in 1916. The photographer was Eddie McEvoy. © RTÉ Archives 2064/044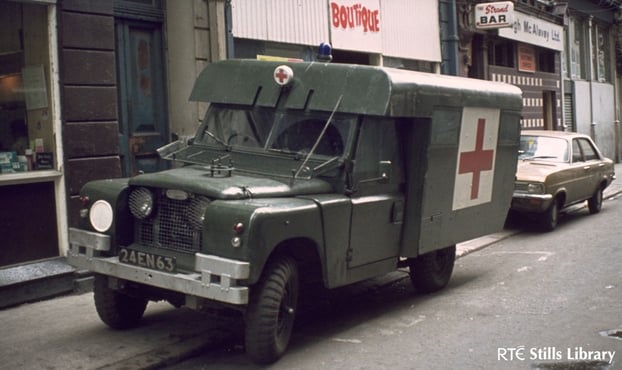 A Red Cross truck in Northern Ireland in 1978. © RTÉ Archives 0753/083