With four Interpros and a meeting with the Bulls all ahead of them in the next six weeks, a first ever defeat to Zebre doesn't bear thinking about for Munster fans this weekend.
Graham Rowntree's side will still be comfortable favourites to win in their home opener this Saturday (live on RTÉ2 and RTÉ Player), but after their poor start to the BKT United Rugby Championship, as well as Zebre's new gunslinging mentality, the prospect of a first win against Munster for the Italians is a lot more real now than it was in pre-season.
We had been warned by the new coaching team that there would be bumps along the road, as they try move from one regime to another, but not to the extent of their opening two games, where the province have looked off the pace right across the board.
Defensively they look fragile, Rio Dyer's game-winning try for the Dragons last Sunday seeing him glide through missed tackles, while their ill-discipline saw them hand JJ Hanrahan seven shots at goal, six of which he scored.
Handling errors have been plentiful, and in many cases born out of bad decision making. When they've kept hold of the ball for long enough, too often it's ended with a turnover at the ruck, an area where they have traditionally been sound.
For Rowntree (below), too many of the errors have been around the basics of the game, regardless of the gameplan they're trying to implement.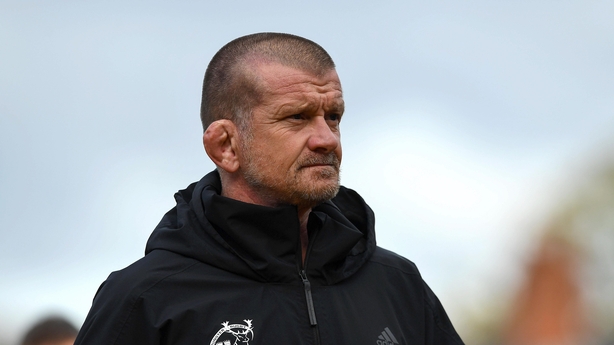 "It's still a breakdown. There are still tacklers in a breakdown, there's still a duty as a ball carrier about your entry into that breakdown and what you do with the ball, and guys still need removing," he said.
"But there is a reaction-speed that needs working on. As we play more rugby, I'm hoping that reaction-speed improves.
"They are certainly not undercooked. I have never seen us as fit. It's skills under pressure, things just didn't work out for us and again, it's a lot of stuff that we can control.
"Trying to force things that's just not us. Ill-discipline, we've not had such a high penalty count for a long time. That's on us. That's our controllable.
"We have had a good, stern, honest review. We move forward. What else can you do? You work on what you can do and you look forward to the next game.
"As I said earlier, I have nothing but belief in the body of work we've done for the last few months. It's just got to come out now."
While he was tight-lipped when asked about a supposed lack of leadership in the playing group, he says he and the squad have spoken honestly together about their start to the season.
"I require honesty from my players, so they are going to get honesty from me and they are comfortable with that. Again, we can't hide away from our inabilities on Sunday.
"I would have preferred better results, but no, you deal with what's in front of you.
"Again, I have been around long enough to understand how to speak to people, control my emotions at the right time. But (it's) a different experience, a different experience.
"The word I've used is I'm not trying to 'sugarcoat' anything. If there's a bad game and mistakes and discipline, it has to be better. I put my hand up as head coach, but we're working on it."
With Zebre also lost their opening two games, they've made a real attacking impression against both Leinster and the Sharks, securing both a try-scoring and a losing bonus-point in each of their two games.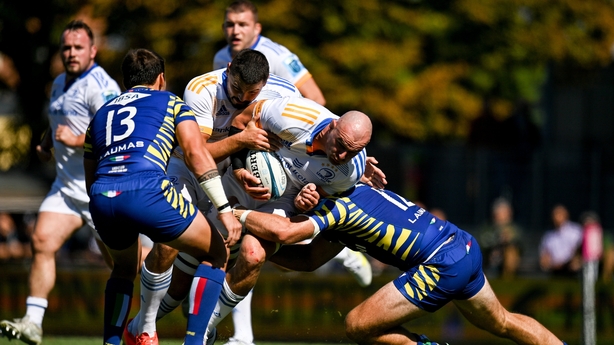 Both of those games came on home soil in Parma, however, and Fabio Roselli's side have never won against Munster in 18 previous attempts, shipping more than 50 points on their last away trip to the province in 2020.
And Rowntree says he believes his side are on the verge of finding their feet in attack, if they can sharpen their decision making.
"We looked on review, and there are some glaring opportunities where if we'd made better decisions, a better quality of pass, there were a couple of tries that went begging. They're the positives.
"We salvaged a bonus-point again, they would be the positives I've taken out of it. We're creating things but we lacked the accuracy to score on too many occasions.
"I can't say to a guy 'stop dropping the ball', but I can say to a guy 'we don't practice that kind of pass, you're trying to force things, stick to the plan'.
"They're the ones that frustrated me, where we didn't stick to the plan, and we're trying to be too fancy, trying to make overhead, long bridge passes, where little handling passages would do."
Listen to the RTÉ Rugby podcast on Apple Podcasts, Soundcloud, Spotify or wherever you get your podcasts.
Follow the 2022/23 BKT United Rugby Championship across RTÉ radio, TV, RTÉ.ie/sport and the RTÉ News app.
Watch live coverage of Ulster v Leinster (Friday 30 September) and Munster v Zebre Parma (Saturday 1 October) on RTÉ2 and RTÉ Player.