It's 'win or go home' time for Ulster and Munster.
The sides meet this evening for the third time this season, in a United Rugby Championship quarter-final play-off in the Kingspan Stadium (7.35pm).
And while the bus journey to Limerick takes longer than the short spin home to various Belfast suburbs, a defeat for the hosts would make for an unpleasant trip.
With Leinster long established as the pick of the bunch in Ireland, this game will go a long way towards giving the victors the reasonable claim of 'best of the rest'.
"When we go back and look at the games we've played against Munster, they are a very difficult opponent," said Ulster head coach Dan McFarland this week.
"Teams never win by much when they beat them and we certainly don't.
"I think we've had one game in the last four years that we've been comfortable in and outside of that it's tooth and nail stuff, the margins are fine.
"They are the team we've struggled against most this year and we've played against some pretty good teams."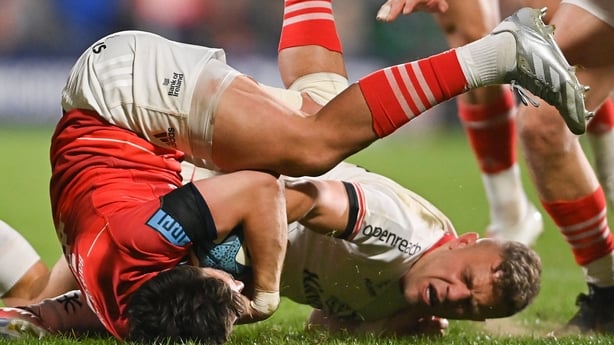 Ulster are without a trophy since 2006 and Munster's last success came in 2011, both teams picking up an older iteration of the URC.
This season, Toulouse did for both in Europe, claiming a one-point aggregate win over Ulster and then drawing with Munster before winning a shoot-out in Dublin.
This evening's hosts finished on 59 points, three ahead of Johann van Graan's men, with 12 wins and six losses to their name. That was enough to get the home slot but it's an away semi-final, in Cape Town or Edinburgh, for the winners.
To illustrate the mixed form of the Ulstermen, two of their victories came against Leinster, while they fell to home and away defeats to Munster, the 24-17 reverse in April making it three losses in a row against Van Graan's side.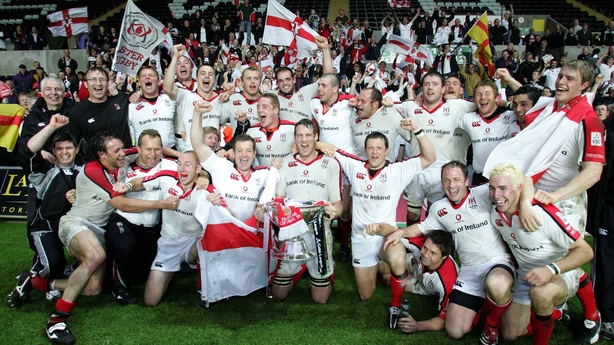 Asked if he believed that the respective organisations are in a similar situation in terms of playing catch-up with Leinster and bridging long gaps to get their hands in a tangible prize, McFarland considered his reply.
"Emmm, do I see that? That is a perspective," he said.
"My perspective is not through a lens of distance from silver[ware]. It's irrelevant to me. If we'd won last year I'd be as motivated as if the club had never won.
"The enjoyment comes out of...what drives is the day-to-day, coming in and trying to be as good as you can possibly be."
Semi-finalists in 2019, beaten finalists in 2020, Ulster were also the second best team in in the league in last season's competition (based on an amalgamated league table from the two pools). However, just one team from each division progressed last season, Munster actually topping their pool before losing meekly to Leinster in the final.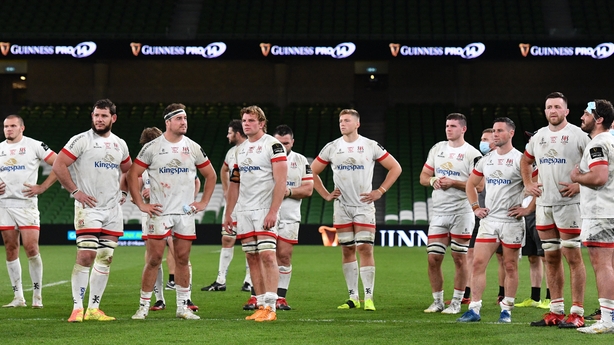 McFarland added: "We've been hanging around at the top end of the league within snatching distance of a trophy but there's only two teams so far this year that has won a trophy [La Rochelle and Lyon] and there are a lot of other European teams that have been very disappointed, that have been very close to doing it, who have been extremely good teams and the cards didn't fall their way.
"You're trying to reduce those percentages at the top, so it's more and more likely that if things go your way, you'll do it is the beauty of what we do."
It's a theme that the former Connacht prop has been consistent with since the start of the season; 16 teams are in it but only one can win.
Do Ulster, who will be without Mike Lowry (below) this evening, and without Marty Moore for the rest of the season, have the wherewithal to cross the line first?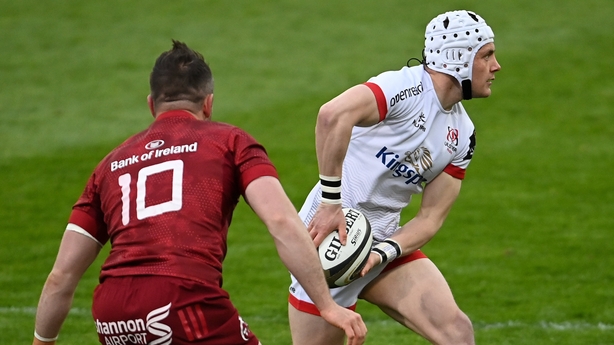 "They can pitch up and beat anyone on their day if everything clicks," former Ireland and Ulster back row Stephen Ferris says.
"We saw at the weekend with La Rochelle against Leinster what it can do when you get up in their faces.
"The only thing with La Rochelle is 'sizes win prizes' and Ulster don't have that.
"When it comes to the physicality stakes, they empty their bench and it weakens the side a little bit.
"The other sides, especially the South Africans, when their benches come on, the sides are getting stronger; you're talking fully fledged internationals who have played in World Cups, played against the British and Irish Lions.
"I think Ulster have a big game in them, but do they have three in a row to win the URC? I don't think that they do."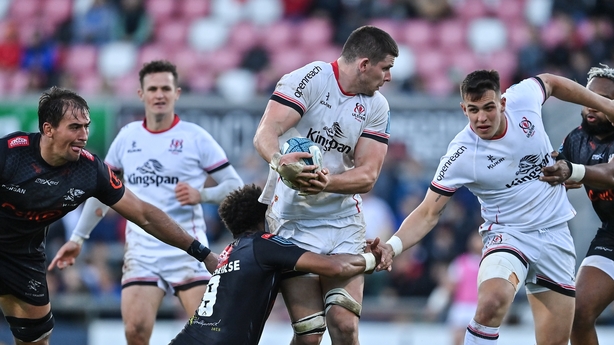 That theory probably makes tonight's game more must-win for Ulster than for Munster, who are three-point underdogs. Munster will be able to quickly move on as a new coaching ticket takes over next season. Ulster, meanwhile, won't have that excuse.
"They're under a lot of pressure - both clubs - but if Ulster lose there is going to be huge questions around them, how they ended up falling out of Europe and then coming up short in the URC," said former Ireland head coach Eddie O'Sullivan on this week's RTÉ Rugby podcast.
"Munster's season hinges on this, but there is the 'out' that if they lose there will be the weeping and gnashing of teeth for a week or so, but then they'll start thinking of next season with Graham Rowntree.
"The context is that, in some ways, Ulster have more to lose."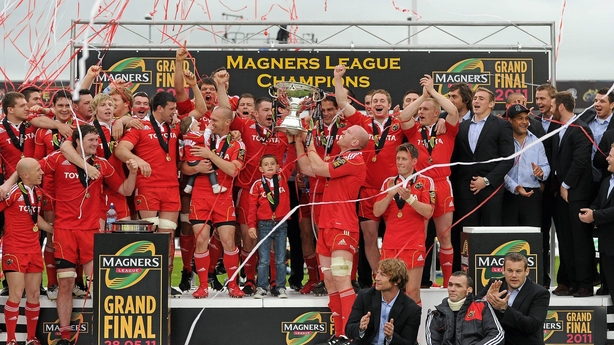 Conor Murray was on the last Munster team to lift a trophy. The Reds beat Leinster in Thomond Park just a week after the Dublin-based outfit had lifted their second Heineken Cup just over 11 years ago.
"It'd be huge to win a trophy with Munster," said the scrum-half. "The Magners League is nearly gone out of my mind, it's that long ago.
"We're enjoying the way we play, we're in a really good spot at the moment.
"You're probably sick of us saying at this stage of the season that we want to win a trophy and put an end to it, so that's the long-term goal.
"But our focus and excitement is going up to Ulster, we're confident with the group of players we have to take this match on it's own that we can go up there and give a really good account of ourselves.
"It would mean an awful lot, [we had] another heartbreak in Europe and the usual feeling this time of year. We've got to keep dusting yourself off and give yourself the best chance.
"With this group, with the youth and the buzz they create. Our coaching group, the maturity of the squad - we go at this competition.
"We've put in an awful lot of work the last couple of years, I wouldn't say we deserve anything but we're putting ourselves in a pretty good position."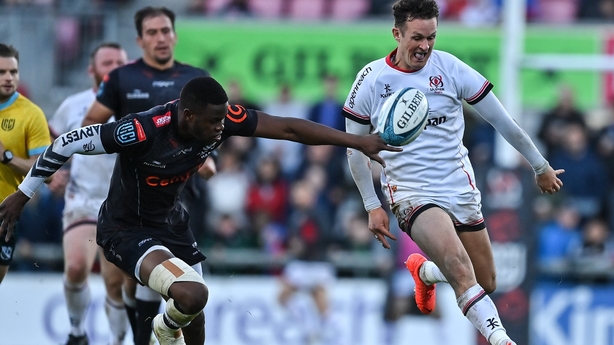 It's a similar refrain from Ulster's Billy Burns, the 27-year-old out-half who'll partner John Cooney in the half-backs this evening.
"There's always pressure when you come to these knockout games, they have to be won on the night and that could be it, there's not going to be a second chance in another competition, it's this one or nothing," said the Ireland out-half.
"This team thrives when there's a little bit of pressure on us.
Asked if he was wary about Munster's need to answer some questions following two defeats on the bounce, in particular the final regular-season 35-25 loss to a second-string Leinster outfit, he said: "They are incredibly physical at the best of times.
"Like most teams when your back is against the wall the first thing you bring out is your physicality through defence and carrying, they are brilliant at that anyway so they don't need any extra motivation.
"A wounded animal is certainly something dangerous but we've spoken about it and we'd like to think we'd be prepped for."
Follow Ulster v Munster (7.35pm), Leinster v Glasgow (Saturday 3.15pm) via our live blogs on rte.ie/sport or on the RTÉ News app. Watch Leinster v Glasgow live on RTÉ One and RTÉ Player.
Listen to live commentary from Ulster v Munster on RTÉ Radio 1 Extra and updates from Leinster v Glasgow on Saturday Sport on RTÉ Radio 1.