Luke McGrath says it would be "extremely difficult" for any side to play a top-level European game without proper preparation.
It's a situation that Munster may find themselves in if forced to line out against Wasps on 12 December.
After their two United Rugby Championship games were postponed due to concern over a new coronavirus mutation, the squad and backroom staff, bar two of the party, are making their way from South Africa to Ireland but the exact arrival date is not currently known.
The Irish government has confirmed that there will be no exceptions made to a mandatory 10-day period of home self-isolation, regardless of their elite status.
Munster today announced that academy manager Ian Costello and staff are overseeing the training schedule for the academy group and the returning Irish internationals.
Champions Cup organiser EPCR told RTÉ Sport that it is "monitoring the situation" and is in touch with the clubs, with Cardiff, Scarlets and Zebre also affected. It will provide an update at the "appropriate time".
"It would be extremely difficult to play," said Ireland and Leinster scrum-half McGrath.
"I'm just thinking from more like a cohesion point of view.
"Obviously trying to get as many numbers at training as possible is the best way you can put in a performance so I'm not sure what the right answer is but it's going to be extremely difficult for them."
While McGrath was not personally in touch with any of the Munster squad in South Africa, fellow No 9 Nick McCarthy, who spent two years at the southern province, had been in contact.
"Nick McCarthy was talking to a few of them because he knows a few of them from his Munster days so he was saying they are having an extremely difficult time over there, as we all would be," he said.
"I know I'd find it tough to be self-isolating for however long they have been so I feel for them.
"No one knows what's going to happen so they are definitely in a difficult spot."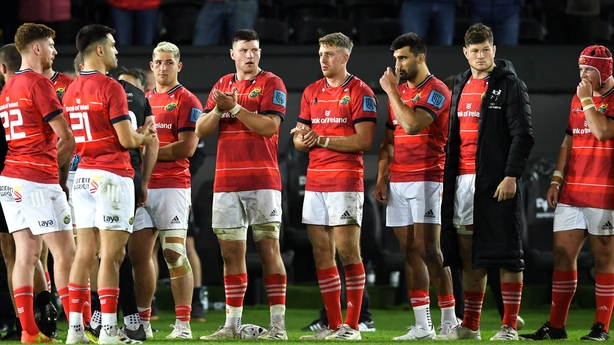 Leinster backs coach Felipe Contepomi said it would be up to Munster to decide whether or not to ask for a postponement, but he recalled a famous win for his native country last year when Argentina emerged from lockdown and self-isolation and a 13-month lay-off from Test rugby.
"I can't put myself in their shoes, it's all supposition," said Contepomi when asked if they should ask for a delay.
"You always try to do the best you can in the current situation you are in.
"If Munster ask for a postponement or not they would have a reason to. It's not for me to say if it's right or wrong.
"Having said that, you have [certain] situations, it comes to my head that the only time the Pumas beat the All Blacks they were coming from a complete self-isolation and they couldn't train.
"Sometimes there are difficulties, things that are not ideal that you can use them to get you more together.
"It's not ideal, the preparation that Munster are going through, it's not ideal but I'm sure they will find a way that if they have to play the game in two weeks' time to be ready for it and we all know how well Munster go when things are tough."
The former out-half also refused to be drawn on how the disruption might affect Leinster, who are not due to travel to South Africa until April, and the prospects of the South African sides continuing in the tournament.
🚨 ANNOUNCEMENT 🚨

Update from South Africa ⬇️#URC pic.twitter.com/8TtI14VRxt

— United Rugby Championship (URC) (@URCOfficial) November 29, 2021
"We cannot predict what will happen in the coming months," said Contepomi ahead of their URC clash with Connacht on Friday night at the RDS.
"We need to stick to our processes, what's in front of us playing with our schedule.
"The main thing for us is the health and safety of the players and everyone involved in the game.
"We leave those decisions to the people who take those decisions. We wish everyone who is involved with those problems to recover and get back soon.
"If we have to travel it will mean that the people who allow us to travel will have put the safety and health in front of everything.
"If we are asked and it's all clear we have no problem. It's such a delicate situation. No one will put us at risk."
Earlier the URC announced that the two South African derbies that were supposed to be played in February will take place this weekend.
"The Cell C Sharks will now host the Vodacom Bulls in Durban on Friday evening while the DHL Stormers will face the Emirates Lions in Cape Town on Saturday afternoon," it said.