John Cooney is probably one of the few players around who was delighted with the United Rugby Championship's hibernation during the Autumn Nations Series.
His Ulster side are back in action this evening against Leinster at the RDS, five weeks to the day since their last outing, a humbling 36-11 defeat to Connacht just around the corner at the Aviva Stadium.
The URC went on hiatus during the November Test window, a deliberate play from the tournament organisers to reduce the number of games taking place with depleted squads.
The merits of it can be debated; on one hand it's good for player welfare and it eliminates a clash with Test matches, in which the URC games would traditionally be drowned. The All-Ireland League have been unintended beneficiaries, with more players from the Irish provinces being made available in order to keep themselves fine-tuned.
Those arguing against it will point to how much momentum has been lost, with teams laid off for more than a month, barely five weeks into the season. Cooney's Ulster have been left stewing on a disappointing result, their head coach Dan McFarland this week saying the break wasn't needed, while likewise Connacht have lost a lot of the momentum they gathered with that morale-boosting win against the northern province.
For Cooney, the early season break has allowed him to get his body right though.
The scrum-half starts for Ulster tonight against Leinster at the RDS (live on RTÉ2 and RTÉ Player), having played just 31 minutes of rugby in the last seven months.
A neck injury suffered in Ulster's Challenge Cup semi-final defeat to Leicester at the end of April ended last season early for him, before he suffered a hamstring strain just half an hour into the new campaign in September.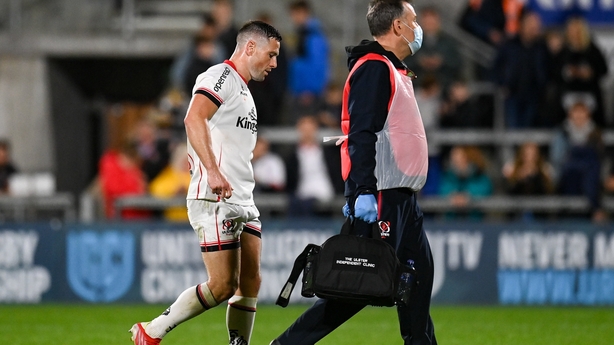 It would be natural to assume that for a player of his stature, being sidelined for the best part of seven months has been one of the most frustrating portions of his career. However, the 31-year-old has a different outlook.
"I actually found this injury to be good timing with my neck," he said.
"It was at me all summer and I kind of missed pre-season, I didn't really get from it what I normally would in the physical aspect.
"I've treated the last eight weeks as essentially my pre-season, so I feel physically 10 times better than I did at the start of the season. I feel a lot stronger and ready for contact."
Having suffered the hamstring injury on the opening night of the season against the Glasgow Warriors, it became clear that Cooney wouldn't be returning before the end-of-October break, allowing him to spend two months recovering from a four-week injury.
"I looked at it as a positive and I like to be as physically good as I can going into games and I didn't feel like the player I had been in the couple of seasons before the Glasgow game, because of the neck injury in the summer.
"I've been keeping my head down and getting my own work done until the last couple of weeks when I could get back with the team.
"I've actually really enjoyed doing my own work, I've been doing seven gyms a week, so I've actually enjoyed the time. I got a lot of work done last week to get me ready to play this game so I feel really good."
The neck injury that started it all came in late April away to the Leicester Tigers. As Cooney fell onto a breaking ball, Leicester's giant wing Nemani Nadolo attempted to pull out of the challenge before his arm connected with Cooney's head. An accidental collision, but one which saw Cooney leaving the field with a suspected concussion.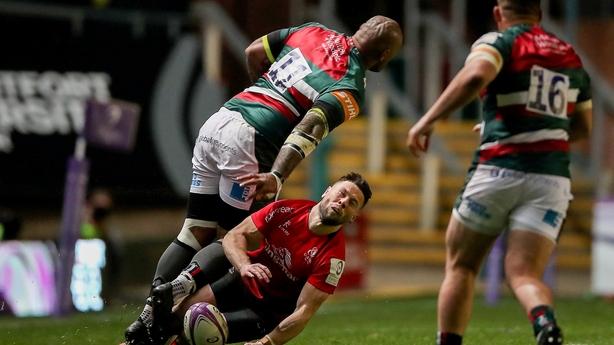 It was three days later - while progressing through the return to play protocols - that the neck injury became apparent. Out of nowhere Cooney felt a loss of strength in his arm, before a scan revealed a damaged disc. Season over, before the injury required further slow management during the summer.
"I'm sure I was a bit of a nightmare for a couple of days at home. I'm sure for a couple of days I felt sorry for myself, but I was able to flip it on its head and see it for a new challenge."
It limited his physical preparation during the pre-season, and the player himself believes the hamstring injury against Glasgow was a knock-on effect.
"I found that it threw my whole body off," the Ireland international said.
"I never had a hamstring injury in my whole career, people might say I'm getting a little bit older but I refuse to believe that, but I think it was from that neck, just everything not flowing correctly.
"I saw the positive of this injury, it gave me two more months to get right. Things I couldn't do the week of the Glasgow game I can do now really well. Everything feels a lot better physically than it did.
"After that Leicester game I didn't think I'd be out for seven months, I thought it would be concussion protocol, because I walked off the field not knowing I had anything wrong with me.
"It's an injury that grounded me but also got me to really appreciate the position I'm in, and in that regard, it gave me the gratitude that maybe I needed to humble me."
Even though he makes four weeks of hamstring rehab sound enjoyable, he admits to allowing the human frustration do what it needed to do initially.
"I think with that game in general, because of the neck injury I really wanted to play and wanted to play in front of the crowd, and only lasted 30 minuets, so a lot of it was that emotional energy that was wasted.
"I'm sure I was a bit of a nightmare for a couple of days at home. I'm sure for a couple of days I felt sorry for myself, but I was able to flip it on its head and see it for a new challenge.
"I didn't want to be playing at that 75%, I wouldn't have presented as I'd like for those first few games. I think in a weird way once I was able to see it that way, that I'd be coming back a better version of myself I could flip it on its head."
While being arguably the province's most influential player, Cooney's absence wasn't felt as badly as it may have been in previous seasons thanks to the emergence of Nathan Doak (below).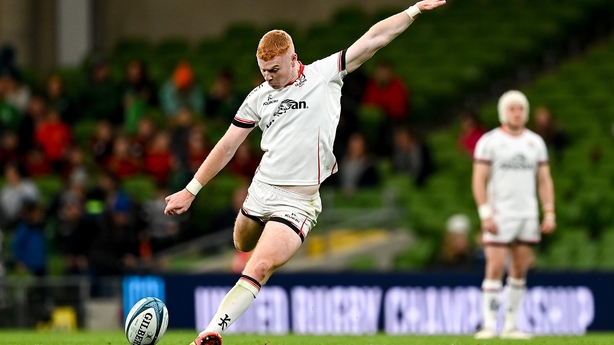 The Antrim teenager had only played two senior games before he was called-upon to replace Cooney this season, but slotted in seamlessly, scoring three tries, and kicking 28 points off the tee, helping them win four of their five games so far.
"Isaac Boss was huge for me when I was coming through. I was lucky enough to have him and Eoin Reddan. As much as a hindrance as it was on my career at an early age it was also a blessing."
"I think I'm a lot more mature in my years that in the past I would have been at home gritting my teeth and getting p****d off at the competition," Cooney said, when asked about whether he's feeling the heat from Doak's performances.
"I think it's a maturity now that the better he plays, the better I play.
"I remember there's a quote from Henry Ford that 'the competitor to be feared is the one that's continually improving himself', so these eight weeks have just been me trying to be the best version of me and the best athlete that I can be."
He's also conscious of his role as a senior player in Doak's development.
The teenager has been playing in the style of Cooney this season, constantly a threat of sniping at the fringes of rucks, his reading of the game and following of play, as well as a rounded kicking game.
Having played behind two Ireland internationals in his early days at Leinster, Cooney knows the impact that experienced players can have on the development of youth.
"Isaac Boss was huge for me when I was coming through.
"I was lucky enough to have him and Eoin Reddan. As much as a hindrance as it was on my career at an early age it was also a blessing. I learned so much off them in that they were very different scrum halves, so I feel like I took quite a lot off both of them.
"I found Bossy to be more physical, while Redser was speed of ball, pass and distribution.
"Even just their approach to professionalism, I found to have them at a young age incredibly helpful. I have a lot of respect and time for the two of them. Obviously, two internationals in my position at 21 is a tough task, obviously I would have preferred to get more opportunities, but for what I learned from them I'm incredibly grateful."
Listen to the RTÉ Rugby podcast on Apple Podcasts, Soundcloud, Spotify or wherever you get your podcasts.
Follow Leinster v Ulster (Saturday, 8pm) via our live blog on RTÉ.ie/sport and the RTÉ News app. Watch Connacht v Ospreys (Friday 7.35pm) and Leinster v Ulster live on RTÉ2 and the RTÉ Player or listen to the inter-pro derby on RTÉ Radio 1 Extra.