With four tries in five games, Mack Hansen is fast becoming a cult hero out west.
White scrumcaps and a fake beard could be a popular Halloween costume in Galway after the Australian doubled down on his impressive start to life at Connacht.
His first appearance at the Sportsground saw him score a try for the ages, and he's added another three in recent weeks, two of those coming in Saturday night's 36-11 win against Ulster at the Aviva Stadium.
His first came on 24 minutes as he telegraphed a Billy Burns pass to pick off the out-half and coast over the tryline. His second was the final play of the game, sprinting down the touchline and grinning from ear to ear after Caolin Blade poached the ball at an Ulster ruck.
Kicking the ball into touch and getting the full time whistle never entered his mind.
"No, I saw a bit of space and I was hungry for another meat pie!" he laughed.
"No, it was a good to get a second out there. I was just lucky that the pilfer king (Blade) got on the ball and was able to get it to me. Yeah, I can't complain with two tries."
He admits his first try may have had an element of luck, having taken the risk and shot up in the defensive line before intercepting the Burns pass.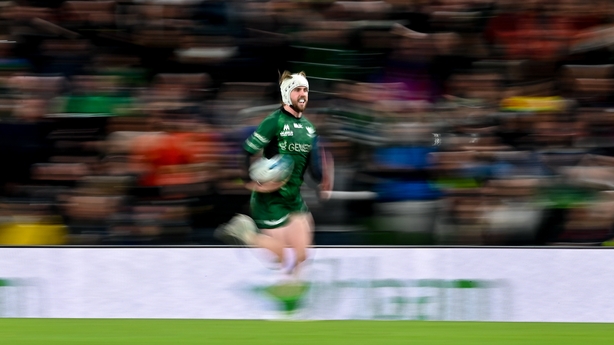 Linespeed was a constant feature of their game, putting Burns and Nathan Doak under consistent pressure, led by the aggression of Tom Daly and Eoghan Masterson among many others.
"I was lucky to get that (intercept) to be honest. If he chucks it over my head I guess we'd be talking the other way but I made a read.
"Today I did feel like I did back myself a bit more. I just made a read and it paid off, so I guess I can't complain with that too much.
"We wanted to come at them hard. We wanted to try and dominate them to be honest.
"When you've got good linespeed and they're trying to play out the back we just keep coming. I think that's going to be really hard for teams to play against if we can be really consistent with that.
His first experience of the Aviva Stadium could hardly have gone better, concisely describing the day as "unreal" and "really cool".
With Ireland head coach Andy Farrell watching on from the stands, the Irish-qualified Aussie could well be back at Lansdowne Road soon enough if he keeps up this form.