It was a week of progress for the United Rugby Championship's South African sides, as we saw our first glimpse that they are beginning to settle in their new surroundings.
The Cell C Sharks and Vodacom Bulls registered impressive wins away from home versus the Ospreys and Cardiff respectively, with both sides picking up their first points of the competition.
The DHL Stormers couldn't secure a first victory, but their 20-20 draw with Edinburgh was a step in the right direction, while a depleted Emirates Lions side battled hard in a 13-9 defeat to Glasgow.
And it appears they're making proactive steps to acclimatise to their surroundings by drafting in help from former referees.
Bulls director of rugby Jake White last week said his side would have to adjust their game to the interpretations of northern hemisphere referees, and he's been true to his word, by bringing in the help of retired South African referee Tappe Henning, who for several years has been working for the Scottish Rugby Union.
Henning will work with the Bulls players who struggled to get on the same page with the refereeing teams in their heavy defeats to Leinster and Connacht.
White says it's an important step for his team, and in an act of South African solidarity, the Bulls boss has also offered Henning's services to the Sharks, who are similarly based in Cardiff for the remainder of their European tour.
"Before this competition, we spent time with the South African referees to try and get us ready for what to expect up north," said White.
"As it turns out, it hasn't been what we thought it would be. So I reached out to Tappe to come and watch our game against Cardiff Rugby, and then advise us on where we need to adapt.
"As the Vodacom Bulls we're using our resources as effectively as we can, and we're happy to help out the Sharks if we can as well."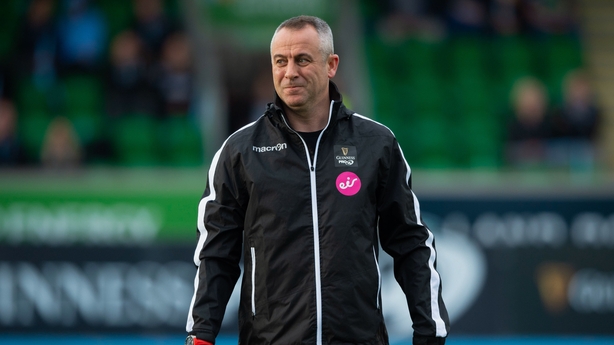 Retired Irish Test referee John Lacey (above) has also been doing similar work with the Stormers, while Henning, who has worked in Scottish rugby for the last eight years, says it shows the effort that the South African sides are making to buy into the competition.
"We accept there are differences and we're all committed to overcome them," Henning said.
"There is effort from all parties to sort it out because we're all working on the same product with the same goal to help develop an exciting new competition and make it the rugby spectacle it deserves to be.
"The attitude up north towards the South African teams is not one of, 'you're coming to play in our competition so adapt or die'. Not at all. They genuinely want to help the South African teams for the benefit of a strong competition."
Follow Munster v Connacht (Saturday 7.35pm) via our live blog on RTÉ.ie/sport or the RTÉ News app, or watch live on RTÉ2 and RTÉ Player. Watch Ulster v Lions (Friday 7.35pm) on RTÉ2 and RTÉ Player.