Anecdotally, an away trip to the Dragons is a good test to see if a high-profile signing fancies it.
Whether it's the location, the conditions at Rodney Parade or the opposition itself, the away trip to the Dragons has always generally been the wet Tuesday night in Stoke equivalent for new Pro14, and now United Rugby Championship, signings.
It's not a slight on Newport, but it just doesn't have the same draw, for Irish sides at least, that a big interprovincial derby game has, or even meetings with the likes of Ospreys or Scarlets or Glasgow - teams that have been big hitters in the league down the years where rivalries, even fleetingly, have sparked.
After a friendly with the sleek Harlequins, and a big opening weekend clash with the Bulls at the Aviva Stadium, Michael Ala'alatoa would have been brought back down to earth on Sunday as Leinster wrung out a 7-6 win against the Dragons in Newport.
Speaking to him a couple of days later from Leinster Rugby's UCD base, the Samoa international said the one-point victory was an experience like no other.
"If we're looking to the game that's just gone at the weekend, it's probably a good experience for me," he says, with a hint of relief.
"I haven't really been a part of a game that's gone down to the wire like that, where things aren't going too well for us, and the team we're playing is defending really well, and they've got their crowd behind them and all the momentum, so it was a good experience, one that I'll definitely take moving forward."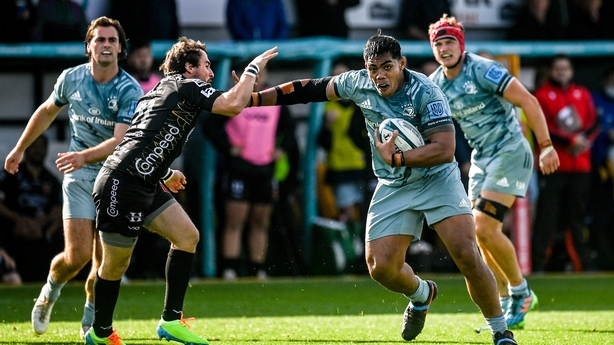 Having won three Super Rugby titles in a row with the Crusaders from 2017 to 2019, and Super Rugby Aotearoa titles in the Covid-hit 2020 and 2021 seasons, there hasn't been a major adjustment for Ala'alatoa to make on the pitch.
Winning is expected, and ideally winning well. It wasn't a move he had to mull over for long.
"The way that they try to play at Leinster, it's an attacking style of rugby so the way we're playing is not too different (to the Crusaders). We want to play with the ball, and use it well.
"I didn't have to think too much about it (moving) because Leinster's such a successful club, and to have the opportunity to be a part of it was a pretty special, so I didn't think too much about it.
"To play alongside the likes of Tadhg Furlong and Johnny Sexton amongst many others, it's pretty much a once in a lifetime opportunity for me, coming from New Zealand.
"In terms of making the decision it was very easy."
While he didn't need much persuasion, a lesser-known former Leinster prop did help nudge the deal over the line.
Like Ala'alatoa, Fosi Pala'amo (below) is a former Samoa international prop, who played with Leinster during the 2006/07 season.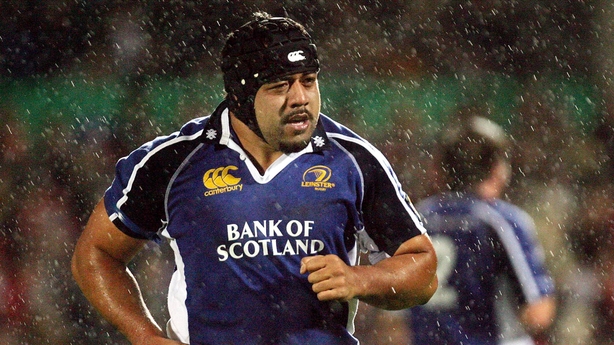 Pala'amo remained in Dublin after his playing career, settling with his family and doing some club coaching, but is an old family friend of the Ala'alatoas, and someone Michael has been indebted to since his summer arrival.
"He still lives here and I knew him from Sydney, he's a Samoan and used to play for Samoa as well. He's probably the guy I spoke to most outside of the Leinster circle.
"He's been really helpful in terms of the everyday life stuff in terms of making sure the family is looked after, and it's a bonus that he played for Leinster as well, so he knows the environment, he knows Leo very well and he's played with a few of the boys who are still here now.
"I'm very lucky to have someone that close to me, be so close to the environment here."
It's been a seamless transition for the 30-year-old thus far. Performances have been steady, while more importantly his arrival has enabled Andrew Porter make his long-awaited return to loosehead, meaning Ala'alatoa's arrival could have long-term benefits for Irish rugby as much as Leinster.
Off the pitch, he and his family have settled into their surroundings in Dublin, which he admits is quite different to his previous base in Christchurch.
And while he hasn't explored much of Ireland beyond Wicklow in his first couple of months, he seems content with the early days of life in Ireland.
"Things have been going really well for me and my family. We've been here for a few months now, we actually had two weeks here as a family before I started training, so pretty grateful for that time to get to see Dublin and explore the city a bit.
"Since day dot the management at Leinster have been awesome at helping us transition over from New Zealand to Dublin, and the same for when I started training.
"From the top of management to the coaches all the way through to the playing group, everyone has been awesome at making sure we're well looked after and to make the transition very seamless for us.
"It's been a really enjoyable first couple of months, and looking forward to what's ahead."
Listen to the RTÉ Rugby podcast on Apple Podcasts, Soundcloud, Spotify or wherever you get your podcasts.
Follow Scarlets v Munster (Sunday 2pm) via our live blog on RTÉ.ie/sport or the RTÉ News app, or watch live on RTÉ2 and RTÉ Player. Watch Leinster v Zebre (Saturday, 1pm) on RTÉ2 and RTÉ Player.