For the first time since early 2020 the Munster fans were back in their numbers, and they were given every reason to cheer.
Simon Zebo's tries opening and closing the night sent the 11,418 supporters wild, while RG Snyman's long-awaited Thomond Park debut brought a deafening roar.
A 42-17 win against the Cell C Sharks, a bonus point to start the United Rugby Championship, and the satisfying feeling in the air that there's some normality again.
Those three big moments of the night were special in their own right, but as Munster head coach Johann van Graan puts it, they were moments that were amplified by the crowd.
"That's what rugby is about, some special moments from Zeebs, very fitting that he scored the first try in the way that he did and that he finished the game off," he said after their bonus point win in Limerick.
It had been 13 months and two days since Snyman's last game of rugby, his debut for the province in August 2020 ending after just seven minutes when he tore his anterior cruciate ligament, before his return at the end of last season was stalled after he suffered burns in a domestic accident.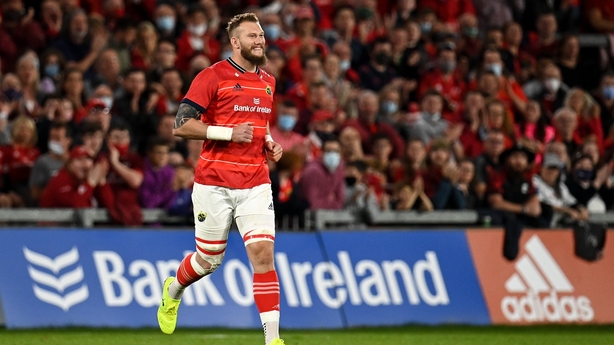 Only last week, the province had said they were hopeful the South African World Cup winner could be back before the end of October, only for his name to appear on the teamsheet ahead of the URC opener.
On 65 minutes he was roared onto the pitch, and showed some nice flashes in his quarter of an hour, winning a turnover and throwing a fine offload in the lead up to Zebo's second score.
For Van Graan, the sound of Snyman being cheered across the pitch was one of the night's satisfying moments.
"I think that entrance, in terms of the support, shows how much we at Munster think of him and we can't wait for him to get more minutes," Van Graan said.
He's got a long way to go in terms of building up minutes and we'll look after him carefully
"He was very excited, and we said we won't put him on the pitch if he's not ready.
"He'll get a lot fitter, but his knees are good, and he came on and made that poach straight away, and in that last try, the way that he got that ball away on the touchline, that offload, shows what he can do.
"He's got a long way to go in terms of building up minutes and we'll look after him carefully.
"But in terms of him being excited to play, inside he just said to me 'Coach, I just got past seven minutes!', which was brilliant.
"Really, really happy about that and so happy for the squad that he specifically came through."
Bonus point ✔️
Key players back on the field check ✔️@stringer9 @niamhbriggs15 and @jamieheaslip reflect on Munster's bonus-point winning start to the season

#RTERugby #URC #UnitedRugbyChampionship #MUNvSHA pic.twitter.com/mKNh1tm17N

— RTÉ Rugby (@RTErugby) September 25, 2021
Overall it was a night of positives. The challenges will be bigger as the season gathers pace, but for tonight Van Graan was just happy to revel in the return of the fans to Thomond Park.
"A very positive night, I think the best thing out of tonight is that we could play in front of our fans again, it's great to have the Thomond experience back.
"They gave us lot of energy and I just think it's important to acknowledge all of our support because that was fantastic.
"Very glad about the five points, it certainly wasn't perfect but we created quite a lot, but we'll take that on our first night of the season," he added.