Lisa Fallon believes that the Republic of Ireland could sell out the Aviva Stadium for their upcoming Women's World Cup 2023 qualifier with Finland but says the players must be consulted on any potential switch from their regular home in Tallaght Stadium.
Ireland travel to Georgia in June for a game they would be expected to win, which would set up a clash against Finland in Dublin on 1 September that will go a long way towards deciding who takes second spot behind Sweden and place in the October play-offs.
Referencing the recent record crowd for women's football of over 90,000 that watched Barcelona v Real Madrid, RTÉ soccer analyst and former Galway United and Chelsea coach Fallon told 2fm's Game On: "The one thing that is common when you look at those types of crowds is the marketing campaigns that go around them to raise the awareness.
"I have no doubt that if it was decided it would be held in the Aviva Stadium that it would sell out. I'd even say there would be people looking for tickets that wouldn't get them.
"But Tallaght Stadium has become the home of the women's team.
"That Finland game is going to be absolutely pivotal and what you want to do is to is to make sure the team has the best opportunity to get the result that's needed.
"If the players felt that doing that in the Aviva with a full house would be the right way then I can't see why that decision wouldn't be backed.
"However, if the players and the group feel that they would have an advantage playing in Tallaght, a ground that they're extremely familiar with, that consultation should be done. They should have a significant input.
"You wouldn't want it to become a massive occasion as opposed to the crucial qualifying game that it is going to be.
"But it is only a matter of time before it happens that they play at the Aviva Stadium."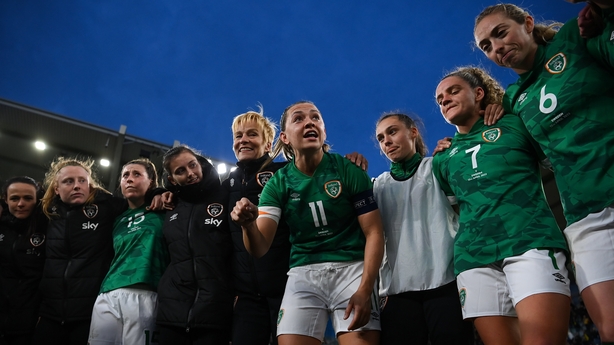 Ireland are ranked 30th in the world but secured an impressive 1-1 draw against No 2 side Sweden in Gothenburg on Monday.
Fallon, who is now a high performance consultant with FIFA, saluted the performance and said it was down to the planning and ambition of Vera Pauw and her players.
"In the days leading up to it there was talk of it being a free hit for Ireland and I said on the RTÉ Soccer Podcast that I was really uncomfortable with that sort of terminology," said Fallon.
"If you want to hit new levels and achieve something that hasn't been done before, you have to change that mindset.
"You have to look at every game and see 'How can we get a result in this game? Can we win this game and if we can, where are the details in how to do it?'
"I think that is something Vera, her backroom team and the players, not only identified and clearly worked on in the days leading up to the match but also executed it really well.
"People say you need a bit of luck and you do but I'm a firm believer that you make your own luck.
"We knew that Ireland would have to defend for large spells in the game, which they did. They were so disciplined.
"You have to be able to win in different ways and find different ways to get results across a qualification campaign. That's what Ireland did last night and it was very impressive."
The Irish women's team could sell out the Aviva Stadium, @lisafallonsport tells @gameon2fm but for the vital Finland game, they may be more comfortable in the familiar Tallaght Stadium pic.twitter.com/t5AxMCwZZs

— RTÉ Soccer (@RTEsoccer) April 13, 2022