It's almost two and half years since Anastasia Spyridonidou brazenly volleyed home a 93rd-minute goal to snatch a 1-1 draw for Greece against the Republic of Ireland in Athens.
That was Vera Pauw's third game in charge, and she was blunt in her post-game assessment.
"They were streetwise. And we have to learn from that, because we have given it away ourselves. Everyone fought their butt off... but it needs to be better."
Of the players that featured in that draw - a result that really hurt Ireland's Euros ambitions - six lined up at the Gamla Ullevi stadium to face Sweden on Tuesday night: Louise Quinn, Katie McCabe, Niamh Fahey, Jamie Finn, Denise O'Sullivan and Leanne Kiernan, who came off the bench.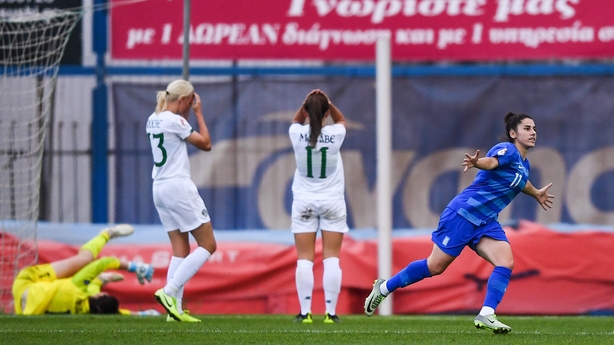 It's taken Pauw 29 months to improve the quality and depth of the squad, a period in which they've suffered their fair share of pain, but the 1-1 draw against a top-class Sweden outfit is tangible proof that things are moving in the right direction - to say the least.
Pauw has always tended to look at the bigger picture as Ireland manager. She's been vocal about the need to raise standards in the Women's National League, holding training sessions for home-based players at Abbotstown to help fast-track their development.
There's also a sincerity to her praise of the team, whose passion the Dutch coach described as "contagious, and it's contagious to the nation I hope, contagious to the staff and I hope that we can add what they need so that they can go further and further and further".
Anyone watching Tuesday's game may have found the nerves contagious too.
McCabe's deflected opener had the natives stunned before Kosovare Aslanni's 79th-minute equaliser cranked up the volume as they desperately sought a winner.
Ireland had to come through sustained periods of incredible pressure, right up until the 93rd minute when Sweden blazed a 25-yard free-kick over the crossbar. But there were no late dramatics this time.
Pauw's charges kept their heads in a pretty frantic atmosphere to become the first team in 12 years to take points off the Swedes on their own patch in a qualifier.
"Sweden were relentless in everything they did," Megan Connolly said afterwards.
"It was an amazing atmosphere. The crowd, the noise… to be able to communicate in a stadium that you can hardly hear yourself in and be tough to break down is a big positive to take."
There were individual triumphs all over the pitch for Ireland.
Courtney Brosnan can't get into the Everton team at the moment but she excelled in Gothenburg - her fingertip save to deny Filippa Angeldal a heart-stopping highlight.
Connolly dropped back to a less familiar central defensive role in the absence of Savanah McCarthy and barely put a foot wrong.
And Chloe Mustaki capped a remarkable personal journey with a fine showing at left-back on her first senior start. The 26-year-old Shels player was diagnosed with Hodgkin's lymphoma when she was 19, and then suffered an ACL injury in March 2020. Her performance was a triumph of spirit and resilience.
"Jesus what a game," Mustaki gasped at the final whistle. "I didn't even look up at any point at the crowd. I was just focused on the pitch the whole time. It was only when the whistle blew that I could have a look around and see how many people are here... I have to be proud of myself. A year ago I was doing the (TV) punditry. Now I'm starting."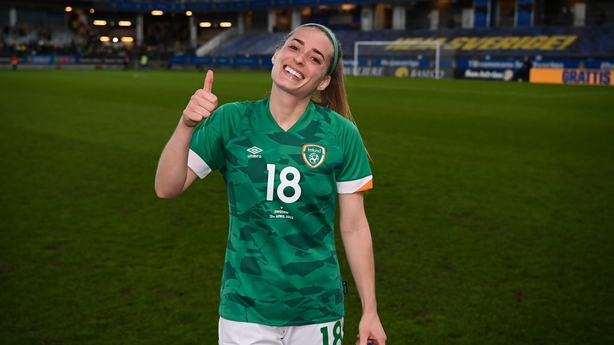 Ireland have plenty of work to do to make the World Cup. It would of course be the first time the women's side has reached a major tournament, a massively significant moment in all sorts of ways.
They're desperate to do it, but even if second place in the group is sealed they will then have to negotiate a play-off semi-final and final.
As a squad they feel a responsibility to keep laying down foundations for the next generation.
In Gothenburg seven-year-old fan Annie Holland was the team's special guest, and she was front and centre when it came to the celebrations.
The players always make time to mingle with supporters in Tallaght after matches too, conscious of the bigger picture, the sense that momentum is building within the women's game after many difficult years. Good results are oxygen for continued growth.
"Five years ago (when Ireland pulled off an unlikely draw against the Netherlands) we didn't have the support and backing from everyone," Connolly added.
"Now there's a lot more pressure on us, a lot more eyes, a lot more people tuning into watch us. With all the eyes and the pressure on us, at the end of the day it's just us on the pitch with Sweden, 11 v 11. We just had to do our job - and we did it."
Up next is Georgia, Finland and then Slovakia - three more steps towards the promised land after one big leap forward in Gothenburg.