The fixture lovingly titled 'El Dartico' will not return for the 2022 season as the two teams on the southside coastal line have now become one.
The new version of Bray Wanderers, with a changed crest to reflect Cabinteely's involvement, begin their First Division campaign at home to Cork City this evening.
For Pat Devlin, who spent the past four years managing Cabinteely for what turned out to be most of its existence as an independent League of Ireland club, it's a return to very familiar terrain.
The 68-year-old Devlin has been manager of Bray, on and off, for a cumulative total of 16 years since its arrival into the league in the mid-80s. He presided over its two greatest successes, the FAI Cup victories of 1990 and 1999.
Aside from the normal multitude of football-related headaches, the biggest question ahead of the 2022 season is how the people of the region have reacted to the venture.
"I think, throughout my lifetime... a lot of people don't like change," Devlin told RTÉ Sport at the SSE Airtricity League of Ireland launch in Clarehall.
"People like ya, some people don't like ya. Some people like some players and don't like other players. I think, eventually, the results on the pitch will bring everyone together. I really genuinely feel everybody has embraced it.
"I think we've sold more season tickets this year than they've sold in recent years. So I think results will encourage people in.
"It's the way forward. It's definitely the way forward at the moment because it ain't going to change! So you either buy into it or you don't.
"If certain people don't want it, well they don't want it. Either they come along and support the club or they don't.
"We're ready for action, we're in and anyone who wants to be there is more than welcome. And anybody who doesn't want to be there, we understand."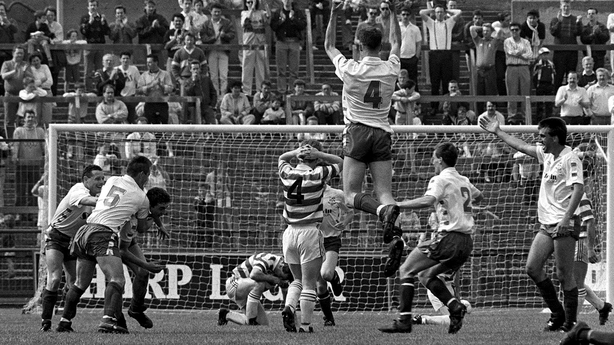 Football club mergers have occurred many times throughout history across the continent, though most of the high profile examples date back to the earliest days of the sport in the late 19th and early 20th century.
On the rare occasions when high profile clubs have been yoked together, it has been fearsomely controversial. In 1990, Hearts chairman Wallace Mercer infamously sought a merger of Hearts and Hibs - the latter then in big financial trouble - to challenge the big two in Glasgow. His reward was widespread vilification and a large number of bricks being lobbed through his window. Armed security guards had to be employed to protect his house. The merger never happened.
Other modern stabs at it have been more successful, especially in the lower tiers of the English Football League. Rushden & Diamonds and Dagenham & Redbridge are, as their names possibly suggest, both the product of mergers, and from the same year, 1992.
These examples may be a more appropriate analogy for the Bray-Cabinteely link-up, in a domestic football culture which is well used to clubs arriving and folding, falling by the wayside and re-branding.
Bray Wanderers had endured a difficult few years, the club entering a crisis period in the summer of 2017 after a spending splurge and a resultant rise up the table failed to yield dividends in higher attendances, with then chairman Denis O'Connor wondering aloud whether "the people of Bray want a football club." Players were offloaded, performance declined sharply and the club were relegated in 2018. They have, however, been stabilised under the chairmanship of Niall O'Driscoll.
Devlin insists that both Bray and Cabinteely are fortunate the current opportunity came along.
"This is... quite unique. And there's different challenges. There's personalities, there's crests, there's gear, there's equipment," says Devlin.
"There's letting people go, not letting people go. And then making sure people don't take offence. And you'll be making changes but you don't mean to offend someone. And all of a sudden. you've offended someone and you didn't even mean to!
"It's been a unique challenge for everybody. Cabinteely are our main partners and will be our main partners, in terms of providing the pathway, and will always be.
"Genuinely, from our point of view we're very, very lucky that it happened. And I think equally, Bray Wanderers have been very, very lucky that it happened.
"Because if it didn't happen, maybe Bray might have been struggling a little bit as well because Niall (O'Driscoll), who did a great job, he had enough and wanted to move on and that was his decision. He was fortunate enough we met someone like Tony Richardson (the chairman) who will come on board and help us develop it.
"I think everybody has gained from it. And those who doesn't want to be part of it will have a look at it in a couple of years time and say 'I'm going to support this or I'm not'. And that's fine too.
"But I do think it will be successful. Will it be successful this year? I'm not so sure. It needs a little bit of a transition. Players need to come together. Fans need to understand that what we're trying to do is in the best interests of all concerned in the local area."
Altogether, Cabinteely spent seven seasons in the League of Ireland as an independent entity. They ran close to promotion in 2019, losing in the promotion-relegation playoff semi-final. In existence since 1967, the club was previously a junior soccer outfit, with a strong youth arm, Republic of Ireland midfielder Jason Knight emerging as one of their prize graduates. Devlin stressed that Cabinteely's primary raison d'etre for entering the league was giving their youth players a shot at senior football.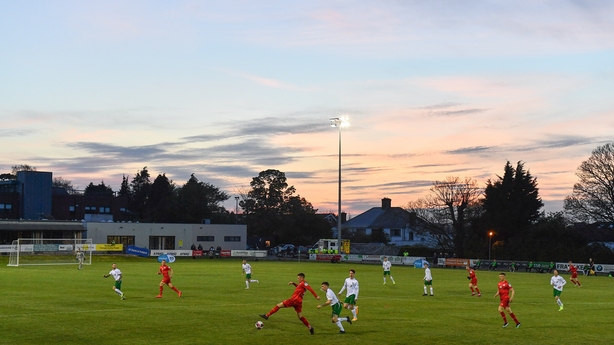 And he outlined the youth pathway envisioned for the Bray-Cabinteely, with two underage teams, one competing in the League of Ireland youth leagues and the other competing in the schoolboy divisions.
"Well, the only reason Cabinteely came into it (League of Ireland) was to give them (young players) the opportunity. And now that opportunity has enhanced itself - in a different way. It is more challenging but I think within the next season or two, you will see the real benefits of it.
"We're putting in a new school of excellence, we'll have about 40 or 50 players and we'll get the best squad out of that to be our U14 squad (League of Ireland) and the others (those left) will play in the top schoolboy league.
"So, you'll actually have two squads going all the way up together and those who want to come across, whether it be into the elite or into the schoolboy, will get that opportunity."
As for the current season, Devlin is adopting a relatively cautious approach, saying that the full-time outfits in Cork, Galway and Waterford have to be considered the leading contenders.
"Success for me in 2022 will definitely be getting into the playoffs. That would be a start. For me personally, I would love to win the league. Is it doable?
"Talk to me in six months and I'll tell you if it's doable. It's too early to predict. I think the favourites will be Waterford, Galway, Cork. I wouldn't dismiss Cobh, I wouldn't dismiss Treaty. I certainly won't dismiss us. But we've a few little challenges ahead of us.
"If you want me to stick my neck out, I'd say it'd be one of the three full-times would be there or thereabouts. They've a bit of an edge."
We need your consent to load this YouTube contentWe use YouTube to manage extra content that can set cookies on your device and collect data about your activity. Please review their details and accept them to load the content.Manage Preferences
Listen to the RTÉ Soccer podcast on Apple Podcasts, Spotify or wherever you get your podcasts.