Stephen Kenny's sole focus is on next week's World Cup qualifier away in Azerbaijan, rather than thinking about whether his contract will be extended beyond the current campaign.
The Ireland manager's contract runs until July 2022, and while he has spoken about his desire to lead the team into the Euro 2024 campaign, and has been planning for such a scenario, the FAI have yet to act on his ongoing situation.
"We will review the whole World Cup qualification campaign in November," said FAI chief executive Jonathan Hill earlier this month.
"Everyone will be able to give their view. This isn't about one person. It isn't the view of one person, it is the view of 12 men and women."
Ireland have yet to win a competitive match since the new man took charge of the senior side last September, and have only won one game out of the 16 played since Kenny's tenure began.
That victory came in an end-of-season away game in Andorra, while the current World Cup campaign has seen a paltry return of just two points from five games played.
A home defeat to Luxembourg in March put pressure on the manager, and that was compounded by his side's inability to beat Azerbaijan at home in September.
That game was part of a triple-header during the last international window, and while the result was disappointing, the side dominated throughout and the visitors' goal arrived against the run of play as a result of an uncharacteristic lapse of concentration.
And either side of the game, Ireland put in a remarkable performance away in Portugal against the group favourites, and were leading 1-0 with just two minutes left on the clock – two late Cristiano Ronaldo goals denied Kenny a result on the Algarve.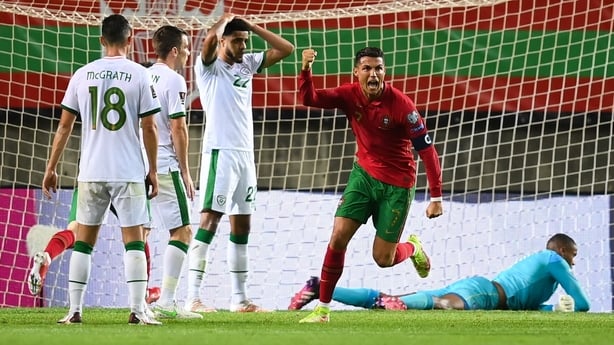 Kenny's side then showed true grit, determination and a never-say-die attitude to snatch a late point in the home game against a dominating Serbia side, who came to Dublin with a plethora of world class players.
And it was that late goal in Dublin, which has given the manager real belief that the players and the supporters are really buying in to what he is trying to do with the national team.
The equalisers in both the Serbia and Azerbaijan games came within the last five minutes, and the manager believes that his side's ability to score late goals is something that they have developed over the course of the year, while the reaction of the home support was also something that Kenny was very encouraged by.
Kenny has been criticised - by Paul McGrath among others - for sticking to his footballing principles to the detriment of the team's results, however, those late goals have a resonance with previous regimes, most notably the Martin O'Neill era when Ireland rescued many results late in the game.
And now the manager's plan is to turn those draws into wins, which he believes will ultimately bring success to the team.
"The main statistic we're looking for against Azerbaijan is to win, we need to turn our draws into wins," said Kenny, speaking to the media at FAI headquarters on Thursday.
"The last window was very intensive with three games in six days, very tough physically against Portugal, Azerbaijan and Serbia.
"They were three very exciting games, but we obviously want to turn our draws into wins. We should have done that and we haven't. We need to find a way of doing that."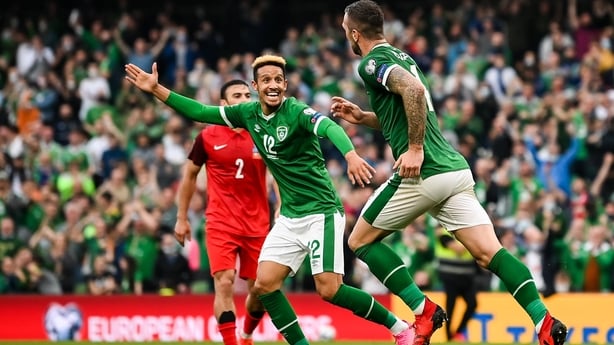 On legendary defender McGrath's assertion on RTÉ's 2fm that he was not the right man to lead the international team, Kenny was phlegmatic.
"Listen, Paul McGrath is an Irish legend — there's no doubt about that," he said. "I don't think he was overly critical. Paul also said that he hoped I proved him wrong and that's certainly the intention in that regard."
Looking ahead to the Azerbaijan game, many will expect Ireland to go out and get that first competitive victory for their manager while others believe that Kenny will be under serious pressure if his side cannot come home with the three points.
The October window is a complete contrast to the September edition with just one competitive game to focus on, compared to the triple-header, followed by the friendly encounter with Qatar after the trip to Baku.
And with the November review looming large in the distance, Kenny would certainly welcome a victory to show that the ever-evolving project is taking shape.
"We have to convert our chances," said Kenny, when asked what needs to change to get the required result.
"We created an awful lot of chances against Azerbaijan. The concession of the goal against Azerbaijan, it was a goal from distance, so we have to make sure that doesn't happen again.
"On the plus side we have shown a capacity in last couple of games to equalise late. The ability to get late goals is an important trait and one we haven't showed until the last window, so it's important we have that.
"The ability to keep going, that level of persistence and the capacity to score late goals is an important trait, and it's an important characteristic of any team that wants to be successful."
Kenny was asked about a recent Ireland Thinks poll that suggested that there was about a 4:1 support for him to take the team into Euro 2024, and he said that he feels the public are starting to see the improvements in play and are getting to know all the new young players coming through into the side.
'Stephen Kenny has managed to win just 1 of his first 16 games in charge of the Irish national football team. His supporters believe the manager should be given time to restyle the team. Which of the following most closely reflects your view?'

Date: Sep 18th
Margin: +/-3% pic.twitter.com/YRgtL5UACB

— Ireland Thinks (@ireland_thinks) September 30, 2021
"The atmosphere against Serbia at the Aviva was exceptional, the supporters got behind the team regardless that we were 1-0 down.
"They really connected with the players. It's from the ground up. We've introduced a high number of players into the squad in the last seven or eight months, and it's quite organic: it's players from clubs throughout the country.
"I think the team is evolving and wants to get better. We just need the victories. We know that. We need to turn draws into wins.
"When I go out through airport or I am in Dublin people are excited by the team, they want it to work. They want the team to really evolve and do well.
"We all want the results to improve and hopefully in this window we can do well."
And as for the November review, it is a bridge that Kenny is happy to wait to cross, which will happen at the end of the current World Cup campaign – Ireland play Portugal at home on 11 November, and finish with an away trip to Luxembourg three days later.
Kenny confirmed that no interim talks have taken place regarding his future, stating that he is more focused on working in the privileged position of being the Ireland manager.
"It's not something I am fixated on really," said Kenny.
"I'm just focused on these matches against Azerbaijan and Qatar. And the next two windows.
"My contract is not up until July. I am focused on the privileged job I have as international manager and just focused on doing the job and making sure we perform well."