Republic of Ireland manager Stephen Kenny has been unequivocal in expressing his desire to lead the national side forward after the 2022 World Cup Qualifying campaign comes to an end in November, but Football Association of Ireland chief executive Jonathan Hill was more circumspect when discussing Kenny's future on Thursday.
A battling 1-1 draw against Serbia at the Aviva Stadium on Tuesday effectively ended Ireland's already remote qualification hopes for next year's finals in Qatar.
Kenny's charges return to international action on 9 October when they face Azerbaijan in Baku and conclude their campaign with a home fixture against Portugal and an away trip to Luxembourg the following month.
A dismal Group A tally of two points will have to improved upon, with Hill insisting that winning matches remains a crucial goal, despite other facets of Ireland's development under Kenny often obfuscating the conversation around the primary role of any manager.
Speaking at the launch of Sky's role as the new main sponsor of the Ireland women's team, the FAI chief executive said: "Does Stephen and his team, the FAI team, the staff and board, you guys as the media and the public, expect or want us to win every single game that we play at every single level? Absolutely."
Hill echoed the view expressed by Kenny earlier in the week that qualification for the 2024 European Championships was a far more realistic aspiration for a team in transition than securing an unlikely 2022 World Cup spot, saying: "For me, the context of what Stephen was saying is that it is very difficult to qualify for a FIFA World Cup.
"Statistically it is almost twice as difficult for a FIFA World Cup with 13 teams as it is to qualify for a Euros with 24 teams.
"It is not an easy process. We were the third seed in that group and clearly we were going to be playing two strong sides. And we have played two very strong sides.
"International football is very competitive."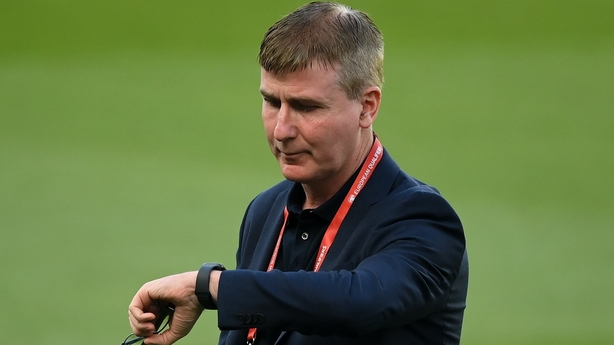 Kenny, whose contract expires in July, will face an uncertain appraisal by top brass before any contract extension will allow him a second act as Ireland boss.
"Look, we have said very clearly what our normal approach is to every international window," Hill added.
"We review that window at the end of it at our board meeting. We do that hopefully in a calm and collective way.
"We definitely do it in a collective way, if that makes sense, as a group, and we will continue to do it as a group.
"We will review the whole World Cup qualification campaign in the same way in November at the same board meeting.
"We will discuss all the issues and we will have our reports that we will look at and we will review them accordingly.
"One thing I will say about the board over the last 10 months that I have been involved, is that there is a really open process there.
"Everyone will be able to give their view. This isn't about one person. It isn't the view of one person, it is the view of 12 men and women.
"Hopefully we will do that in a calm and considered manner."