Stephen Kenny has a difficult job as Republic of Ireland manager, but isn't the right man to bring about an upturn in fortunes, according to former defender Paul McGrath.
The former Dundalk manager has endured a difficult time in the Irish hotseat, with just one win from his last 15 games, with that lone victory coming in a friendly against Andorra.
The most recent outing, a 1-1 draw with Serbia, put Ireland firmly out of the frame for World Cup qualification, with two points from five games in Group A.
The run of results has raised questions about the direction Ireland are heading in and McGrath, who won 83 caps for the Boys in Green, doesn't see the situation changing under the current regime given the strict adherence to keeping the ball on the ground and building out from the back.
"I can understand Stephen trying to play the kind of football he wants, to catch up the rest of Europe, but I just don't see why we should abandon other options," the former Manchester United and Aston Villa defender told RTÉ's Game On. The full interview will be broadcast on 2fm this evening.
"If you can't play out, and you are getting caught every time you try and play out, I genuinely think as an ex-footballer, you have to have a second option.
It's my belief that Stephen might not be the person to take us on to that level where we are starting to win things again
"You have to have that ball over the top. You have to have someone reading what you are going to do so we can chase it.
"You can't just keep playing football in the middle of the pitch, making nice arcs and circles. I think you have to put the ball into the box if you want to score goals. Goals are what we are lacking at the moment."
Kenny's record in 11 competitive games reads seven defeats and four draws. Kenny will on Thursday name his squad for fixtures away to Azerbaijan (9 October), followed by the visit of Portugal a month later.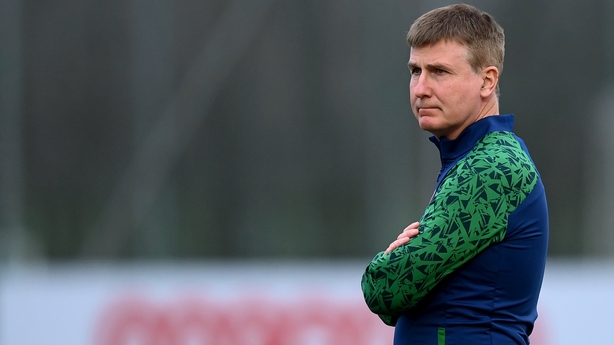 McGrath acknowledges that the calibre of player available to Kenny is not what it would have been in the past, but that a different approach could yield more points on the board.
"When I watched the Portugal and Serbia games, the football that the lads played, in midfield and playing out from the back, they really are good players, but I have to say, it's my belief that Stephen might not be the person to take us on to that level where we are starting to win things again.
"I like Stephen, I love what he done with Dundalk, but there is something about Stephen in his way with the team at the moment, I don't think he is going to change just because we are losing or drawing most games.
Maybe he will prove me wrong
"I think we do need to change. If we are losing games, we need to go to something else to try and win.
"I think he has a tough job. Maybe some of the players aren't as good as players we have had in the past, and I understand every country goes through that, but it would be nice to get a couple of wins and I hope Stephen does.
"Maybe he will prove me wrong."
Listen to RTE 2fm's Game On every week night from 6pm