Last night's 1-1 draw for the Republic of Ireland with Serbia might just be the shot in the arm that Stephen Kenny's term needed.
Once again the performance showed promise despite periods where Ireland were, in truth, hanging on a 1-0 behind.
But there were encouraging signs as the team kept battling away, eventually forcing an equaliser, and very nearly using the momentum to steal an unlikely win.
The displays of teenagers Gavin Bazunu, who was awarded player of the match, and Andrew Omobamidele, were very impressive.
Critics of Kenny might point out that it's another competitive game without a victory, but the manager had made his feelings about qualifying for next year's World Cup in Qatar fairly clear during the week.
"We haven't qualified for the World Cup since 2002 - did anyone think we were favourites to qualify," he asked at pre-game press conference.
Now nine points the second-placed Serbs now with three games to go, it is out of reach.
But with the next European Championships less than three years away, it'll be about instilling the belief in the players that they can qualify for Germany having missed out on the Euros over the summer.
One thing was for certain last night, Kenny's senior players were backing him, despite speaking of a "disappointing" campaign so far.
"We've always believed in what Stephen is trying to do," Matt Doherty told RTÉ Sport after the game.
"We get coached brilliantly with Anthony Barry and Keith Andrews. All the back room staff, we've no complaints at all. The game plans they set us up with are really good.
"If you saw what they were doing with us on the training pitch then people would really understand where we're trying to go.
"You could see against Portugal and you saw again tonight that we can play against some of these top nations and not look out of place. We'll keep doing the right things."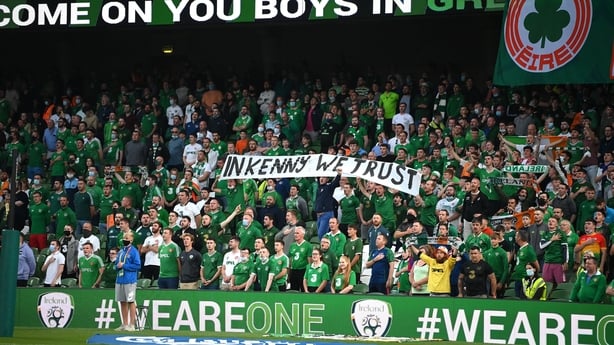 There were some suggestions in certain quarters in the build-up that defeat might have spelled the end of Kenny's time in charge, but any discussion online was usually met with questions about who could take over.
Supporters certainly made their feelings known at the ground, with a banner in support of the manager unfurled in the south terrace with the words: 'In Kenny we trust' on it.
They sang throughout the game, and they raised the volume a few notches in the final 10 minutes as Ireland put their visitors under the cosh.
Captain Shane Duffy paid tribute to them, while also giving his support to Kenny.
"That's what you need [great support] - we all fully back him," he said.
"We don't listen to outside stuff. I think he's been brilliant. The players he's bringing through are giving us energy in the team - Andrew tonight was unbelievable.
"These players are all going to gain from these experience of playing against top nations and that's good for our country.
"I know we want results now and we want to get to a World Cup and win games. But look at the crop of players we've got coming through. Give them a bit of time.
"I'm very excited about the future of Ireland."
Stephen Kenny's charges return to action next month with a trip to Azerbaijan.