After huge disappointment on the international front, things are going from strength to strength for Ireland defender Louise Quinn at Fiorentina. 
Ireland's dream of reaching Euro 2022 ended last month as Vera Pauw's side were beaten 3-1 by Germany in their final qualifying encounter. 
The performance against a star-studded German side was encouraging, but despite the flying start to the campaign, it means the wait for qualification to a first major competition continues. 
Not that centre-half Quinn has had much time to dwell on the setback. 
After three years with Arsenal, where she won a WSL title and a Conti Cup, Quinn decided to take up a new challenge after becoming a free agent, joining Fiorentina on a one-year contract last July. 
Given the change of environment, culture, language and weather, not to mention the impact of Covid-19, the defender says she only really felt properly settled in Tuscany shortly before Christmas. 
On the domestic front, Fiorentina are mid-table in a 12-team league, with four victories from the 10 games played so far. It's the cup competitions that hold the key to success in 2020/21.
Through to the round of 16 in the Champions League – the draw takes place next month – after seeing off Slavia Prague before Christmas, Fiorentina Femminile also have an Italian Super Cup final to look forward to on Sunday after getting past AC Milan at the penultimate stage. 
Quinn proved to be the match winner last night as her glancing header from the edge of the six-yard box from a corner secured a 2-1 win, her third goal of the season. 
"It was nice to get on to the scoresheet," she told 2fm's Game One. "I missed a sitter earlier in the game, so I had to make up for it.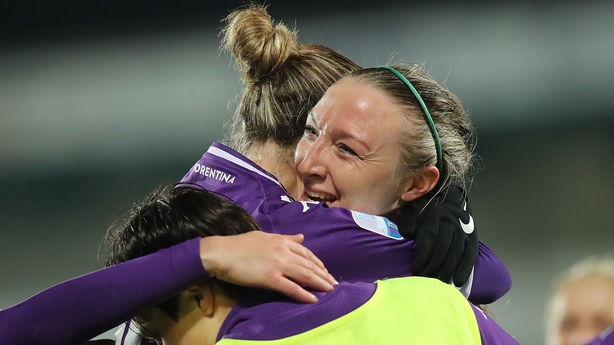 "It's a massive part of my game to keep the goals out, but if I don't get on the scoresheet I'm almost disappointed. I feel I can be a threat from those areas." 
The centre-back says it was their finest performance of the campaign, and now they will take on rivals and giants of the women's game Juventus, a side that are 16 points clear of Fiorentina at the top of the league with a 100% record in their 10 games thus far. 
"There is a real rivalry between the two teams. We really underperformed in a few games in the league. This is putting to light now what we can do. The Champions League win before Christmas was a real motivation for the team. 
I'm ready to play 90 minutes against them and get stuck in
"Juve are one of the top teams. The players they have are fantastic. It will be a real hard-fought, passionate game." 
An added motivation for Quinn is the fact that she was dismissed after just 13 minutes in the 4-0 defeat to Juventus in October after hauling down Barbara Bonansea with a last-ditch tackle.
The Irish international wasn't impressed by forward's theatrics - "she must have rolled 20 yards" - but is keen to take the lessons on board from the sobering defeat. 
"I'm ready to play 90 minutes against them and get stuck in."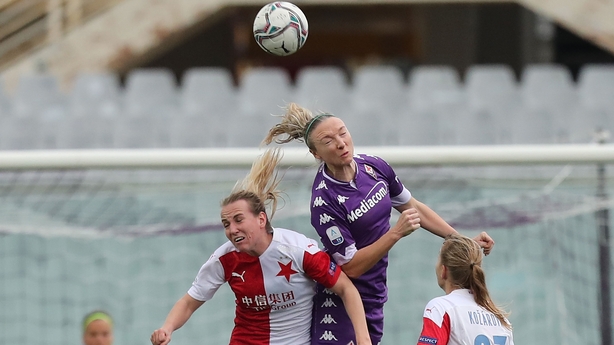 The Italian league is developing, but it has come from a relatively low base. Fiorentina's owners are building a new training facility with a section solely for the women's team, but the league in general is still finding its feet. 
"The professionalism, compared to England, needs a lot of work. It needs investment," admits Quinn.
"At the same time, they are still televising most games. There are a lot of big clubs backing the women's team, but they are bit behind the times if I am being honest." 
It is a reminder too of the changes afoot back in Ireland. Quinn says the growth of women's football has been "incredible".
Her hometown of Blessington is a shining example. In her day, there were no female teams, now they are increasing on an annual basis.
It would be a dream of mine to come back and play in Ireland again to finish my career
"That's something I have wanted to see for years," she says. "It's about building up the community around you and getting that interest from there and building youth teams to come up." 
It has renewed hope that she could yet return to see out the final days of her career back in her homeland. 
"It would be a dream of mine to come back and play in Ireland again to finish my career.
"Even if it was on a sort of semi-professional basis, that would be even better. To come back where I started my career and see growth. If I were to come back now, it would be almost the same place from when I left nine or 10 years ago." 
Reflecting on the near-miss of qualification with Ireland, Quinn remains philosophical. Progress has been made and the foundations are in place for more competitive campaigns.
Crucial to that journey though is manager Vera Pauw, according to Quinn.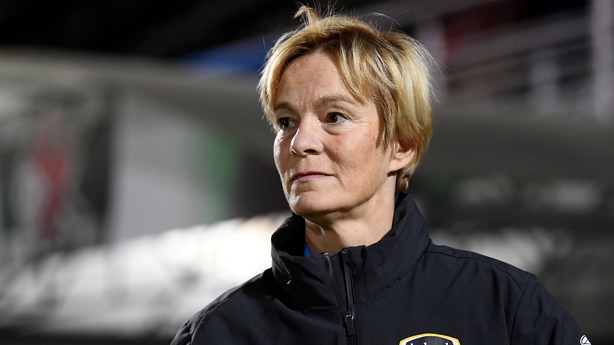 "Vera is so passionate about the job. We need consistency on the pitch, but also off the pitch.
"It's something we haven't always had off the pitch. We have taken a lot of hardship over the years. When you check Vera's track record, she has always left positives behind in the counties she has been, in South Africa and Holland. She laid foundations for them, and you want her to do the same in Ireland. 
"We really have to keep pushing forward." 
In the last couple of weeks Fiorentina have seen their head coach Antonio Cicotta and three players test positive for Covid-19, while another player was struck down with an ACL injury. 
The final is there for us for the taking
It has tightened the bond ahead of Sunday's cup final and belief is growing over what the squad can achieve. 
"It's been a tough 10 days, two weeks," says Quinn. "When we were celebrating the win (semi-final), there was a real togetherness and passion to it. The final is there for us for the taking."