The ball is won back high up the pitch and then the next movement is to turn towards the goal and unleash a rocket.
No chance for the goalkeeper and Peamount United are on level terms.
Unfortunately from Karen Duggan's perspective, while her goal was the type people dream of scoring in a cup final, Peamount ended up on the losing side in the 2019 decider at the Aviva Stadium.
Fast forward to this Saturday and Duggan and Co are aiming to put that right when they take on Cork City in the Women's FAI Cup final at Tallaght Stadium.
However, due to the Covid-19 pandemic, the build up has been lowkey for the Kilkenny native.
"It's a bit different. You'd be talking about getting new gear and going to see the stadium and stuff like that," she tells RTÉ Sport.
Here's Karen Duggan's lovely leveller for Peamount in the FAI Women's Cup final #RTEsoccer https://t.co/KhlHYpPT7X pic.twitter.com/8dHuQdTLT0

— Soccer Republic (@SoccRepublic) November 3, 2019
"We don't have that this year. We've just kept with our normal routine and I favour that. Sometimes it can hype it up too much. I think we've definitely fallen victim to that before where we've over-hyped the game and ended up not performing, so I think we're all a bit more level-headed going into this one.
"There is a bit less hype around and we can concentrate on the football."
Peamount and Duggan have unfinished business with the cup. While they won the league last month by beating title rivals Shelbourne, they lost consecutive cup finals to Wexford Youths in 2018 and 2019, while their drought in the competition runs back to 2010,
That includes a losing final in 2012 - Duggan's first - and the former Republic of Ireland international also lost another decider while with UCD Waves in 2014.
Duggan feels the 2018 loss was down to the fact that Peamount never got going while last year she believes the team "showed up to an extent but found it hard to lift ourselves to the level that we had done in the league".
"I think the league took an awful lot out of us last year. It had taken seven years for Peamount to get back to winning ways in the league and we had all those celebrations and we found it hard to reach those heights again," she continues.
"It was our fourth time playing Wexford that year, having beaten them three times in the league. They knew us very well and they had a fantastic start.
"So I think that's something we really need to concentrate on this year, just being solid for the first 10 minutes."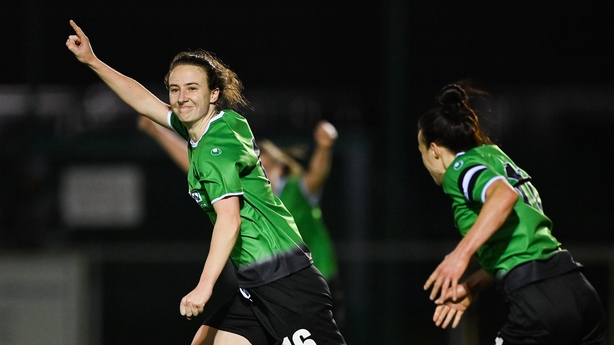 Similarly, last month, Peamount beat Cork City in the league by a comfortable 3-0 margin but last year's Wexford experience means they will be wary of being caught cold in a one-off final format.
"Last year showed us that the league means nothing when it comes to the cup," she says.
"I think the year I lost it with UCD Waves, I think we beat [Raheny] in the league but they came to the Aviva and beat us there, so we're experienced in knowing that the league form means nothing."
The 2012 final against Raheny came at Dalymount Park, while subsequent finals have taken place at the Aviva Stadium.
Duggan feels the backdrop has a major impact on proceedings and is relishing the prospect of playing Saturday's final in a more compact venue like Tallaght Stadium which, she hopes, could become a fortress for Irish women's soccer given that the national team also use it regularly.
"I think the game in Dalymount had the best quality when you look back at them," she explains.
"We want to make Tallaght a fortress, especially for the national team"
"The Aviva, while it's an amazing experience and something that I'll cherish, it doesn't make for a fantastic game, just due to the size of the pitch. You're wrecked after about 60 minutes, so sometimes that can take away a little bit from the quality of the game.
"I'm happy enough that it's in Tallaght. It's the home of women's football in this country, slightly more enclosed than the Aviva which is huge and echoey and weighs down on you a little bit.
"So I'm happy with the move. I know there's been a bit of criticism about it but I think if you're building this up as a day just for the women, which it is now, and a day for women's sport on Saturday, I think you should do it in the home of women's football.
"We want to make Tallaght a fortress, especially for the national team and it'll be good for girls trying to break their way into that team to get experience in Tallaght as well."
The progress of the Irish national team is one Duggan has observed with keen interest from afar, two years after retiring from international duty aged 27.
Vera Pauw's team fell just short of the mission to try and reach the qualification play-offs for the European Championships which will now take place in 2022.
While Duggan believes progress has been made, it's still some way short of where the game needs to be.
"The girls that are involved now, there's massive talent in the squad and they're getting on phenomenally well at club level," she says.
"But we've been saying that same thing that 'we're improving and we'll get there' for a few campaigns now. Last time for the World Cup qualifying campaign, it was a difficult group having Holland and Norway, so that was just a bridge too far.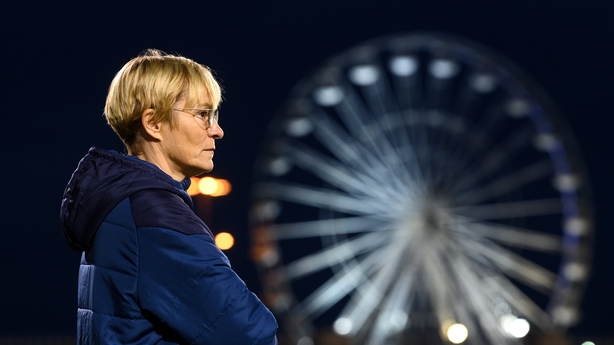 "But I think when the draw was made for this Euro campaign, I think everyone thought that this would be the one and yet we're still in the same position saying 'we're going places'.
"The World Cup is notoriously more hard to qualify for and that's what's next, so are we really looking at a four-year plan, looking at the next Euros?
"It's still a little disappointing but I do think there are improvements."
A four-year span going backwards in time though would take Ireland beyond the April 2017 press conference at Liberty Hall when key members of that era's squad, including Duggan, outlined the many issues they had to deal with in terms of logistics and facilities, as well as the lack of designated tracksuits which meant having to change in airport bathrooms.
From the feedback Duggan has received from club team-mates, many of the basic issues have been ironed out.
"All of the little things that were quick fixes, they're definitely all there and some strides have been made," she says.
We need your consent to load this comcast-player contentWe use comcast-player to manage extra content that can set cookies on your device and collect data about your activity. Please review their details and accept them to load the content.Manage Preferences

"Under Colin Bell's regime, there was more home-based training and things like that. Vera spoke about it after the match that they will be on a weakly basis next year and she's going to help the girls train with boys' teams and that is what is needed.
"But for me, it's coming a couple of years too late. This was the qualifying campaign that we needed to win.
"So I'm a bit frustrated that that was back in 2017, and I know the tracksuits got a lot of press, but the main thing we were asking for was more training and better conditions around those trainings.
"Those things started but there hasn't been enough consistency around them and I think that we also need to make sure that the Women's National League is being paid attention to and girls are getting the opportunity to go into development squads from there. It's fantastic that the girls are going professional but the Women's National League is their stepping stone for that.
"Focus needs to come back to basics on the ground in Ireland and maybe not pass the buck onto girls at club level."
Watch the FAI Women's Cup final between Peamount United and Cork City live on RTÉ2 and the RTÉ Player from 2.30pm on Saturday, listen to live commentary on RTÉ Radio 1 or follow our live blog on RTÉ Sport Online and the RTÉ News app.
Listen to the RTÉ Soccer podcast on Apple Podcasts, SoundCloud, Spotify or wherever you get your podcasts.