Lucy McCartan has not one, but two huge finals to look forward to over the week ahead, with the talented footballer lining up for Peamount United in today's FAI Women's Cup final before togging out for Westmeath in the All-Ireland intermediate football final next weekend. 
Peamount retained their league crown with victory over Shelbourne in last month's Dublin derby in Newcastle and go in search of a domestic double that Wexford Youths denied them last season.
Peamount also came up just short against Wexford in the Cup decider in 2018, but James O'Callaghan's charges will have the chance to banish those painful memories when they face Cork City at Tallaght Stadium. 
"We'll be hoping for a third time lucky situation," McCartan told RTÉ Sport. 
"We were unlucky last year. i think the occasion got to us, and there's no doubt about it, Wexford are a serious team. 
"They had the experience of those big matches that we seemed to be lacking a bit, but with those two matches under our belts I hope this year can be the year."
Peamount go into the domestic showpiece as clear favourites, having won both their league encounters against the Leesiders this season, but complacency won't seep into the mindset of McCartan and her team-mates.
"We won't take them for granted," the defender said. "We've had two wins over them, but it doesn't mean anything. Cup matches are notorious for upsets. 
"They have very strong players like Saoirse Noonan and Eabha O'Mahony. They're very good and dangerous when they get near goal. 
"Our priority will be to try and keep those girls as quiet as possible and then let our own football take over."
The St Loman's Mullingar player will be hoping for her own unique double when Westmeath face bitter rivals Meath in the All-Ireland intermediate football final on Sunday week.
The Lake County were relegated from the senior competition last season, but have appeared a side transformed by confidence-boosting victories in the quest for the Mary Quinn Memorial Cup.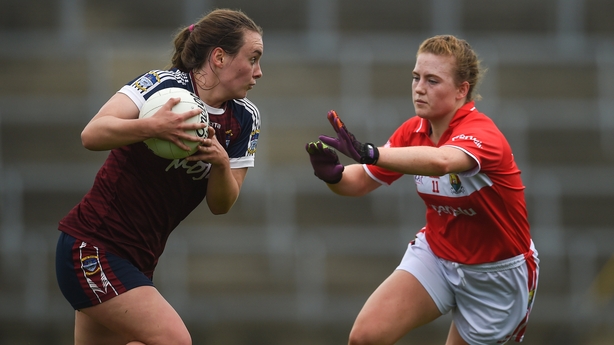 "It was a huge blow getting relegated last year, having battled it out for eight or nine years at senior level," McCartan admitted. "It was deflating, but we just regrouped and we got some great new girls in. 
"It is hard when you're up in senior, and even now we're in Division 1, the wins were coming very seldom.
"Since being in intermediate, we've got three wins out of three and it's been so nice to just be winning. 
"You can underestimate how good it feels and how much confidence it can give  a team that has been used to losing and battling it out against great teams.
"There's no doubt in our minds how good Meath are and they've had their share of disappointments in the last two years so they'll be well up for this match. 
"They've showed this year that they're well set up, well organised, fit, well able to score. They're not going to be easily beaten. 
"We had a video analysis session last night and we watched their match against Clare. 
"They were brilliant. They were working up and down the pitch. They're a great team and they've done their work."
Life during lockdown has seen much discussion over a reappraisal of our work-life balance. McCartan has her sporting obligations and study commitments to add to the equation as a medical student in UCD. Pleasing all parties can prove impossible.
"When the clashes come and you're forced to choose between them, that's probably the biggest challenge," she explained. 
"I find it hard to say I like this one better than the other. 
"So it ends up coming down to which match is more important on the day or which would be a bigger disaster if we lost. 
"I just find it hard to let one team down for the other."
A test of McCartan's credentials won't just come over the field of play over the coming week, but the challenges she faces don't appear to weigh heavily on the 21-year-old. 
"I've exams coming up and it'll be a fun week between the Cup final and the All-Ireland final, but once they're over, they're over!"
Watch the FAI Women's Cup final between Peamount United and Cork City live on RTÉ2 and the RTÉ Player from 2.30pm on Saturday, listen to live commentary on RTÉ Radio 1 or follow our live blog on RTÉ Sport Online and the RTÉ News app.