The Football Association of Ireland has hit back at claims from the Republic of Ireland women's team that they are treated like "fifth-class citizens" forced to share tracksuits with underage teams and change in airport toilets.
The explosive accusations were made at a media conference held at Dublin's Liberty Hall this morning as the national side push for better treatment and conditions.
"We as players are proud to represent our country at senior level," the players said in a statement.
"Many of us give up time away from work, family and friends for a chance to represent our country.
"Last year, we gave up over 40 working days to train and prepare for international games. This level of commitment is unsustainable in the current framework.
"We currently receive no loss of earnings, no match fee or bonus for the time given to represent our country.
"Over 60% of the current squad are non-professional, many careers outside the game are on hold and it is becoming financially unrealistic to continue under the current parameters.
"We are elite athletes and compete on the world stage, yet our treatment is far from where it should be.
"With increased investment into the team, and us as players, we feel we have a greater chance to qualify for tournaments on a regular basis and individually reach our full potential as international players."
More than a dozen members of the team were present at Liberty Hall and they were represented by PFAI solicitor Stuart Gilhooly, who said: "We need to recognise that the women's team are fifth-class citizens, the dirt on the FAI's shoe."
Stephanie Roche, a one-time nominee for FIFA's Puskas goal of the year award, explained how the players had to return tracksuits so they could be used by Ireland underage teams and having to change in airport toilets.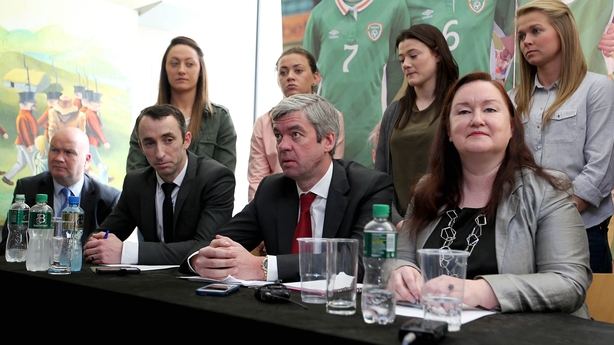 However, in a statement released after the media conference, the FAI hit back, saying it is "deeply disappointed" with threats of withdrawing from Monday's international with Slovakia.
"The ultimatum by the players concerned comes in spite of repeated invitations from the FAI to the players to discuss clear and tangible financial offers for the payment and compensation of members of the squad," said the FAI.
"Repeated efforts by the association have been made in a bid to encourage the players to row back from their unprecedented ultimatum." 
Women's team and FAI at loggerheads - Republic of Ireland women's team threaten to withdraw from international with Slovakia pic.twitter.com/9QNbpl9quK

— RTÉ Soccer (@RTEsoccer) April 4, 2017
"On five occasions in recent months the FAI has attempted to bring the players to the table, only to have the offer rebuked at every turn."
The team say this issue has been ongoing for the past two years with Gilhooly stating that the FAI was slow to deal with the matters brought up by the players.
Their list of demands include gym membership for the squad, more home-based training sessions, all non-professionals to receive loss of earnings, team wear to be provided for the squad prior to meeting up at the airport and match fees of €300 per international fixture, with an additional €150 win bonus and €75 for a draw.
The FAI statement continued: "The association has agreed to a mediation process, yet the players have decided to progress regardless with a PFAI press conference, instead of meeting through an agreed mediator.
"Along with the core issues of player representation and financial payments, the FAI has made considerable progress on matters outlined by the players in their list of 'Issues to be addressed' last year. However, all efforts to meet directly and discuss these matters have been refused.
"The national team are provided the standards of care expected of a demanding high performance environment, with top-level training facilities, hotel accommodation, dietary, fitness, performance analysis and medical and physio care.
"The team has also received significant increases in budget in recent years to attain this high standard, as well as the appointment of a Champions League-winning coach."
View Comments