Dundalk FC chairman Bill Hulsizer has confirmed that current interim head coach Filippo Giovagnoli will be offered the job on a full-time basis after guiding the Co Louth side to the Europa League group stages.
The Italian was a shock appointment as Vinny Perth's successor just 39 days ago but has confounded all his critics by guiding the Lilywhites to qualifier wins away to Inter Club d'Escalades of Andorra and Sheriff Tiraspol of Moldova. last month.
The 49-year-old then repeated the feat of current Republic of Ireland boss Stephen Kenny from four years ago by securing group stage football with a 3-1 win over Faroese side KÍ Klaksvik in the Aviva Stadium last night.
Earlier today Dundalk were drawn in Group B of the Europa League alongside FA Cup holders Arsenal, Rapid Wien of Austria and Norway's Molde FK.
With over €4m banked so far, Giovagnoli's exploits have delighted Hulsizer and the club's American owners PEAK6.
Daniel Kelly gets Dundalk's third on the break, almost there now #UEL #RTESoccer #RTESport pic.twitter.com/K3ErMAWOMn

— RTÉ Soccer (@RTEsoccer) October 1, 2020
Now his reward will be a permanent contract offer, something the 49-year-old has insisted he has wanted since arriving in Ireland having previously been Director of Coaching at the Metropolitan Oval Academy in New York for six years.
"I'd be happy for him to be our coach full-time going forward," Hulsizer confirmed this evening.
"I think it's just a matter of negotiating a contract and seeing what he wants to do.
"I certainly can't find fault with anything that he has done to date. I think his decision making has been superb.
"Our plan is to be in Europe every year. I can't promise you that we'll make it to the group stage every year but I can't promise you we won't either. Our feeling - Filippo's, mine and the team's - is that getting to the group stages is a great start."
Hulsizer, father of PEAK6 founder Matt, admitted Giovagnoli's appointment had been something of a gamble given his lack of experience of managing adults but he said he was delighted it had paid off.
"Life is like a turtle. You can't get anywhere unless you stick your neck out. 
"Filippo has done a great job so how can we or anybody else argue with him getting the job?"
Hulsizer, who revealed he toasted Dundalk's victory over KÍ Klaksvik with a shot of tequila, said he and the board were delighted to have group stage football to look forward to.
"I'm excited about it and everybody on the board are excited about it. The owners are excited about it," said the 77-year-old Fort Lauderdale resident.
"The Aviva is a big plus for us and a big plus for Ireland because it's an impressive, if underused, stadium."
"I couldn't be prouder of the players, the coaches, the staff and the people who administer the club for what they've accomplished in light of Covid-19 and everything else that has been thrown at us. It's a fantastic achievement.
"We were in the Premier League when we owned part of Bournemouth so we'd know Arsenal very well and they're a massive club. I just hope I can make the games.
"I'm working to find out is there a way I can come and not have to isolate for 14 days because I can't do that with everything that is going on but if they tell me that I can do some tests and show that I'm negative then that's fine but if not I'll have to watch from here but it certainly would be thrilling to be there for these games."
The chairman also confirmed that Dundalk would play all of their matches in the group stages in the Aviva Stadium.
"The balance of the Europa games, of which I hope there will be 10, will be played at the Aviva Stadium.
"The Aviva is a big plus for us and a big plus for Ireland because it's an impressive, if underused, stadium," said Hulsizer.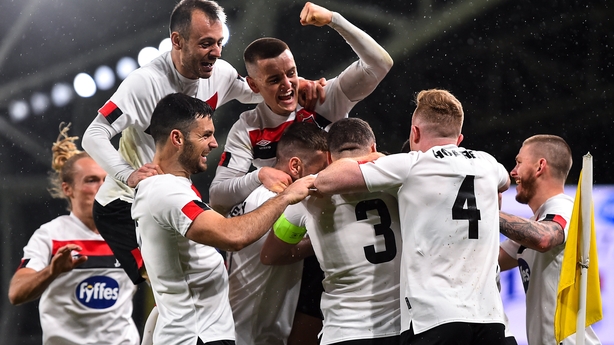 Speaking to RTÉ 2fm's Game On on Friday evening, Giovagnoli indicated that he was keen to remain part of Dundalk's long term plans and that Thursday's win was not definitively tied to his future at the club.
"I'm thinking of a plan, a project that includes myself, of course, and I've started to talk to the club about it," he said.
"It's a project that includes the development of the academy, to make sure to improve and develop the players that we have in the academy, scouting, recruiting... there are many things that you can do. But we've started to talk about that.
"We discussed about that before this game. My position wasn't judged only by this game. It was not fair eventually to do that.
"I had to be judged for what I'm doing in the field everyday with the club, not by one game. That would not have been fair. 
"Of course, this achievement maybe reinforces a little bit my position but we were discussing in other terms with the club about me."   
Touching on his early experience of living in Ireland, Giovagnoli added that he is missing his family who have remained in Italy for now but described himself as on a "mission", pointing out that "when a soldier goes on a mission, he has to go by himself to explore the territory and then when everything is set up, he can bring the family."
He also spoke warmly of Arsenal manager Mikel Arteta who he will face off against in the Europa League group stage.
"I really like him. As a coach, he is unbelievable. I really like the style and the principle of football that he is applying with Arsenal. He's an inspiration for us," said Giovagnoli.