Denise O'Sullivan will join Brighton & Hove Albion on loan from North Carolina Courage to ensure she can play in the Republic of Ireland's upcoming Euro 2021 qualifiers, manager Vera Pauw has revealed.
The Cork playmaker has won two NWSL championships in a row with Courage but will now link up with Rianna Jarrett and Megan Connolly at the Women's Super League club for the rest of the year, ahead of three crucial games for Ireland over the coming months.
Covid-19 restrictions would have made travel from the US to Europe and back extremely problematic for one of Ireland's star players. North Carolina are currently guaranteed four games as part of a regional pod-based restart to the NWSL that begins next month.  
"I'm so happy and grateful that North Carolina saw and recognised the huge problems that Denise O'Sullivan was potentially facing if they had kept her there for the next series of games," Pauw told RTÉ Sport after announcing an extended squad to face Germany on 19 September.
"I explained the situation to them, that Denise would have missed her football for the next nine weeks in which all three of these games will be played. She would have been in quarantine for six weeks and for a top athlete this is not feasible at all.
"All parties saw how important Denise is for Ireland and thought the decision made sense. She is going to Brighton where she will be with Rianna Jarrett and Megan Connolly. It will be fantastic to have all three of them at the same club."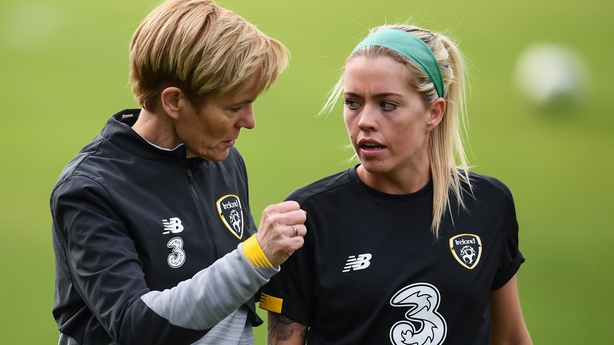 To cut down on the number of flights required, the squad will travel directly to Germany where they will assemble for the first time in over six months. 
Heather Payne (Florida State University), Louise Quinn (Fiorentina) and Julie-Ann Russell (Sydney University) will all have to quarantine there, while Russell could face a long delay getting back into Australia, as only 350 overseas arrivals per day are currently being allowed at Sydney airport. 
Covid-19 has also meant that Pauw has not been to Ireland or seen her players in that time, and they have been keeping in touch as part of regional groups.
"From our side, we've been in constant contact through apps of course, and video calls," said Pauw. "But I've been very cautious of not being on their backside all the time when they were dealing with problems at the club and our games being so far away.
"So it's only from now on that we will have more contact related to the next game. Before it was more like 'How do you do with Covid, what is your training regime, do you need help from us?'
"We need to find a way the glue the team in five days together, with actually only three good training sessions. But that's our job, that's what we're paid for so we will do that."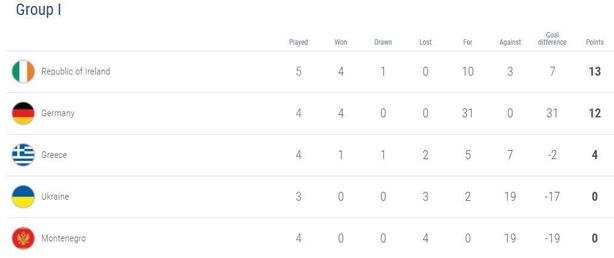 In their campaign to reach Euro 2021 (deferred to 2022), Ireland sit top of Group I, a point ahead of Germany but having played an extra game.
The Germans have scored 31 goals and conceded none in their four matches to date and with two of their final three games to come against the team ranked second in the world, Pauw freely admits that their trip to Ukraine on 23 October, Covid-19 permitting, will be decisive.
Even if Ireland were to lose to Germany next month and in December, another three points against Ukraine would be enough to guarantee a play-off and possibly direct qualification as one of the top three second-placed sides.
"Germany, at this moment for me, is the best team in the world," said Pauw. "Winning the group is unrealistic, we have to know where we stand to succeed.
"Germany are so far ahead of everybody with eight European Championships and two World Championships.
"We want to take everything we possibly can from the Germany game but if we can take three points against Ukraine and steal a point against Germany we have a huge chance to go straight to England.
"If we don't lose in Ukraine, we will proceed to at least the play-offs"
"It's more about the Ukraine game but we'll never leave an opportunity if we can get a result in Germany, because every point will count for the best second-placed team.
"But the key game is Ukraine, and with Covid it's very unsure how things will develop. That is the game where we cannot lose. If we don't lose in Ukraine, we will proceed to at least the play-offs. That's the situation at this moment. 
"The prediction is that Germany will push us back and that we need to put something against that. It will not be the case that we will park the bus and just kick the ball forward – that will not be the intention. Maybe that's the outcome because of the difference in strength, but that will never be the intention of our game."
The game will come too soon for Chloe Mustaki, who ruptured her cruciate ligament in March, and Megan Campbell, though the latter is back training with Manchester City after surgery on what could have been a career-ending ankle injury.
We need your consent to load this SoundCloud contentWe use SoundCloud to manage extra content that can set cookies on your device and collect data about your activity. Please review their details and accept them to load the content.Manage Preferences
The FAI announced yesterday that Pauw's contract would extend until 2022 in the event that Ireland qualify.
The Dutchwoman says that she was never concerned that might not be the case, as happened with men's manager Mick McCarthy, but her only concern in a 'five-minute talk' was that assistant manager Eileen Gleeson and goalkeeping coach Jan Willem van Ede would get the same treatement.
"For me it was, let's say, a normal practice thing," she said. "Because the tournament is postponed and I would never ever leave Ireland because my contract would not allow that, (unless) of course the association want me to.
"It was a five-minute talk. The only thing that I found important in this was that Eileen Gleeson and Jan Willem van Ede would have the same extension as I got, because we're a team, the three of us. Together we guide this team.
"Of course I need to dictate final decisions, but we do everything together and without them I would be lost.
"That was my only concern, that their contracts would be extended as well, and that was a no-brainer. It came out and I'm happy that everybody is so enthusiastic, but for me it was a very logical thing to do. There was no cell in my body that would think of not going with the squad."