Republic of Ireland defender Megan Campbell is confident of a return to play following a serious ankle injury that had threatened her career.
Campbell, who has 42 caps for the Girls in Green, suffered the injury while playing for Manchester City in the Women's Super League in January.
The 26-year-old has had a miserable time with injuries and, speaking to RTÉ 2fm's Game On, detailed her latest setback.
"I was looking forward to the fresh start, new year, new me and that sort of thing, but unfortunately in our first game against Tottenham Hotspur I snapped the tendon in my right ankle, which obviously needed surgery in the end," she said.
"It's quite a complicated injury, it doesn't really happen in footballers.
"Speaking with my surgeon in London, he's only ever dealt with two other cases in men's football, there was [at the time] a 50-50 chance basically of getting back to some level of playing, so for me it could be career-ending, but I'm not looking at it like that.
"I'm going to keep my head down and keep working hard. As each day comes, I'll hopefully be progressing and getting myself back on the pitch."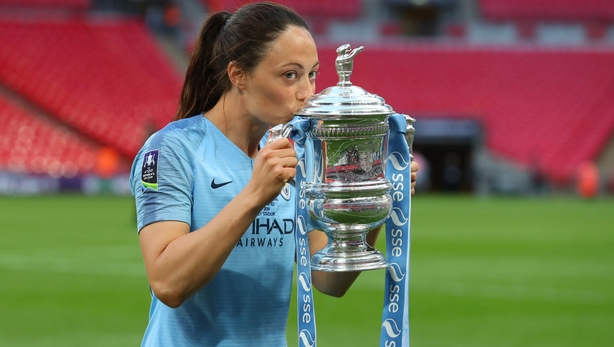 The Drogheda native has been boosted, however, by signing a new deal with a club that she won the domestic double last season.
She has now set her sights on returning to fitness and helping Vera Pauw's Ireland side qualify for the deferred European Championships in 2022.
Ireland are currently top of Group I, one point ahead of Germany, who have a game in hand and are next on the horizon.
As it stands, Ireland will play Germany away on 19 September, at home on 1 December, with the crunch game in Ukraine, who have already played and lost twice to the Germans, coming on 23 October.
Campbell, formerly of Raheny United and Florida State University, admits that second place in the group is a more realistic target.
"We are looking forward to the challenge against the Germans but the most important game for us is Ukraine away," she said.
"It will probably between us and them for second place, and if we can take points from the Germans it's brilliant.
"We are ready and more determined than ever to represent Ireland and wear that green jersey at a major tournament."
Listen to the RTÉ Soccer podcast on Apple Podcasts, SoundCloud, Spotify or wherever you get your podcasts.
RTĖ Sport · FAI Financial Plan and Pat Devlin's LOI blueprint