Waterford FC first team coach Fran Rockett admitted that it had been a tough week after yesterday's scoreless Munster derby draw with Cork City.
The Blues saw their game against Sligo Rovers on Tuesday postponed after fears that some players might have caught Covid-19.
The subsequent results for the two players who were tested were negative, meaning the club could return to regular activity from Saturday.
But it's not all back to normal after club doctor Sinead Fitzpatrick stepped away during the week, with a note that suggested some regrets about the circumstances.
"Resigning when you feel things are very wrong is sometimes the right thing to do though," she said on Facebook. "I'm very sad tonight but happy I have done the right thing."
Manager John Sheridan wouldn't speak to the media after the game yesterday, but Rockett was available in his place.
"I wouldn't be privy to that, to be fair," he said when asked by RTÉ Sport's Damien O'Meara if he was aware of the issues Dr Fitzpatrick had raised.
"I'm not even on Facebook. It's only hearsay from my point of view."
Pushed on whether the squad was all based in Waterford, Rockett said he couldn't say for certain.
"I haven't a clue, because all I do is take training sessions with the lads. So all I do is, I see the players on a daily basis, they're here on a daily basis.
"I'm not here, there and everywhere to see their movements. They're here for training, that's all I'm privy to."
Rockett agreed that everyone involved with the club wanted to be seen to be acting in accordance with the HSE guidelines.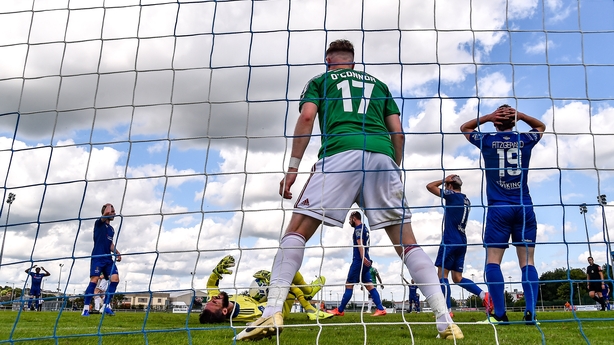 In a situation where many clubs across the country, in all sports, are trying to get used to new ways of preparing for games with some restrictions in place, the first team coach admitted that the week had been far from ideal.
"You want to keep these boys in shape," he added. "We've been off long enough with the lockdown.
"It upset everything, because you've a rhythm after a win and you want to try and keep that whole cohesion. You're hoping that you can build on it and keep that camaraderie going.
"But then there's that separation when the players aren't with you in the dressing room.
"We had to give them their own programmes to do, and make sure there was social distancing when they were doing it.
"It was disappointing, but it's still not an excuse. You look at the game today and we had chances to win it, simple as that.
"We had to look at our own families, and make sure everyone's movements were restricted because there are so many grey areas in this.
"As much as people think they know about it, it's near enough impossible. Every step you make could be crucial, in terms of waiting for results (of tests), and things like that.
"This week alone, it was just abnormal. I think we're all living in mad times at the minute.
"This week especially trying to prepare for a game, it's not ideal but it's still no excuse."