All the available evidence suggests that Jack Charlton was not regarded as an incoming messiah when he strode through the arrivals lounge at Dublin airport on 11 February 1986. 
Ireland had just finished fourth out of five in the qualifiers of the 1986 World Cup and this cigar-chomping Geordie wasn't even supposed to have been appointed. 
They say history is written by the winners but we now know it's written by the producers of Reeling in the Years. Most of the 80s episodes are pretty downbeat but the 1986 edition is particularly grim and maudlin, finishing with a Mary Black rendition of 'As I Leave Behind Neidin' while a load of emigrant-ship bound young lads tell Tommie Gorman that they'd be staying with their cousin in London for a bit while they get settled.
The football team, no more than the country, was not perceived to be in a great state. But there was plenty of material there. 
Following a shambolic four and a half year stretch during the late-60s and early-70s, when they didn't win a single match - a period covered here - Ireland had become a respectable outfit from late 1972 onwards and largely remained so until the mid-80s.
We need your consent to load this SoundCloud contentWe use SoundCloud to manage extra content that can set cookies on your device and collect data about your activity. Please review their details and accept them to load the content.Manage Preferences
Despite recording some famous victories over the likes of France, USSR and Holland, the team's most salient feature in those years was their uncanny ability to get on referees' bad sides, especially away from home. 
We've already attempted to re-christen the late-70s/early 80s as the "I still don't know why that goal was disallowed" years. There has yet to be an after-dinner speech on those years in Irish football in which that phrase doesn't march into view. 
Eoin Hand had taken Ireland to the brink of qualification for the 1982 World Cup in a quite insanely difficult group containing France, Holland and Belgium. The Dutch, finalists in the two previous World Cups, were pushed into fourth place by Brady, Stapleton et al.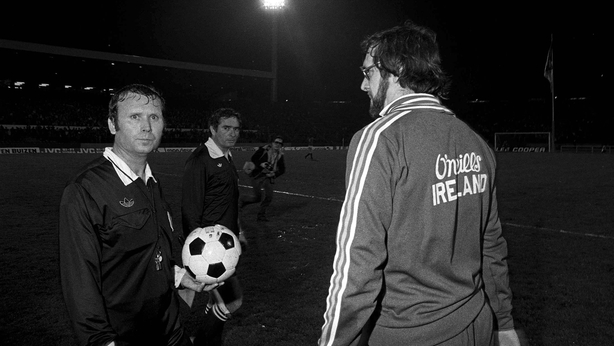 But Ireland were ultimately denied qualification by shocking refereeing decisions in Paris and Brussels, most famously in the latter when Stapleton had a goal ruled out for unspecified reasons and then Eric Gerets was awarded a free kick in the last minute for a dive which made one of Jack Grealish's efforts look credible. Belgium fashioned a scrappy winner from that free-kick. 
Paddy Mulligan hinted that it may not have been a coincidence that these strange refereeing interventions ceased when Jack Charlton was appointed Republic of Ireland manager. 
Charlton's stature in the game - as a World Cup winner in '66 - was almost a subconscious reminder to officials that they couldn't be screwing Ireland like we were a bunch of nobodies.
Things deteriorated for Hand afterwards and the 1986 World Cup qualification attempt was a particularly abject and bitter one, in which the manager was pegged in the press as a dead man walking. 
On the night of Ireland's 4-1 home loss to Denmark in November '85 - the last game before the Charlton era and attended by a record low crowd of 15,134 - the RTÉ continuity announcer ended the 'highlights' programme with "After the break, we've more comedy with Cheers."
Charlton was eventually appointed manager via a rather convoluted process, which saw the favourite and ostensibly the stronger candidate Bob Paisley pipped in a run-off vote. 
On the first count, Paisley received nine of 18 votes, Charlton got five and ex-manager John Giles got four. In the run-off, Charlton picked up Gilesy's votes and one voter switched sides to give him a 10-8 win. 
Big Jack won the Irish manager's job on transfers. 
The FAI couldn't get hold of him and Charlton was instead informed of his new post by Jimmy Armfield, former footballer, Leeds manager, best known to 90s kids as BBC Radio Five Live co-commentator, who rang him up with the words "Congratulations Jack!" ("What for?")
The news was first broadcast to the public on the Late Late Show that night when Gay Byrne, admittedly not an ardent football man, was handed a note by his floor manager.
"I've just been given a piece of paper here which says that Jack Charlton has been appointed manager of Ireland... whatever that means."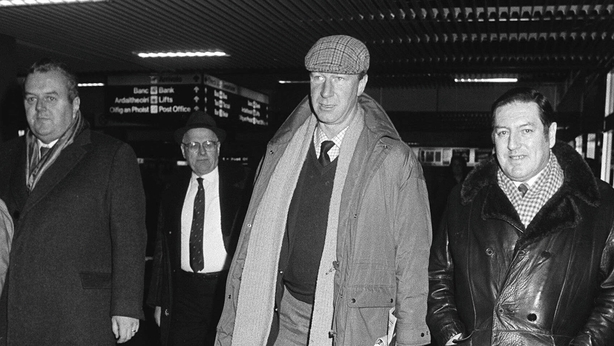 Four days later, Jackie arrived for a fraught press conference where, in his own words, "they (the reporters) wanted to know why everyone in the world had not got the job except me."
The account of his first game in charge captures the aggressively downbeat reaction to his appointment.
For the friendly against Wales on 26 March, the new manager was made to feel wholly unwelcome. 
The 'GO HOME UNION JACK' flag is very much the '3 YEARS OF EXCUSES AND WE'RE STILL CRAP... TARA FERGIE' of Irish football
Con Houlihan's match report following the Wales defeat said the great pity was that Brian Clough didn't like fishing. 
There was some horror among the purists that Charlton would have us hoofing long balls like the rest of the POMO brigade. 
One prominent journalist, though this is long forgotten now, who was supportive of Charlton's appointment was Eamon Dunphy.
Before the Euro 88 campaign had begun, Dunphy said Charlton would "try and achieve a balance between skill and aggression" and dismissed the idea that the new boss would have Ireland kicking hopeful balls in a crude attempt to emulate Wimbledon, Watford and Sheffield Wednesday, the New Barbarians of the English First Division."
Despite the perception of the pair as sworn enemies, Dunphy continued to push this positive slant for the first two years of Charlton's reign and ahead of Ireland's final group game against Bulgaria, he praised the new manager for re-energising Irish football after "the mess he'd inherited from Eoin Hand." 
In late May, Ireland won their first ever international trophy, the famed Icelandic Triangular Tournament. Gerry Daly, who'd soon retire, and Frank Stapleton, grabbed late winners against Iceland and Czechoslovakia respectively and Houghton and Aldridge made their international debuts. But the competition primarily hit the headlines for Charlton's fallout with David O'Leary, who forsook it for a family holiday.
Jack headed down to Mexico for the World Cup where he did a spot of punditry and plenty of analysis. His verdict was that every team played the same. Ireland would take a different tack.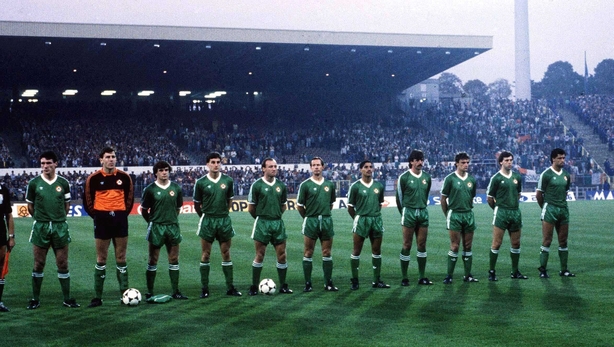 The Euro '88 qualifying group 7 was a highly competitive affair - Belgium, Scotland, Bulgaria, Ireland and Luxembourg. Only one qualifying spot was up for grabs and Ireland were fourth seeds.
The campaign began with a hugely positive result in Brussels, scene of previous outrages. Stapleton scored in the first half and Brady struck a late penalty to grab a 2-2 draw against the World Cup semi-finalists.
Charlton's side proceeded to take three points from the home and away ties against Scotland either side of the new year, Mark Lawrenson's famous strike early in the game at Hampden the only goal across the 180 minutes.
The team suffered a setback in Sofia, a late Lachezor Tanev penalty handing the Bulgarians victory after Stapleton had equalised. There followed the second home goalless draw of the campaign against Belgium.
Ireland subsequently embarked on what remains their longest ever winning streak - albeit most of them friendlies.
After the Tanev winner in Sofia, Ireland conceded just two goals in their next 11 games. 
Pinpointing when the Republic of Ireland team were at their absolute peak during the Charlton era is a difficult business.
Looking back, it appears the team reached a high level in 1987 and simply plateaued there - barely wavering from the same standard for the next seven or eight years.
While some of the positioning seems odd, in personnel terms, it's hard to imagine the Republic of Ireland ever fielded a finer XI than the side which beat both Scotland and Bulgaria in Euro 88 qualifying. 
Paul McGrath and Ronnie Whelan both had to slot in at full-back, Mark Lawrenson was in the anchoring defensive midfielder role that McGrath would soon inherit. Liam Brady, still playing in Serie A, was an ever-present in that campaign in a more advanced midfield role.
Ray Houghton was buzzing about on the right wing, with Stapleton and Aldridge up front. 
Nonetheless, the mood was still downcast. The Bulgarian result appeared to have ended the possibility of qualification and the newspapers rumbled with discontent after Ireland's alarmingly narrow 2-1 victory over Luxembourg at Lansdowne Road. 
"Despite protestations to the contrary, officials acknowledge the prospect of the Irish surviving the preliminaries have dwindled to almost nothing," wrote the Irish Times on 14 October 1987.
"To do so, they must win today, Scotland must take at least a point from Belgium at Hampden Park this evening, and then, most unlikely of all, the Scots must extract full points from their visit to Sofia on 11th November."
"Despite protestations to the contrary, officials acknowledge the prospect of the Irish surviving the preliminaries have dwindled to almost nothing.

"To do so, they must win today, Scotland must take at least a point from Belgium at Hampden Park this evening, and then, most unlikely of all, the Scots must extract full points from their visit to Sofia on 11th November."

                                                                                            Irish Times, 14 October 1987
Ireland's 2-0 win over Bulgaria was replayed on a RTÉ Saturday evening offering called 'The Sports File' many years ago. On one of those Wednesday afternoon games in front of a grey and half empty Lansdowne, with the rugby markings still visible on the pitch, Ireland put in a smashing little performance with McGrath and Moran scoring the goals. Liam Brady was Man of the Match but was sent off close to the end following a scuffle with a Bulgarian player.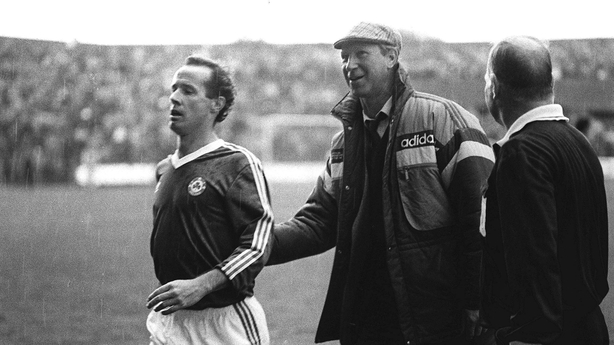 Scotland beat Belgium in Hampden Park the same day, leaving Ireland still with a glimmer of a chance. On 10 November, after Ireland trounced Israel 5-0 in a friendly, Charlton promised Andy Roxburgh the obligatory crate of champagne and a box of Havana cigars if his team did Ireland a favour. 
Though most anticipated a Bulgarian victory - they hadn't lost in Sofia for years - RTÉ took a chance and decided to broadcast the game. George Hamilton and the editor Maurice Reidy bunked a lift on the Scottish team plane - these being the days when players, journalists and assorted fans would have often travelled together.
"There was no question that we were very welcome guests in that circumstance.. We were a curiosity but a nice one," Hamilton recalled. 
While talk of Celtic solidarity between Scotland and Ireland may seem overly sentimental in the context of professional football, according to Pat Nevin, several of the Scottish players really felt it and even discussed it openly in advance of the game. 
"If you look at the team that played that night, at least half of them were Celtic supporters as kids or they'd played for Celtic," Nevin told this writer in 2014.
"Obviously a lot of Celtic supporters had links with Ireland. Even myself, I remember talking to my Dad, who wanted me to choose Ireland above Scotland... Definitely, there was that extra little bit where we knew we could do Ireland a favour and we were desperate to do that. 
"I know there would have been bathroom conversations between Clarkey (Steve Clarke) and myself and (Brian) McClair about that, because we were all Celtic supporters and close friends. So, the three of us would definitely have had those conversations."
With three minutes remaining in Sofia, Hearts' Gary Mackay wrote himself in the history books and the RTÉ coverage flipped back to the studio, which resembled an outdoor smoking area of a pub, where Michael Lyster, John Giles and Maurice Setters were jumping around excitedly.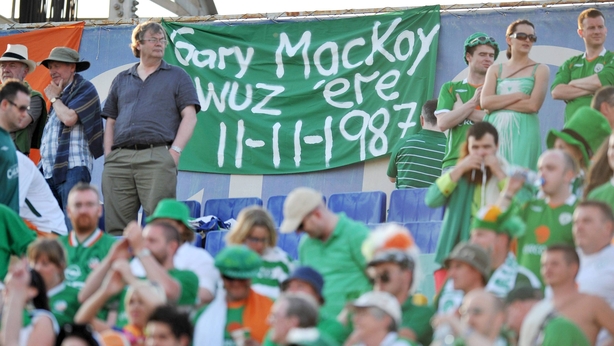 FAI President Des Casey, the man who'd been at Charlton's side when he first strode through Dublin airport in February '86, was serving as a UEFA delegate for the Portugal-Switzerland qualifier in Lisbon on the same evening.
Given the time difference between Sofia and Lisbon, the game in Bulgaria was winding up before even the match in Portugal had got going. Casey was out inspecting the pitch with the referee as per protocol when two besuited local officials scampered onto the pitch shouting "Senor Casey, Senor Casey, Escócia! Escócia! Escócia!" 
One person who wasn't watching live was Jack Charlton. In addition to his much trumpeted difficulty with names, the great man's commitment to mixing up Bulgaria and Romania was absolute. At various times over the years, he's referred to the young Scottish lad's goal against Romania and that famous time we beat Bulgaria on penalties.
From his home in England, he settled down to watch the game. The Scots had weathered an early storm when the phone rang with someone offering their congratulations.
"What for?" asked Jack. "Well, er, for qualifying for Europe," came the somewhat bemused answer. "No, no, it's only 0-0, it's on the telly and there's only a half hour gone" insisted Jack. "No, it's recorded. Scotland won 1-0."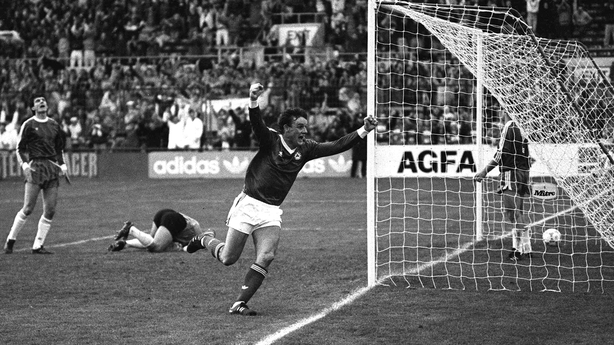 A happy George Hamilton and Maurice Reidy flew back to Glasgow on the Scottish plane, Ian St John joining them for a celebration and a chat down the back. 
Gary Mackay was subsequently interviewed, from a little studio in Edinburgh, for that year's RTÉ Sport Awards, where, according to Hamilton, "he got into the spirit of it entirely and was fully appreciative of what he'd done."
The Irish international side became the people's team over the next decade as they enjoyed an incredible journey under Charlton, reaching the European Championships and two World Cups. 
But there was possibly no greater football achievement than reaching that eight-team European Championships, when crowds were patchy and indifference still reigned in many quarters.